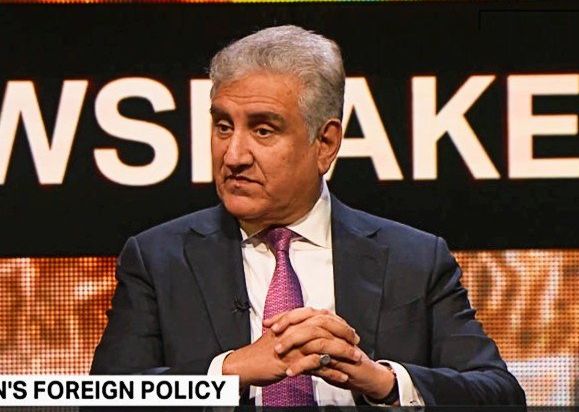 ---
Foreign Minister Shah Mahmood Qureshi on Friday categorically rejected the speculations of any "secret talks" between Pakistan and India through backdoor channels or third party involvement – the United Arab Emirates (UAE).
"We are not having any talks [with India] at the moment. UAE is not facilitating any talks," Qureshi told TRT, a Turkish television network.
The foreign minister said that UAE had good relations with both Pakistan and India, the two South Asian nuclear states, but there were no such talks taking place at the moment.
He, however, added that Pakistan never shied away from talks and it was India which had been finding one excuse after the other to do so. The foreign minister also referred to the statement of Prime Minister Imran Khan that if India would take one step forward, Pakistan would take two.
Read more: Pakistan 'reveals pre-requisites' for talks with India: report
He said Pakistan was willing for talks but India will have to create conducive environment vitiated by its unilateral August 5, 2019 action in the Illegally Occupied Jammu and Kashmir (IIOJK), which deprived the Kashmiris of their fundamental rights.
"How can talks be held in such an environment?" Qureshi questioned, adding that even some secular segments in India were saying that the policy of the Indian government on IIOJK had failed to achieve the objectives.
'Peaceful, stable Afghanistan in Pakistan's interest'
FM Qureshi, in response to a question, said that peaceful and stable Afghanistan was in the interest of Pakistan and all state institutions were on the same page on the issue.
He said Pakistan has been trying to push the peace process and bring all the parties to the table.
Referring to achievements made so far in the Afghan peace process including the Doha agreement, he said that it would not have happened with Pakistan's support.
To another question, the foreign minister said that Pakistan's influence in Afghanistan or over the Afghan Taliban was exaggerated.
The foreign minister said that the Afghan Taliban, who were smart enough to negotiate, also realise that violence was not an option and they have to engage.
Responding to a question, he said the Taliban should not be blamed for all ills in Afghanistan, as there were spoilers from within and outside who did not want peace in Afghanistan as well as in the region.
"We don't want any terrorist organisation to gain footholds in the region. That is why we have been playing our role and have also started fencing our border with Afghanistan to regulate the border crossings." He added.
The foreign minister said that Pakistan, which had suffered immensely due to war in Afghanistan and terrorism and paid heavy price in human and financial terms, believed in a peaceful and stable Afghanistan.
He further said that Pakistan, which was hosting three million Afghan refugees, wanted peace and stability in the neighbouring country and would continue to play its role to achieve the objective.
COMMENTS
Comments are moderated and generally will be posted if they are on-topic and not abusive.
For more information, please see our Comments FAQ