 ---
KARACHI:
"April is the cruelest month," wrote Elliot, and that hits too close to home. Every year, this month returns with a periodic reminder of a loss that left a void so hollow, no artist can ever compensate for it.
Think of shoes so big you can't even try on, let alone fill, a legend you can't even imagine standing next to, let alone feeling small in the presence of. Think of the best comedy you heard recently, now giggle in despair because you can't even compare it to the laughter one man brought to a country of millions back in the 80s and 90s. It's been ten years since Moin Akhtar left us; a decade to our greatest loss to laughter.
A rare stalwart of his time, Akhtar rose above the often disliked 'sleazy' comics of stage and built a legacy that was classy and timeless at the same time. So timeless that even today, old clips of Akhtar saying 'Hamary abba Harmonium bajatay thay' turn into memes that are being shared wildly not just in Pakistan but India as well.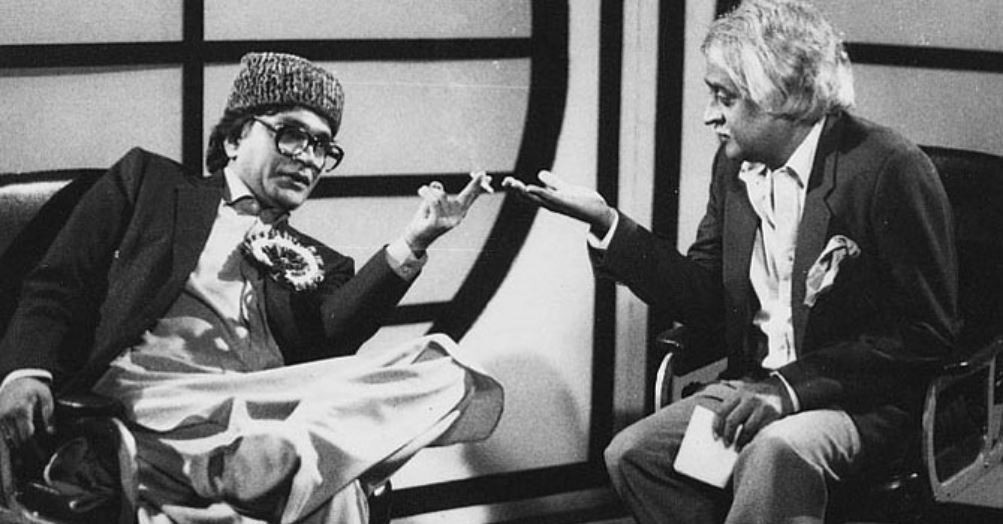 His pair with the legendary Anwar Maqsood is still the best pairing of our television's history and although it wasn't a romantic one, romance would fall deaf when compared to the rib-tickling chemistry of these two.
From what us 90s kids have heard, passing the censor board of that time – with the kind of jibes that none would dare take on national television against a regime as strict as Ziaul Haq's – required a certain kind of wit and brilliance. And if Maqsood was that wit, Akhtar was that brilliance.
His partner in crime, the Thelma to his Louise, Maqsood was so close to Akhtar that he finds it extremely easy yet incredibly hard to talk about his loss. "It is difficult for me to say anything about Moin, while it is the easiest thing in the world to sing praises for the people we like," Maqsood told The Express Tribune.
In a short voice note, Maqsood struggled to tuck away his emotions about Akhtar, who he felt he can write the world about but can't find the strength to. "I have a lot to say about Moin which I haven't as yet. We worked together for 32 years; 32 years I wrote for him. And the way Moin delivered whatever I wrote, no one can."
Maqsood said that despite being asked many times to resume his famous 'Loose Talk' series of sketches, he never agreed because it is simply impossible. "There's no one in my eyes who can replace Moin; whether my script is serious or comic, Moin would always do justice to it."
He went on to the claim that there hasn't ever been a better artist than Akhtar in both India and Pakistan. "Hindustan or Pakistan men Moin se bara adakaar menay nahi dekha. What timing, what delivery, I stopped writing because Moin was Moin."
On an emotional note, Maqsood concluded, "Meray liye tou Moin aj bhi hai, aksar meray kamray men aakay beth jaata hai, or meray kaaghaz cheen ke kehta hai 'kya likh rahay ho?' Phir phenk deta hai, kyunke unmen Moin ka naam nae hai [Moin is still alive for me today. He comes into my room and sits next to me, snatching my papers he asks, 'what are you writing?' Then he throws them away because his name is not in them]."
Maqsood's wit and comic timing have definitely refined with age but the Gandalf of Pakistani TV feels alone, if not unaccompanied. And that solicitude is not chosen, it's the sheer absence of Moin Akhtar.
Have something to add to the story? Share it in the comments below.
COMMENTS (1)
Comments are moderated and generally will be posted if they are on-topic and not abusive.
For more information, please see our Comments FAQ