 ---
KARACHI:
China's road to a complete victory in its efforts to alleviate extreme rural poverty is nothing less than a fairytale. This year marks the 100th anniversary of the founding of the Communist Party of China (CPC). Over the past century, the party has united and led the Chinese people in the battle against poverty with unwavering faith and will.
Nearly a 100 million people in rural areas, who were living below the current poverty threshold, all shook off poverty with all the 128,000 impoverished villages and 832 designated poor counties getting rid of destitution during that period, according to a white paper issued by Beijing.
The report is aimed to record the course of the Chinese people's great fight in eliminating extreme poverty, introduce China's approach, and share its experience and actions in poverty alleviation.
"A human miracle has been created that will go down in history," Chinese President Xi Jinping had said while celebrating the historic triumph at a ceremony in Beijing in February this year to mark a signature initiative of his eight-year tenure.
"No other country can lift hundreds of millions of people out of poverty in such a short time," he proudly stated.
By achieving the goals of the poverty elimination campaign as scheduled, the Chinese people have undoubtedly made solid strides towards a better life and common prosperity. "Yet, China remains the world's largest developing country, still confronted by the gap between unbalanced and inadequate development and the people's growing desire for a better life, and by the gaps between urban and rural areas and between regions," read the white paper, issued earlier this month.
"China still has much to do in order to realise people's all-round development and common prosperity for all."
Also read: 'Human miracle': China celebrates 'complete victory' over poverty
China has invested 1.6 trillion yuan (approximately $240 billion) in fighting poverty over the past eight years, pledging to stick with its poverty alleviation policies, while making some adjustments for a five-year transition towards actualising its "rural revitalisation" vision.
For this, a new National Rural Revitalisation Bureau has been set up in Beijing, replacing an office for poverty alleviation and development that had been operating since 1993.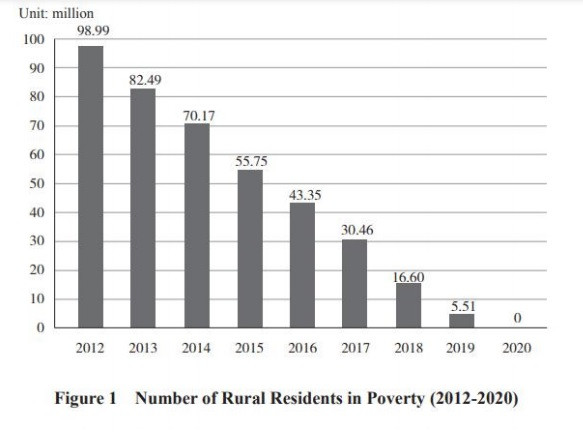 However, China cannot develop in isolation from the rest of the world, and the world needs China for further development. "With this in mind, China has always been a builder of global peace, a contributor to global growth, and a guardian of the international order. In the future, a more prosperous China will also be more open and inclusive; it will interact more constructively with the international community, and make a greater contribution to building a better world," it read.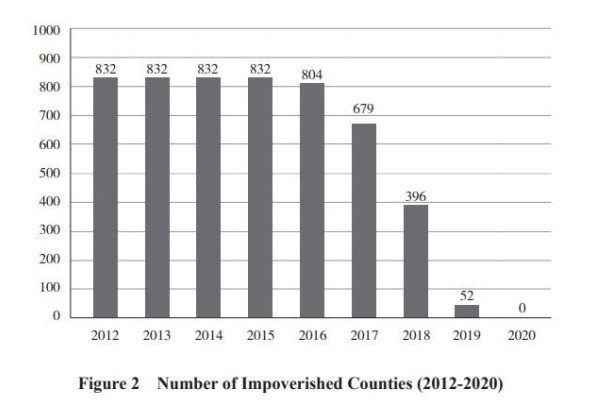 China is home to nearly 1.4 billion people – nearly one fifth of the world's population – and the largest developing country. In addition to its weak foundations and uneven development, the nation had long been plagued by poverty at a scale and a level of severity that has rarely been seen anywhere else in the world. As a result, the challenge of poverty alleviation in China almost defies imagination.
Read more: Poverty road in China drives some to riches, leaves others behind
The fight against rural poverty was spearheaded by the visionary leadership of President Xi, who is also the general secretary of Communist Party. He, ever since the18th CPC National Congress in 2012, fought a decisive battle against poverty that is unprecedented in scale and intensity, and has benefited the largest number of people in human history.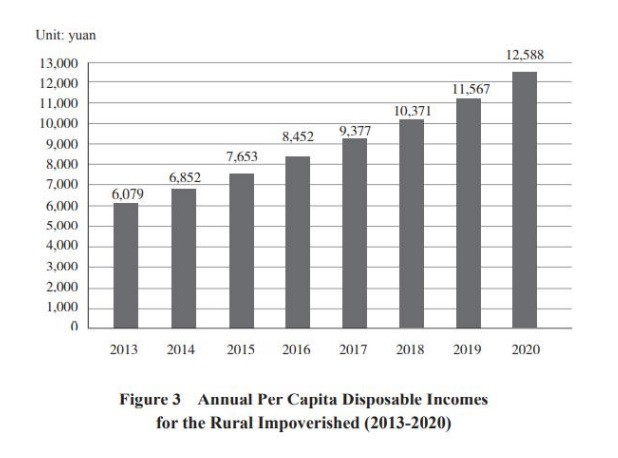 China's achievement of a complete eradication of extreme poverty – the first target of the UN 2030 Agenda for Sustainable Development – 10 years ahead of schedule, is a milestone in the history of the Chinese nation and the history of humankind, making an important contribution to the cause of global poverty alleviation.
China's experience in poverty alleviation indicates that courage, vision, sense of responsibility, and the eagerness to take on challenges are the most essential. "With strong will and determination, as well as practical action, one can make steady progress towards overcoming poverty and realising common prosperity."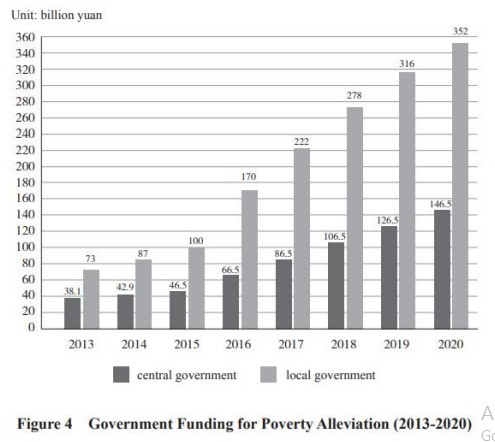 It all started with the founding of the People's Republic of China on October 1, 1949, which allowed the Chinese people to stand upright and become the true masters of the country. "To change the backward situation starting from scratch, the CPC united and led the people to rely on themselves and strived to build their homeland with strong determination and concerted effort.
"Land reform was rolled out across the country, abolishing the feudal land system that had endured for over 2,000 years. This removed the major institutional obstacle to eliminating poverty. Socialist transformation was carried out in agriculture, individual craft industries, and capitalist industry and commerce."
Through poverty alleviation, there has been a substantial improvement in the incomes and welfare of the poor. The Two Assurances and Three Guarantees [This refers to assurances of adequate food and clothing, and guarantees of access to compulsory education, basic medical services and safe housing for impoverished rural residents] have been realised; education, healthcare, housing and drinking water supplies are much improved. "These provisions have covered all basic needs and laid the foundations for future development. The fight against poverty has led to dramatic changes in the lives of the impoverished. The incomes of the impoverished are increasing. The per capita disposable income of the rural poor increased from RMB6,079 in 2013 to RMB12,588 in 2020, up by 11.6% per annum on average. The growth rate was 2.3 percentage points higher than the national rural average. Their salary income and operative income kept increasing over the years in proportion to their transfer income, showing a stronger ability to shake off poverty through their own efforts."
Ethnic minority areas have also made notable progress in fighting poverty. From 2016 to 2020, in the five autonomous regions – Inner Mongolia, Guangxi, Tibet, Ningxia and Xinjiang – and three provinces with a large multi-ethnic population – Guizhou, Yunnan and Qinghai – the number of the poor dropped by 15.6 million.
Also read: China's road to poverty alleviation
Extreme poverty was eliminated in all 28 of the minority ethnic groups with a small population. Some 20 ethnic groups, still at the later stage of primitive society when the PRC was founded in 1949, leapfrogged to socialism and then again made great strides towards moderate prosperity in all respects.
Access to good quality education for the impoverished has also improved remarkably. There are no dropouts in the countryside due to financial difficulties, nine-year compulsory education is now available to all children from rural poor households, and the completion rate in 2020 was 94.8%, according to the report.
The three-tier healthcare system at villages, townships and counties has also been improved. All poverty-stricken populations now have access to basic medical insurance, critical illness insurance, and medical assistance, to ensure medical treatment to the impoverished with major illnesses, contracted healthcare to the impoverished with chronic diseases, and guaranteed medical services for the impoverished with critical illnesses. Basic medical insurance coverage of the poor is now over 99.9%.
COMMENTS
Comments are moderated and generally will be posted if they are on-topic and not abusive.
For more information, please see our Comments FAQ