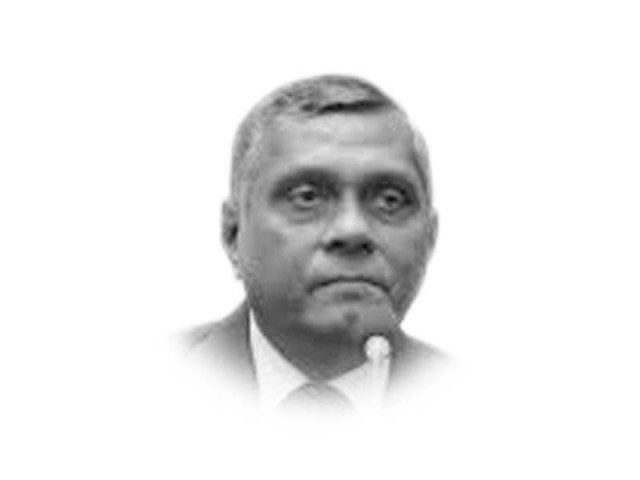 ---
The creation of Pakistan was a miracle, but it looks as if we need yet another miracle to transform it into an economically vibrant and politically stable country where there is good governance, rule of law and functional justice system. Prime Minister Imran Khan is constantly blaming 'mafias' for corruption, nepotism and ever-rising debts that are affecting the quality of life in the country. If a country is unable to settle down even during 73 years of its existence, it means only a miracle can pull it out of the crisis.
If a state pursues a policy of appeasement vis-a-vis extremists and miscreants, it cannot bring stability to the country it governs, and lift its status and prestige in the comity of nations. Only a miracle can save such a fragile state from failing.
The miraculous rise of Singapore, China, South Korea and Malaysia in a span of just 50 years is enough to prove that crises can be overcome against all odds. China is now the world's second biggest economic power while Singapore, once a Third World country, is now categorised among the countries in the First World. All the four countries mentioned above were poor, impoverished and backward, but relentless efforts by their leadership led to a miraculous turnaround and their GDP, per capita income, exports and foreign exchange reserves had taken a big leap forward. Why miracles have not taken place in case of Pakistan and how the country, despite its impressive economic growth rate and industrialisation during the 60s, drifted towards retrogression? An example of a miracle happening just lies in our neighbourhood: the UAE which got independence from Britain just 50 years ago now matches progress in any First World country in terms of the economy, civic infrastructure, and quality of life.
Miracles also happened in case of Japan and Germany which stood devastated in the WWII, but are now the world's third and fourth largest economies. There were times in 1950s when Pakistan granted a loan to West Germany to take care of post-war reconstruction and development. Even Bangladesh which was referred to as 'basket case' is now far ahead of the country it got independence from – i.e. Pakistan – half a century ago. Bangladesh is far ahead of Pakistan in almost all economic and human development indicators.
If Pakistan currently lags behind countries it used to lead in human development and human security indicators, the situation points towards existential structural issues. Having experienced successive regimes in post-1971 era, Pakistan despite possessing enormous potential is unable to pull itself from the vicious cycle of corruption, nepotism, bad governance, debt trap, meager exports, low foreign exchange reserves, GDP and per capita income. When Prime Minister Imran Khan talks of empty coffers and thereby his inability to take care of the masses, it means Pakistan will not be able to put its house in order for a long time to come. So, looking for a turnaround in the economic situation, increase in trade and tourism, and raise in the quality of life of people is like expecting the unexpected. However, there is no dearth of people who expect miracles to happen in Pakistan and a heavenly bailout from poverty, under-development, corruption, nepotism and economic stagnation. But, what is forgotten here is that God helps those who help themselves. In order to analyse why miracles have not taken place in case of Pakistan, three major realities should be taken into account.
First, things cannot change solely on relying on God, but by supplementing this faith with adopting a practical approach. If miracles happened in case of China and other countries which led to qualitative change in their economic and societal structures, these were primarily the result of committed, dedicated and honest leadership which prioritised the interest of the people rather than the interest of their personal fiefdoms. If the leadership is corrupt and incompetent and lacks integrity, it can never lead the people towards social and economic progress. When the elites restrict themselves to their comfort zones and only seek to maximise their wealth and power at the expense of the people, miracles cannot happen.
Second, there can be no miracles in the absence of the rule of law, a proper justice system, and accountability for all – both in theory and practice. When miscreants and extremists take law into their own hands and those who are duty-bound to take action against such law-breakers fail to do so, it sends a very bad impression of Pakistan internationally. It will indeed be a miracle if Pakistan can save itself from intolerance, extremism, terrorism, violence and radicalisation. The absence of the rule of law means that the country will be depicted as a failing or failed state. The APS terrorist attack on December 16, 2014 led to the formation of the National Action Plan to uproot terrorism from the country – albeit with little success. And no one was taken to task on the escape of TTP's Ehsanullah Ehsan in early 2020 from the safe house in Islamabad – something that raises serious questions as to the internal safety and security. Are there any rogue elements in security establishment that may have been patronising extremist groups?
Third, because of deep-rooted corruption, nepotism, extremism, intolerance, radicalisation, and violence, it will be a miracle if the vision of Quaid-e-Azam Mohammad Ali Jinnah for a peaceful and tolerant Pakistan is transformed into reality. What Pakistan has been going through currently is in stark contrast to what the Quaid wanted it to be. It will, therefore, be a miracle if a culture of enlightenment, tolerance, peace, accountability, good governance and rule of law could be established in Pakistan.
Having said that, one should keep hope that the forces of hate, intolerance and retrogression could be defeated, and Pakistan's global image could be restored in the years to come. The resources are there, as well as the potential. If there is political will and determination on the part of those who wield power, miracles can certainly happen.
Published in The Express Tribune, April 18th, 2021.
Like Opinion & Editorial on Facebook, follow @ETOpEd on Twitter to receive all updates on all our daily pieces.