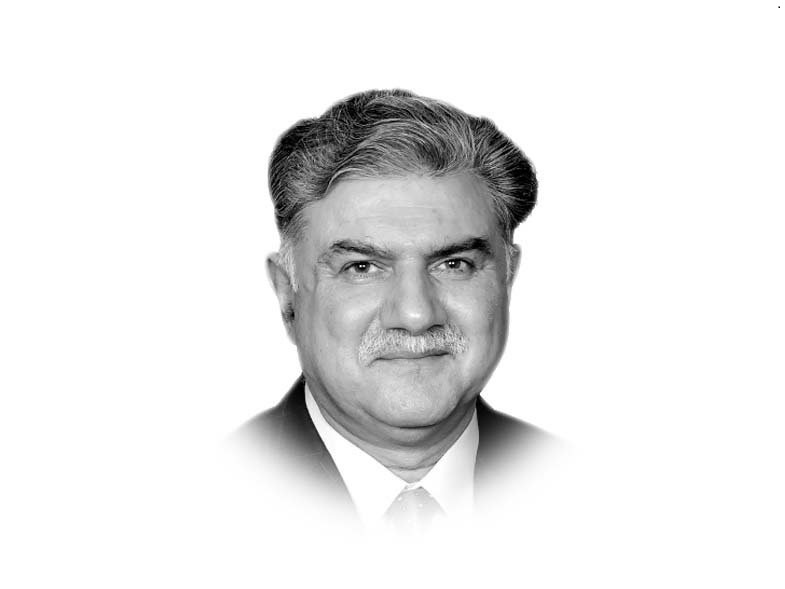 ---
"Let's bury the past," were the words of my counterpart in Moscow at the Ministry of Defence, where I was heading a tri-service military delegation some years ago. We were in Moscow coinciding with the biennial Spasskaya Tower Military Music Festival, where our military band was invited for the first time. The crowd was ecstatic to the tune of "Chandni ratein", especially when it played for the general public outside the festival venue at Red Square and at the grounds of the sprawling Moscow university. Moscow had billboards welcoming us. The amity was surprising and unusual.
The recent two-day (April 6-7) Islamabad visit by Russian Foreign Minister Sergey Lavrov was a first visit by any Russian foreign minister in almost a decade. He delivered an "important" message from President Vladimir Putin. Lavrov had arrived in Islamabad after spending two days (April 5-6) in New Delhi. Media reported Indian unhappiness with his Pakistani itinerary and Prime Minister Narendra Modi avoided meeting Lavrov.
This was an important visit in the rapidly evolving regional environment. The Russian amity offering a "blank cheque", and geo-economic cooperation are unprecedented. The scope of the visit spanned economy, trade, energy, counter-terrorism, security/defence, education, and people-to-people exchanges. Discussions reportedly covered regional dynamics, Afghanistan peace, and the Belt and Road Initiative (BRI), with China–Pakistan Economic Corridor (CPEC) as its flagship project.
Russian foreign policy tries to address its demographic dilution-in-space, in a not-so-friendly Euro-Asian neighbourhood. Economic woes, historic food shortages and its Central Asian soft underbelly remain its vulnerabilities. It is also concerned by Islamic extremism and revisionism (read: Turkey). Foreign military sales (FMS) mostly dictate Russian policy references.
Russia-Pakistan relations have many constants and variables. Constants could be identified as geography/Afghanistan, history and the India factor. Variables are Russian defence and energy surpluses, US hostility towards Kremlin, China and our market.
The post-Soviet rapprochement between Russia and Pakistan, the former Cold War rivals, started in 2011 after Pak-US relations nosedived. In policy calibration, Pakistan decided to reach out to Russia to diversify its foreign policy options. Military diplomacy (and exchanges) led the initiative.
Both Pakistan and Russia inhabit common neighbourhood, with Afghanistan remaining a binding denominator. Both sides are interested in Afghanistan's stability… Russia dearly wanting to preclude the burgeoning drug smuggling through Tajikistan and keeping the Central Asian republics — its traditional backyard — free from any extremist influences. Both support an "Afghan-led and Afghan-owned" solution with Russia leading a parallel peace initiative called the "Moscow format" to supplement the Doha process.
In the anticipated economic cooperation with Pakistan, Russia is reported to have an investment portfolio of $14 billion in gas infrastructure. The $2 billion North-South gas pipeline project from Karachi to Lahore, agreed in 2015, awaits alternative structure to start, due to US sanctions against Russia.
Russia is keen to revive the Pakistan Steel Mills, built in 1974 by a consortium of Pakistani companies under the supervision of Soviet engineers/experts. Russia has provided Pakistan with 50,000 coronavirus vaccine doses (Sputnik V) with another 150,000 in the pipeline.
Russia has vast defence potential, as witnessed during a biennial Defence Expo in 2016, near Ekaterinburg, in northern Russia (where only Russian companies participated). Moscow ranks second in the world in arms export, supplying arms/military equipment to some 66 countries. Russia has military/technical cooperation agreements with 85 countries. Its yearly defence exports are over a staggering $46 billion. Five countries: India, Vietnam, China, Algeria and Venezuela comprise 74% of Russian arms exports (2012-16).
Russian military technology is high-end, decidedly better than China's and not as expensive as the West's. It is a middle order solution for resource-strained militaries like Pakistan. If the red tape that mars its official exporter, the Rosoboronexport, is overcome; it remains a lucrative shopping destination for military hardware. Rosoboronexport alone controls the export of the entire range of Russian military/dual-use products, services and technologies.
Despite Indian objections, Russia-Pakistan militaries have held joint exercises since 2016. Recent Russian willingness to offer "special military equipment" to enhance Pakistan's anti-terrorist potential is admirable; but if the past is any guide, bilateral military/industrial cooperation has remained complex and much below the actual potential. With international relations in reverse; India, the erstwhile Russian ally, is fastly "seen" drifting towards the US, hostile to Moscow; and Russia towards China, hostile to New Delhi. Although detractors were long forecasting the demise of the "anomalous" Indo-Russian ties between a democracy and an autocracy. India is apparently being propped up by the US as a bulwark against China. However, India would never turn its perceived US-closeness into a full-blown military conflict with China.
Defence ties still remain the bedrock of the Indo-Russia "special and privileged strategic" relationship. Indo-Russia joint defence production is worth $25-32 billion, including projects like BrahMos missiles, T-90 tanks, AK-203 Kalashnikov assault rifle, Sukhoi Mk-30 fighter jets, Igla anti-aircraft platforms and Krivak-III frigates, etc.
Russian inventory still equips more than 60% of Indian defence forces. Russian FMS are considered reliable and low maintenance. India is keeping a close tab on the fact that it used the expeditiously supplied Russian military equipment against China during the 2019 Ladakh crisis, given its damaging implications for Sino-Russia strategic ties. Indian quest to multiply its supply sources by taping the US/European market is clever opportunism.
Likewise, Russia has extensive joint military production projects in China. Russian weapon supply accounts for over 68% of Beijing's arms imports, Sino-Russian strategic partnership; US-Russia hostility; and Indian grouping in the Quad (comprising US, India, Japan and Australia) — labeled 'divisive' by Moscow — are some compelling reasons, forcing a rethink on Russia's foreign policy matrix. Moreover, both Russia and China, would want to nudge India away from the US, hence Moscow's amity and warming up towards Pakistan.
Pakistan's recent policy calibration under the Islamabad Security Dialogue (ISD) in mid-March and Russia's Greater Eurasian Partnership are complementary "balancing" strategies that emphasise connectivity-driven economic diplomacy. However, expecting rapid rapprochement with Russia leading to closer cooperation would be naïve. Russia in oriental fashion, values its alliances — past and present. It was in 2012, when President Putin cancelled his announced visit to Pakistan at the Indian behest. Putin's visit still remains a litmus test for bilateral ties.
Lavrov's visit is also attributed to the growing Russian clout in South Asia. Moscow offered mediation for border talks between India and China and showed increasing interest in the Afghan peace process with Pakistan's involvement. Zamir Kabulov, the Russian special envoy for Afghanistan and a former ambassador to Kabul, is considered the main supporter of rapprochement with Pakistan, due to Islamabad's influence over the Taliban and Russia's own significant Muslim population.
A perceptible shift is underway in Russia's geo-strategic calculus. It is signaling to India not to expect Moscow's total fidelity if it continues to tilt towards the US. China-Russia amity remains another factor. Pakistan needs to play up smartly and patiently keeping manageable expectations.
Bears hibernate but have a shrewd sense of friendship
Published in The Express Tribune, April 15th, 2021.
Like Opinion & Editorial on Facebook, follow @ETOpEd on Twitter to receive all updates on all our daily pieces.
COMMENTS
Comments are moderated and generally will be posted if they are on-topic and not abusive.
For more information, please see our Comments FAQ