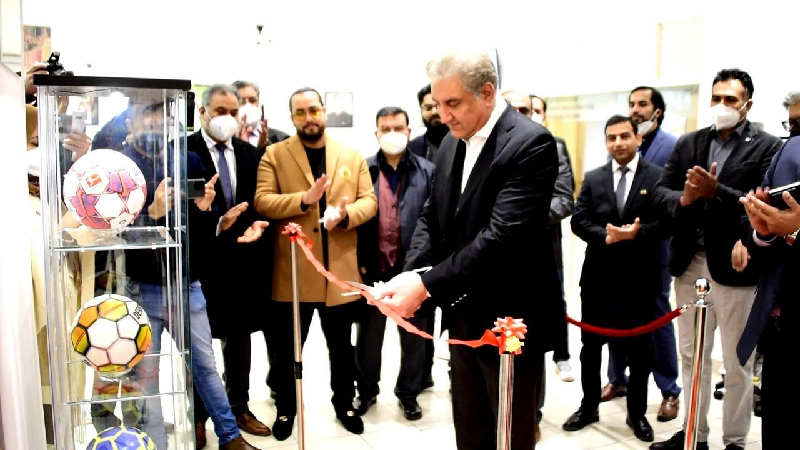 ---
Foreign Minister Shah Mahmood Qureshi on Tuesday visited the Pakistan's Embassy in Berlin on the second day of his official visit to Germany.
He was received by the ambassador and officers of the embassy and was given a tour of the consular section, the Foreign Office said in a statement.
Great to visit our embassy in Germany. With over 50M footballs imported from 🇵🇰 to 🇩🇪 annually, happy to launch a football enclave at the emb. 'Arzi Nawees' has also been appointed to aid with online application forms for those in need, gratis. pic.twitter.com/Gxg8CcEzOC

— Shah Mahmood Qureshi (@SMQureshiPTI) April 13, 2021
The foreign minister interacted with many applicants availing services.
"With a view to ease the difficulties faced by the Pakistani community and to further facilitate them, he inaugurated the position of "Arzi Nawees", who would offer free-of-charge facilitation for NADRA and IMPASS online-applications," the statement added.
FM Qureshi also announced that a similar post will soon be operationalised in the Consulate General in Frankfurt and in other places in Europe, where required.
He also inaugurated a "Football Corner" in the consular section, dedicating it to the hardworking Pakistanis stitching footballs, especially in Sialkot.
He highlighted that the Football Corner would serve as a constant reminder about the contribution of Pakistan to the most loved sport of football across Europe.
Over 50 million footballs, designed and manufactured in Pakistan, make their way to Germany, every year, to be used especially in the prestigious Bundesliga matches, which are viewed by millions of people across the world.
The foreign minister also interacted with members of the Pakistani community, who had travelled from various parts of Germany to meet him. During the meeting, members of the community apprised FM Qureshi of ways to further promote Pakistan's image in Germany and offered many suggestions.
Germany is home to over 100,000 members of 🇵🇰 diaspora, positively contributing to German economy & society. Pleased to meet some such members for a candid encounter. Equally happy to meet a young boy from Azerbaijan who appreciated Pakistan's unflinching support to Azerbaijan. pic.twitter.com/y8Lb6rw6hx

— Shah Mahmood Qureshi (@SMQureshiPTI) April 13, 2021
The members of the community expressed their gratitude for the inauguration of the Arzi Nawees at the Pakistani mission in Berlin.
In order to acquaint European audience with Pakistan's perspective on issues pertaining to regional and international developments, including Pakistan-India relations, grave human rights violations in IIOJK [Indian Illegally Occupied Jammu and Kashmir], Afghan peace process, CPEC and opportunities for investments in Special Economic Zones (SEZs), EU DisinfoLab, and FATF, the foreign minister held extensive media interactions with German and European media including Die Welt, DW and Diplomatic Magazine, the FO communiqué read.
The media representatives from local Pakistani community also interviewed the foreign minister.