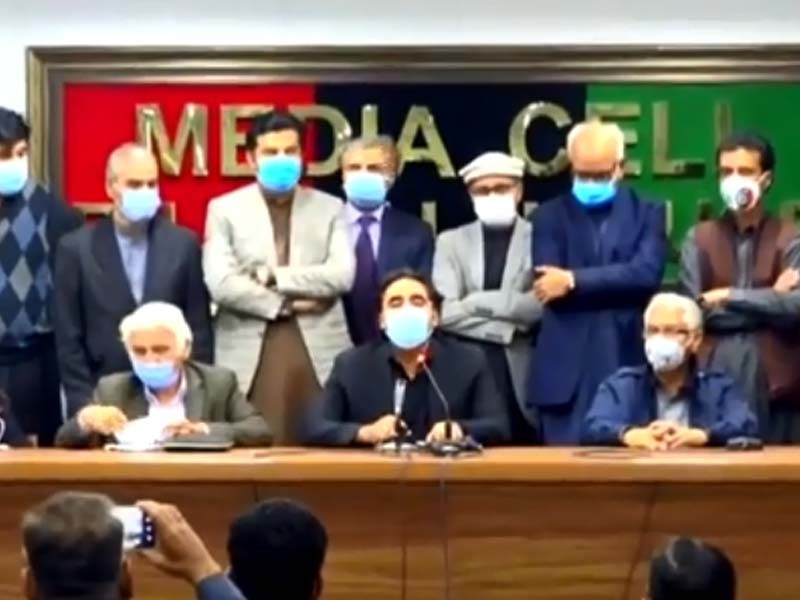 ---
ISLAMABAD:
A day after deciding to give up all the offices in the Pakistan Democratic Movement (PDM), the Pakistan Peoples Party (PPP) Tuesday sent resignations of three party leaders from PDM posts to the residence of the anti-government alliance's chief Maulana Fazlur Rehman.
PPP Secretary General Nayyar Hussain Bukhari delivered the resignations of the three party stalwarts – former prime minister Raja Pervez Ashraf, former information minister Qamar Zaman Kaira and Senator Sherry Rehman – after PPP Chairman Bilawal Bhutto Zardari gave written approval.
PPP officials said Ashraf was PDM's vice president while the other two were members of the steering committee.
A day before on April 12, PPP's Central Executive Committee decided to quit from all PDM posts after a two-day meeting where the party's stalwarts had gathered to discuss a "show-cause" notice, among other things, issued by the PDM to the PPP following a recent row over the elections to the Senate top slots.
Read more: PPP decides to quit all PDM offices
The PPP's decision – which came days after the ANP parted ways with the alliance – has left the opposition alliance in shambles.
It was formed to oust the PTI government but now it has disintegrated due to internal rifts.
Meanwhile, PPP officials said, a PDM meeting is underway at the PDM chief's residence of parties, excluding PPP and ANP.
Earlier it was reported that the CEC meeting, presided over by Bilawal rejected the "show-cause notice" issued to the party over garnering support of the Balochistan Awami Party (BAP) for Yousaf Raza Gilani for opposition leader in the Senate.
"The show-cause is aimed at giving us dictation. There is no precedent about issuing such notices to any party during the movement in the past; therefore, we demand of the PDM leadership to tender an apology for serving the show-cause notice to the PPP and ANP," Bilawal told a post-CEC presser.
"Politics is done on the basis of dignity and equality. The situation is totally reverse here. Instead of giving a tough time to the government, the opposition is fighting with own members, giving relief to the puppet government," he said.
"The CEC expresses serious concern over the conduct of the PDM senior leaders who issued the show-cause notices to the PPP and the ANP. This never happened in any of the past movements for restoration of democracy; therefore, we have decided to resign from all positions in the PDM."
COMMENTS
Comments are moderated and generally will be posted if they are on-topic and not abusive.
For more information, please see our Comments FAQ