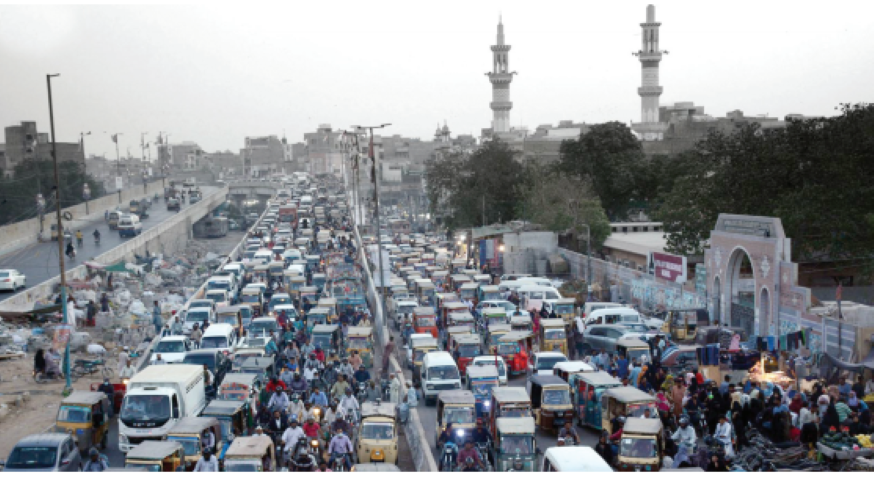 ---
KARACHI:
The city saw one of its worst traffic jams on Monday evening, which left citizens stranded in a nerve-wracking situation.
Long queues of vehicles, stretching for several kilometers, formed on the main thoroughfares of the city, where ambulances were also stranded. It took citizens hours to reach their destinations while many commuters faced immense difficulties as their vehicles ran out of fuel. All major throughways and roads of the city were fraught with bumper-to-bumper traffic due to sit-ins and protests of the Tehreek-e-Labaik Pakistan (TLP) at multiple locations in the metropolis, while traffic authorities and law enforcement agencies failed to control the situation.
Patients and caregivers aboard ambulances also faced severe difficulties and hardships.
The logjam persisted on II Chundrigar, Sharae Faisal, Main Korangi Road, Baloch Colony Expressway, Drigh Road Intersection, Rashid Minhas Road, University Road, Shaheed-e-Millat Road, Tariq Road, Sharae Qauideen, Hassan Square, North Karachi, Power House Chowrangi, Liaqatabad, Sohrab Goth, Orangi Town, Baldia Town, Hub River Road, Malir, Shah Faisal Colony and Tower areas while other locations, including Numaish Chowrangi, Governor House, Fawara Chowk, Korangi, Clifton and Fresco Chowk also saw a traffic disruption for hours.
Moreover, people traveling in private vehicles, passengers in public transport, including women, children and the elderly were inconvenienced and many chose to leave their vehicles and walk for hours to reach their destinations.
Many people were seen trying to pacify children crying in the sweltering heat.
At many roads, some motorists and bikers jumped on the wrong side which caused a face-to-face blockage.
According to citizens, the month of Ramazan is just a day away due to which a large number of people had left their homes to shop for groceries. Till the filing of this report vehicles were still stuck in traffic jams on many arteries of the city.
In extreme frustration, many drivers and motorcycle riders chose to switch off their engines and wait for the disruption to ease.