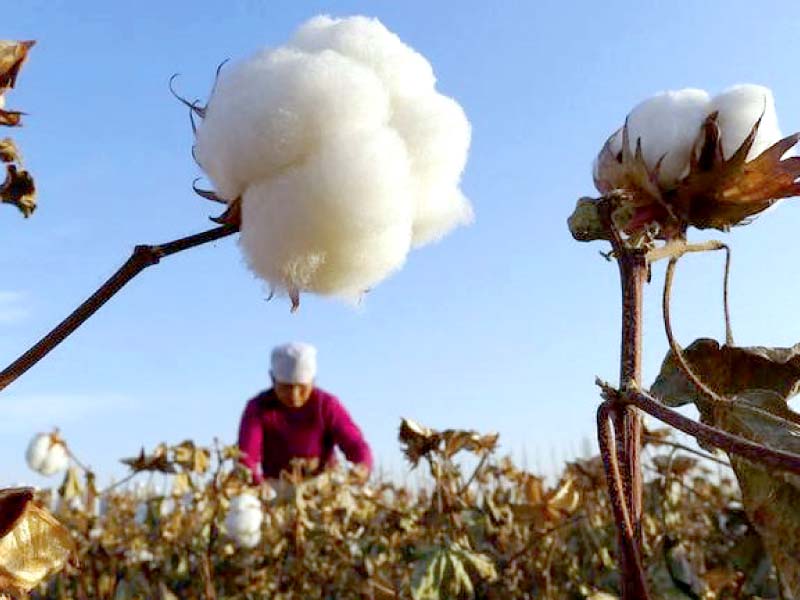 ---
KARACHI:
Pakistan's cotton output during the current crop year fell to 5.645 million bales from 10.763 million bales last year – a sharp decline of 47.5%, figures released by the Pakistan Cotton Ginners Association show.
This is the lowest output in the past three decades and is far below the target of 10.8 million bales. The lower-than-targeted cotton output has already started hurting the textile economy.
Imports of cotton continue to meet the country's requirement of about 15 million bales, resulting in massive outflow of foreign exchange. The low cotton production – only 52% of the targeted volume – will also make it difficult to meet the overall agricultural growth target of 2.8%, which in turn could negatively affect the overall economic growth.
The State Bank of Pakistan (SBP) recently said that the economy could grow 3% this fiscal year against the target of 2.1%. But that seems too difficult now – if not impossible.
Pakistan was to bring an area of 2.31 million hectares under cotton cultivation to get 10.8 million bales of output. But that did not happen. This is one big reason for a massive 48% decline in output.
According to an SBP report, cotton was cultivated on just 2.2 million hectares – the smallest area under cultivation since 1982.
Cotton yield also did not rise to make up for the output loss due to shrinkage in the area under cultivation. The yield rather fell to 445 kg per hectare from 551 kg per hectare a year ago, statistics released by the US Department of Agriculture reveal.
It is not for the first time that Pakistan has witnessed the twin trouble of shrinkage in the area under cotton cultivation and the decline in yield. With the exception of a few years, this has been a norm for 30 years, historical data on cotton cultivation and yield shows.
Read: Cotton production declines by whopping 34%
Textile sector woes
A massive decline in cotton output has created insurmountable problems for the textile millers.
They say the cost of yarn and textile products is growing due to greater use of imported cotton, which is costlier by 15% than domestic cotton. This makes it too hard to boost domestic textile sales – and that too in a slow growing economy – and increase exports amid fierce competition with India.
Meanwhile, bulkier import of cotton has increased the overall import bill at a time when the country desperately needs foreign exchange. Pakistan has only recently secured resumption of the stalled $6 billion IMF lending programme on tough conditions and has raised $2.5 billion via Eurobonds on high returns.
Cotton import bill more than doubled to $870 million for Jul-Feb 2020-21 from $390 million for Jul-Feb 2019-20, according to the Pakistan Bureau of Statistics.
Market reports suggest that 2019-20 cotton output of 10.763 million bales, which was down from 10.78 million bales in 2018-19, discouraged many growers to go for cotton cultivation in 2020-21. And, they opted for rice and sugarcane.
When output of a crop keeps falling year after year – and cotton output has been showing this decline after peaking at 14.8 million bales in 2014 – growers start losing interest. They opt for another crop whose output is showing a rising trend.
This leads to shrinkage in the area under cultivation of the crop in trouble, which in turn results in a lower output.
Only those growers stick to growing a troubled crop who have all the resources to boost the yield and emerge as major producers to dictate their terms in the market.
Federal and provincial governments should have considered this mindset of farmers in cotton-related target setting and policymaking. However, they have failed to do so and have continued to set higher output targets only to watch helplessly how those targets are missed.
Cotton output has been on the decline since 2014 also because rice and sugarcane production has posted progressive growth year after year—with one exception as sugarcane production has started falling recently.
Policymakers could also have taken care of this fact and could have incentivised cotton production. But one reason why this could not be done is that in Pakistan the sugar industry is politically the most powerful.
Top leaders of the two main opposition parties and a few senior leaders of the ruling party all have stakes in the sugar industry and keeping sugarcane output high.
Read more: Textile exporters urge govt to break cotton cartel
New seed variety
A third reason for the declining cotton output is the absence of a new variety of certified cotton seed, according to the Sindh Abadgar Board.
Its Senior Vice President Mahmood Nawaz Shah says ever since the arrival of Bt cotton (about a decade ago), no new cotton seed variety has been developed in Pakistan.
In a scholarly article on Pakistan's cotton dynamics published in the Pakistan Journal of Agriculture Research in late 2018, a group of Pakistani and Chinese agronomists established with empirical evidence that heat stress had traditionally hit cotton output in the country.
A crop is under heat stress when average temperature rises and remains high for some time than the average temperature required for cultivation of that crop.
In case of Pakistan's cotton, the ideal temperature range required is between 27 and 35 degree Celsius. But we all know in cotton-growing belts in Sindh and Punjab sometimes the actual temperature remains far higher.
Whatever the reasons for the continuing decline in cotton production –and there are a few others in addition to the ones discussed above like pest attack and scant water supply, there is an urgent need to make policies for boosting the output immediately.
Else, the country must be prepared to let its import bill rise significantly in the years to come, which it cannot afford obviously.
The writer is a mechanical engineer and is doing masters
Published in The Express Tribune, April 12th, 2021.
Like Business on Facebook, follow @TribuneBiz on Twitter to stay informed and join in the conversation.