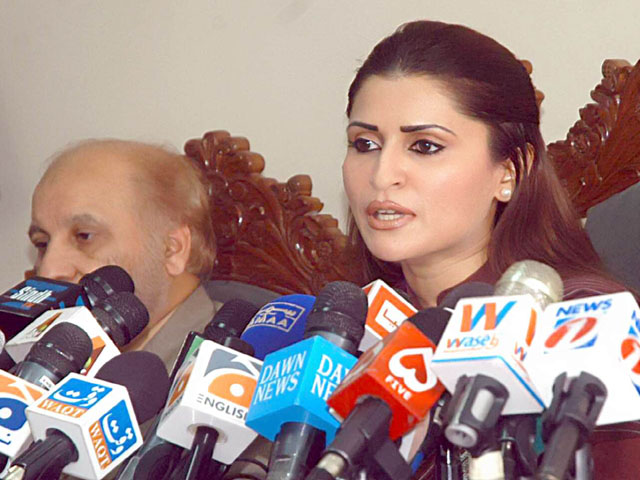 ---
KARACHI:
Pakistan Muslim League-Nawaz's (PML-N) victory in the NA-75 (Daska) by-polls has validated Bilawal Bhutto's strategy of fighting the system from within it, said Pakistan Peoples Party's parliamentarian Shazia Marri in a statement on Sunday.
The PPP fulfilled its commitment to the PML-N in the Daska by-election, the PPP MNA remarked.
Marri, who is also the PPP's central information secretary, stated that her party was pleased that the PML-N heeded Bilawal's advice, participated in the by-election and came out victorious.
"The Daska by-election results have shown the entire nation that it is better to contest the government by sitting in assemblies," she maintained.
She further added that the recent by-election was yet another referendum against the elected government that was won by the people.
Read PML-N clinches much-hyped Daska by-poll with huge margin
The PPP parliamentarian maintained that PML-N's Nosheen Iftikhar did not defeat Imran Khan's candidate only to resign from the assembly.
The ruling Pakistan Tehreek-e-Insaf (PTI) was dealt a major blow after opposition PML-N emerged victorious in the much-hyped NA-75 Daska by-election with a huge margin of over 19,000 votes on Saturday.
As per the unconfirmed and unofficial results of all 360 polling stations, PML-N candidate Nosheen Iftikhar bagged 111,220 votes against PTI's Ali Asjad Malhi, who managed to secure 92,019 votes.
By-elections are usually considered a cakewalk for the sitting government, but the results in NA-75 are humiliating for the ruling party as, according to the unofficial results, its candidate was defeated with a margin of 19,201 votes.
Even the announcement of a development package of Rs500 million for the constituency couldn't change voters' mood and save it from being pummeled.
COMMENTS
Comments are moderated and generally will be posted if they are on-topic and not abusive.
For more information, please see our Comments FAQ