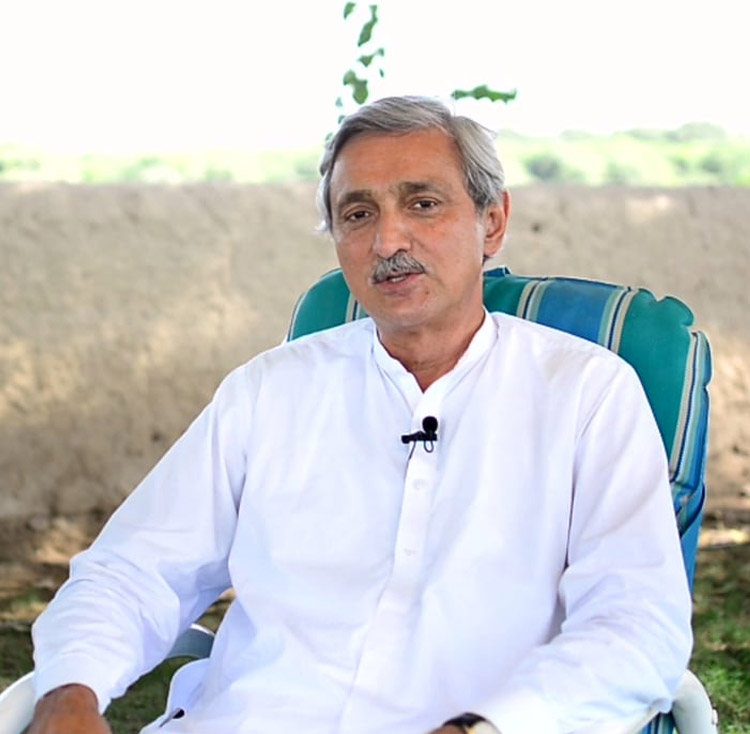 ---
ISLAMABAD:
Jahangir Tareen – once known as the ruling party's trouble-shooter – displayed his political support base in the Pakistan Tehreek-e-Insaf (PTI) on Friday when he hosted a number of federal and provincial lawmakers at a dinner at his residence in Lahore.
According to media reports, more than two dozen members of the national and Punjab assemblies, besides a few provincial ministers and advisers attended the dinner and assured Tareen of their full support.
Tareen, a former secretary general of the PTI, was once considered a close friend of Prime Minister Imran Khan but has been sidelined since the inquiry report of the 2020 sugar crisis accused him of benefiting the most from it.
On the one hand, 29 lawmakers attended the dinner but on the other, several PTI leaders expressed that the former secretary general of the party was not a threat to the government and the participation of the MNAs and the MPAs in the dinner was "no big deal".
Earlier on Friday, Interior Minister Sheikh Rashid termed Tareen issue a "sensitive matter" but later, Federal Minister for Maritime Affairs Ali Zaidi told The Express Tribune that "when an alliance of 10-opposition parties couldn't dislodge the government, a single man too can't do anything."
"It's no big deal," Zaidi said, adding that he was not worried about breakfast or dinner hosted by Tareen. Revealing that Prime Minister Imran Khan was "relax", the minister said that the Imran is in favour of "across-the-board accountability".
Admitting that Tareen did a lot of work for the party and brought a lot of value to it, Zaidi said that he "was not fond of his [Tareen's] working style".
Explaining his point of view, Zaidi said that Tareen had "presented himself as an expert of many things; it was his job to help the government to decrease sugar prices but he couldn't". Zaidi termed it "a betrayal", saying "addiction to money" led to Tareen's troubles.
"How much is enough for a person; how many properties, houses, cars, money is enough for a man; what is the limit of one's greed," he questioned, while explaining the difference between the need and greed.
He added that the sugar inquiry pointed out Tareen's role, and the government had to go ahead with that. He, however, regretted the slow process of law, saying that the legal process takes a long time and because of it several people, including lawmakers, were feeling at ease.
Zaidi gave examples of the trials of the Pakistan Muslim League-Nawaz (PML-N) Vice President Maryam Nawaz and a key figure of the Lyari gang war, Uzair Baloch and said that no conclusion seems to be in sight and "that's a serious issue" than a dinner or a breakfast meeting.
Another PTI leader, Usman Dar, said that the MNAs and the MPAs were standing with Tareen to show solidarity and "there is no serious threat" to the government as Tareen doesn't have a separate political party and he is already out of politics. Dar said that Tareen is going through the process of accountability along with others and there was "no pick and choose" when it comes to accountability.
Dar said that the inquiry was ordered after Tareen's name emerged in the sugar inquiry report, saying he never heard the premier directing anyone to take action against anyone or give relaxation to anyone. "Internally, there is no discussion on Tareen being a threat to PTI."
Commenting on opposition parties' statements, particularly the remarks from PML-N's Rana Sanaullah said that doors were not shut on Tareen, Dar said that PML-N lawmakers were worried about their leadership. "Tareen will not go anywhere; he will not leave PTI," Dar said.
On Wednesday, in a show of support, Punjab lawmakers from the ruling PTI had accompanied the Tareen to a court where he and his son had to appear for the extension in the interim bail in cases filed by the Federal Investigation Agency (FIA).
On Thursday, the estranged PTI leader ruled out rifts between him and party chief Prime Minister Imran Khan, emphatically stating that he could not even think of "causing harm" to the prime minister.
Tareen, who was the major architect of PTI government, is now facing money laundering and fraud charges in the sugar scam. It's no secret that he played a major role in the formation of the central government and bringing new members to the PTI as well as persuading the allies drifting away from PTI.
Back then, no one could even imagine that he would one day be considered a threat to the PTI government but now the ruling party has made it clear that it was not possible that accountability is confined only to the government's political rivals.
COMMENTS
Comments are moderated and generally will be posted if they are on-topic and not abusive.
For more information, please see our Comments FAQ