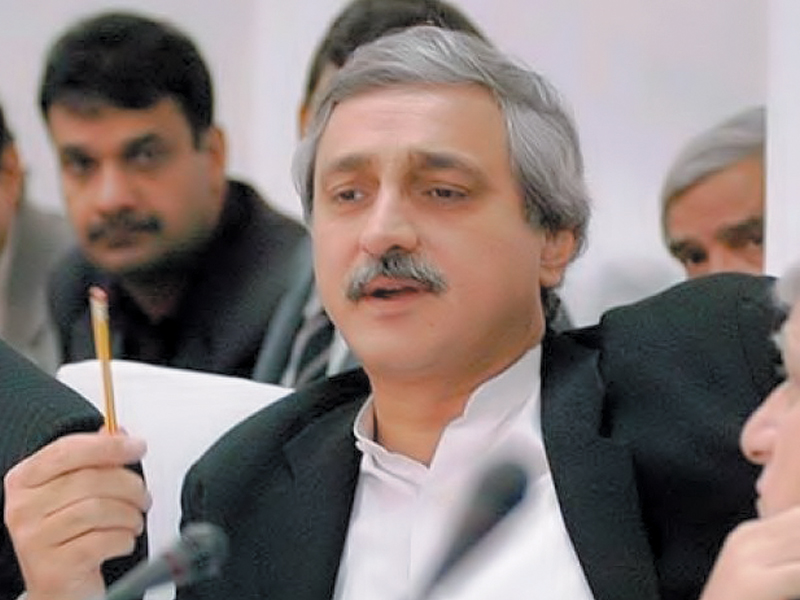 ---
LAHORE:
Leaders belonging to the ruling PTI in Punjab including MPAs on Wednesday accompanied estranged party leader Jahangir Tareen to a banking court where he sought an extension in the pre-arrest bail granted to him and his son in the fraud cases filed by the Federal Investigation Agency (FIA) against them last month.
They included Raja Riaz, Lala Tahir Randhawa, Salman Naeem, Ghulam Bibi Bharwana, Khurram Leghari, Abdul Hai Dasti and provincial minister Noman Langrial.
The court adjourned the hearing till April 10 for further arguments in the case. The next date was fixed as the banking court judge was unavailable during the hearing.
The father and son duo is facing allegations of fraudulently misappropriating shareholders' money and involvement in money laundering.
Later speaking to reporters, Tareen said those who were trying to "humiliate others" would soon be unveiled.
"PTI's top leadership should take this initiative now to unmask such elements," he added.
To a reporter's query about the PTI leaders accompanying him, Tareen said they had contacted him and asked to come along.
The sugar baron lashed out at his party for resorting to subjecting him to a media trial.
"It is regrettable that we are here seeking justice from the PTI," he added.
Tareen denied that he was quitting the PTI and asked why his loyalty was being tested.
"I have given my blood and sweat [for the PTI]. I can't separate from the party."
He also refuted reports of a future meeting with PPP Co-Chairman Asif Ali Zardari.
PPP senior leader Shehla Raza had claimed that Tareen is likely to jump ship next week when he is scheduled to Zardari in Karachi.
Speaking about the charges against him, the estranged PTI leader said there were three FIRs registered against him.
He added that he had remained silent for the past year when these things started happening against him since the sugar inquiry commission.
"What more proof do you need of my loyalty?" he added.
The PTI leader complained that his bank accounts and those of his son Ali Tareen had been frozen without any progress in the case.
"I was a friend. Why are you pushing me to become an enemy?"
Speaking on the occasion, Raja Riaz advised Prime Minister Imran Khan "not to lose a friend like Tareen as he had a role in forming the government".
Referring to the recently acquired vote of confidence, Riaz said it was because of the efforts of Tareen that made it possible.
The lawmakers also said that some people within the ranks of the PTI were damaging the party.
Separately, the Punjab CM's House said the provincial government had prepared a list of members of the party lawmakers who were supporting Tareen.
Punjab Chief Minister Usman Buzdar will meet the prime minister in Islamabad on Thursday (today) and hand over the list to him.
The premier will make the final decision about the fate of these lawmakers.