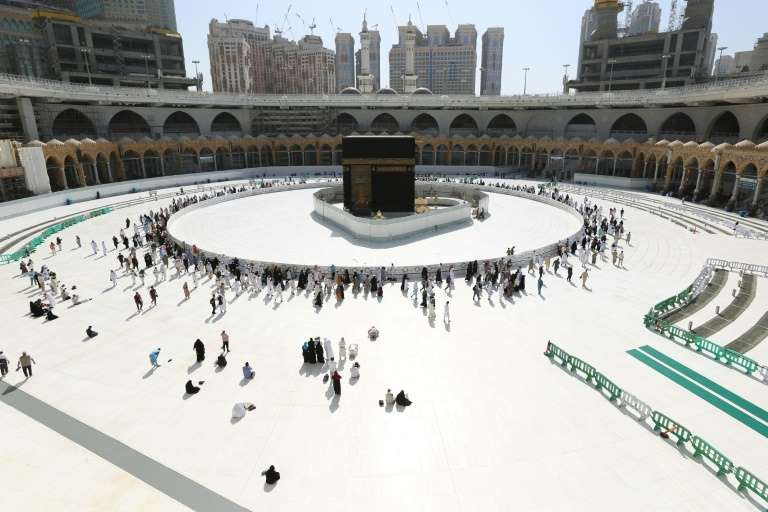 ---
Authorities in Saudi Arabia on Monday announced that only vaccinated or immune worshippers will be given permits to perform Umrah and regular prayers at the Grand Mosque in Makkah and the Prophet's Mosque in Madina during the holy month of Ramazan in a bid to contain the spread of coronavirus.
The Saudi Press Agency (SPA) quoted the kingdom's Ministry of Hajj and Umrah as saying that the permits will be granted to worshippers who have already got the two doses of the Covid-19 vaccine, or those who took the first dose 14 days before applying to obtain the permit and those who recovered from the infection already.
It further said that the permits can be obtained through the Eatmarna and Tawakkalna apps available on the ministry's website.
Read more: Saudi Arabia retains ban on Iftar gatherings, Itikaf at Khana-e-Kaaba, Masjid-e-Nabvi
The kingdom's health ministry said that 5 million doses of the coronavirus vaccine have been administered across Saudi Arabia.
"More than 5 million doses have been so far rolled out in more than 587 vaccination points across the kingdom," the ministry said in a statement.
Saudi Arabia began its nationwide vaccination campaign on December 17, using the German-American Pfizer-BioNTech vaccine.
Earlier, Saudi Deputy Minister of Hajj and Umrah Dr Abdulfattah Mashat had said that preparations have been made to receive more pilgrims, who must present the eatmarna app to authorities to confirm that their permits are valid before they arrive at the holy city of Makkah, Asharq Al-Awsat reported.
Mashat added that four reception centres will be set up at the entrances of Makkah and some 700 buses will be dedicated for their transportation. Each bus will carry 20 pilgrims in line with health regulations. The number of workers will be doubled to ensure the Umrah is held smoothly.
Last Sunday, the kingdom had decided to retain ban on Iftar gathering and Itikaf at the Grand Mosque in Makkah and the Holy Prophet's (PBUH) mosque in Madina during the month of Ramazan.
Sheikh Abdul Rahman Al-Sudais, head of the Presidency for the Affairs of the Two Holy Mosques, announced that the presidency would provide individual ready-made iftar meals for those visiting the Grand Mosque while distribution of Sehri (predawn meal) in the premises of Masjid-e-Nabvi will be forbidden, Saudi Gazette reported.
The kingdom had announced that Umrah permits would not be issued for domestic pilgrims above the age of 70 irrespective of their coronavirus vaccination status.
The oil-rich kingdom saw a surge in the number of Covid-19 infections in recent days. As of Sunday, the country's tally reached 392,682 cases, including 6,697 deaths.
(With additional input from APP and Anadolu Agency)
COMMENTS
Comments are moderated and generally will be posted if they are on-topic and not abusive.
For more information, please see our Comments FAQ