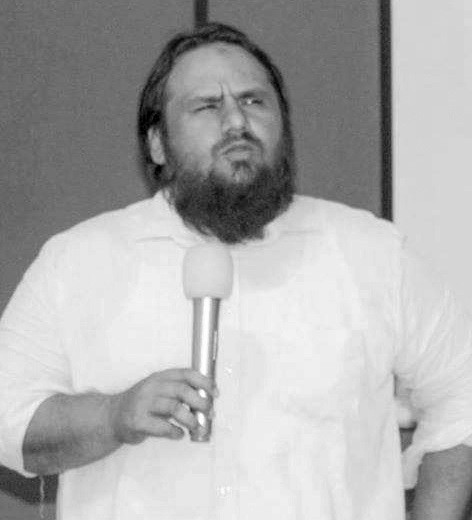 ---
KARACHI:
Strong communication skills are a requisite for every individual in today's fast paced society. For the average individual, it may be hard to imagine a life with an inability to communicate or converse properly. And yet, one per cent of the world's population struggles with a speech impediment or stammering.
Given the callousness of the modern world, speech impediments frequently affect self-confidence and impact a person's overall social behavior and quality of life.
Despite being no different from others in all other aspects, rejection, discrimination and discouragement are often metted out to persons with speech impediments.
Muhammad Shiraz Iqbal is the founding member of Stammer Circle, which is Pakistan's first platform of its kind, helping those with speech impediments to gain confidence and speak fluently through a support group. The Stammer Circle has 100 members and most of them are youngsters.
The Stammer Circle has been working to boost the confidence of those who have any kind of speech impairment since January 2018. The circle organises special activities, comprising curative approaches, speech therapy and psychological techniques, for persons with speech impairments, enabling them to tolerate the more hurtful reactions from society and express themselves confidently.
Read: Thirty rupees to district Thatta
Shiraz, who suffers from stammering himself, opens up to The Express Tribune about his experiences during student life and what he encounters on the regular as he navigates through life.
Having spent his childhood in Sharjah, Shiraz said he never experienced discrimination during his school days. On the contrary, his teachers preferred him over other students when it came to class participation and verbal activities, which according to Shiraz, played a key role in bringing out his potential to overcome what society saw as a 'flaw'.
However, he says, it was when he entered his professional life that he was met with one rejection after the other and evident disfavour from those on the other end of the hiring process. This bias against him was apparent in around 70 job interviews.
A social stigma
Shiraz says that stuttering has nothing to do with mental or physical abilities. It is not a disease or disability, he stresses, but a fear that overwhelms personalities, making them unable to express themselves openly and speak fluently.
"Society doesn't consider stuttering or any kind of speech impairment an actual issue. Instead, people find anyone suffering from this issue simply less capable and inefficient."
Discrimination begins early
According to Shiraz, a major challenge faced by people with speech impediments in Pakistan is social interaction, especially in schools. Students who stammer face criticism and a discriminatory attitude from teachers besides having a hard time communicating with their classmates.
Shiraz shares that the people who joined Stammer Circle say that they face more criticism from their teachers than their class fellows.
He believes that teachers do not consider speech impediment or stuttering as an issue that can be bridled through a little attention and encouragement towards the affected student. It is the non-acceptance towards stammering in Pakistani society that leads to the neglect of the abilities of many such individuals, he adds.
According to Shiraz, other issues that people who have difficulties with speech face in Pakistan include gaining employment and getting married.
Lending support
Shiraz says that the lack of self-confidence among people who stammer cannot be overcome in a short period of time and may take years. He revealed that it took six years of struggle and devotion for him to feel in control of himself while speaking.
He suggests that it would do wonders for confidence building if only people would stop interrupting one if they stammer.
For the people facing the issue, Shiraz's advice is to control their choice and delivery of words. He emphasises that one needs to be indifferent towards the reaction they might get. Staying silent and not expressing their views in order to hide their stammer is wrong according to Shiraz. He advises them to stop fearing and express themselves as much as they can.
According to Shiraz, many who suffer from stammering don't stutter when they are around people they can be comfortable or friendly with. However, as one cannot always be surrounded by friends or those that one likes, he urges people with speech impediments to get the necessary support to speak in all kinds of situations.
Read more: Microbiologists lauded for services during pandemic
Family matters
Shiraz finds that environment and treatment at home can do wonders to boost the confidence of people with speech impediments.
He proposes that instead of ignoring children or individuals having speech issues, family members should pay special attention to what they want to say and also push them towards speaking their hearts out.
He appeals to the people who have gone through the same and have managed to overcome their speech impediment to come forward and encourage others like them in the journey to overcome theirs.
Shiraz looks forward to building more such support groups across the country and to establishing a proper speech therapy centre.
But he is short on financial resources for it.
People from Lahore, Islamabad and Peshawar are also supporting Shiraz in his cause.
This story is part of a weekly series that seeks to bring to light the unsung heroes of Karachi - the hawkers, traders, doctors, teachers, engineers, lawyers and daily-wage labourers. It is they who make Karachi the city of lights.