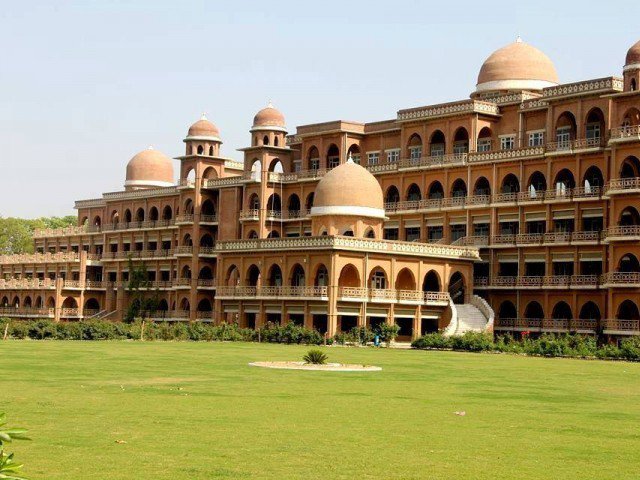 ---
PESHAWAR:
When provincial governor Shah Farman, who is also the vice chancellor of public sector universities, issued directives to impose dress code policies in educational institutions, most K-P universities were still operating online. Although there was criticism from various student associations and certain rights groups at the time too, it seemed that a majority of students had never expected their institutions to actually pursue the governor's directives.
However, when Hazara University in Mansehra and later Bacha Khan University in Charsadda issued their notifications enforcing the governor-backed dress code policy in January, it was as if it had triggered a domino effect across the whole province. Soon, several universities across Khyber Pakhtunkhwa (K-P), including University of Peshawar, Islamia College, and Agriculture University of Peshawar, had also started follow suit. Things now began to appear grimmer for K-P's students than they ever did.
According to Yusra, a student of University of Peshawar, it was her institution's decision to impose abayas on female students as part of the new dress code rule, which had left a sour taste in her mouth. "It's quite shameful of the university to try forcing us into donning abayas, and very much reminiscent of a regressive, intolerant society — nothing the pashtoon community would ever stand for and something we've spent so many years stepping away from. We are all adults with the liberty to freedom of expression, and it is neither the university nor the government which has any right to take that away from us," the student expressed.
The new dress code policy bars women from wearing any kind of fitted clothing, including jeans and tee-shirts, while also banning the use of heavy makeup, jewelry and fancy purses on campus. Boys on the other hand, have also been banned from sporting tight jeans, wrist chains, long hair and fashionable beard cuts, on university grounds.
Owing such instructions now circulating in most K-P universities, female students in particular fear that they will be made subject of strict scrutiny of dressing and excessive moral policing, as soon as classes resume.
Peshawar court orders registration of FIR against Aurat March Islamabad organisers
"A lot of students, especially females here already fight tooth and nail to acquire an education. Their troubles have only been amplified with the advent of Covid-19, and if the government on top of that also decides to put such regressive policies into place, I fear a lot of women will be deterred from pursuing education," told Romaisa Tariq, a student of Agriculture University, Peshawar.
"It is only K-P where such decisions are being paid any heed to. Our campuses were closed, so a lot of students did not protest when the policy first started making rounds. But we will definitely come out in opposition if the universities reopen and the situation remains unchanged," she added.
However, according to Tahirullah, a male student of Peshawar's Islamia College where the policy has also been put into effect, there is nothing in the policy he finds worth resisting.
"It is a great decision. Dress codes exist in some of the most prestigious schools of the developed world, like Oxford University in the UK. They represent the institution and the students' association with it and its values. But at the moment, this was not a pressing concern for a country like Pakistan. We have more pressing issues to worry about like the rising price of education and how inaccessible it is becoming for most students," the student opined.
Partially agreeing with the Islamia College student, local educationist Dr Khadim Hussain said that the government has failed to invest in higher education, leaving every university pleading for funds. "In circumstances like such, if the government's concern for what a student's wearing overweighs its will to fix its education system, then we're just headed nowhere but the dark ages," he told The Express Tribune.
Published in The Express Tribune, April 4th, 2021.
COMMENTS
Comments are moderated and generally will be posted if they are on-topic and not abusive.
For more information, please see our Comments FAQ