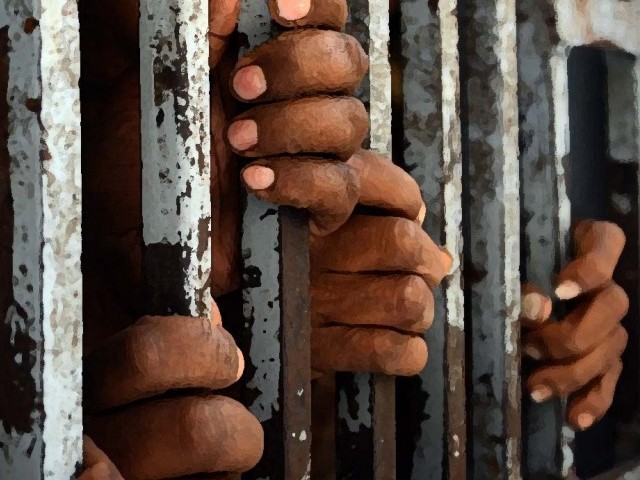 ---
RAWALPINDI:
A case has still not been registered in the clash that occurred between two groups of prisoners in Adiala Jail Rawalpindi on April 1.
At least eleven prisoners were injured in the brawl, with some inmates suffering serious injuries.
Meanwhile, the Punjab government authorities have transferred nine prisoners involved in the brawl to four other jails in Punjab. The provincial authorities have also conducted an inquiry into the incident. After the initial inquiry, Chief Warden of Central Jail Adiala Abdul Rehman and Warden Muhammad Riaz were suspended and transferred for their negligence in failing to avert the clash and taking immediate action when the brawl broke out.
Meanwhile, on the orders of the provincial minister and IG Prisons Punjab Shahid Saleem Baig, DIG Prisons Rawalpindi Malik Shaukat Feroze initiated a formal inquiry.
The DIG inspected the closed-circuit TV cameras installed in the jail and recorded the statements of the staff on duty.
On the other hand, on the initial recommendations of the jail authorities, it was recommended to transfer nine inmates to other jails in Punjab.
After the approval of the Punjab Home Department, nine inmates were transferred to other jails of Punjab. Meanwhile, the Adiala jail management sent a report to the Rawalpindi police to register a case against the inmates involved in the incident.
However, due to the ambiguity of the prosecution, the Sadar Beroni Police Station has again approached the jail administration and asked them to clear the ambiguity.
The case will be registered as soon as the explanation is received.
COMMENTS
Comments are moderated and generally will be posted if they are on-topic and not abusive.
For more information, please see our Comments FAQ