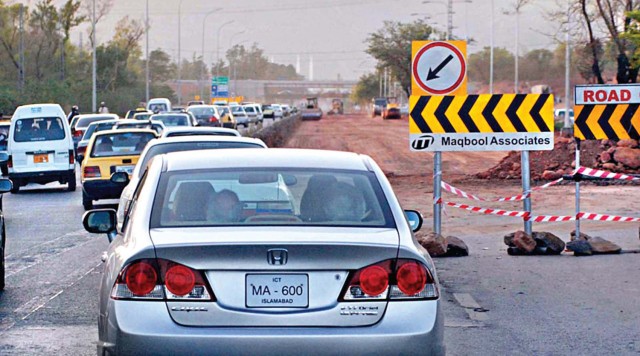 ---
Capital Development Authority (CDA) and Islamabad Traffic Police have blocked the Islamabad Highway for the construction of new bridges at Zero Point Interchange. This is turning out to be a huge nuisance for the commuters of the twin cities.

"They have blocked the main route to Islamabad without delineating an alternate route for traffic flow from Zero Point," said Irfan Iqbal, who commutes daily between Rawalpindi and Islamabad.

Long queues of vehicles can be noticed on both the roads leading to and coming from the capital. Drivers are forced to travel an extra five kilometers while entering Islamabad, as they are diverted on to the alternate route to Peshawar More from where they can access their desired destinations.

Similarly, on the way out of the capital, commuters are diverted to Aabpara Road (Khayaban-e-Suharwardy) from where they get on to Kashmir Highway. "It is a maze out there. They have given no directions to the commuters, it took me thirty minutes just to get back on the Islamabad Highway," said Usman Ehtesham, a disgruntled commuter.

From Kashmir Highway drivers have to use the Shakarparian route to access the road out of the city. The narrow winding road to Shakarparian and Lok Virsa seems inept at entertaining the huge amount of traffic being forwarded its way. At night, many still fear taking the secluded road, ending up with even lesser options to escape the city.

Sami Ashraf, who works in the night shift at a telecom office in Aabpara Market, is not satisfied with the measures taken by CDA and ITP. "I live in Rawalpindi and when I leave work at three in the night, I cannot find a route out of Islamabad," he said.

"I tried the one from Kashmir Highway, it was blocked and I did not want to use the Shakarparian one because it is not safe. It was really frustrating, I ended up using the blocked Islamabad Highway and that too from the wrong side," he added.

An ITP official deployed at one of the diversions when asked about lack of proper arrangements and chaos at the roads, said, "Yes I think there should have been better arrangements, as alternate route remains clogged for the most part of the day. But, sadly this will continue till the bridges are complete."

Published in The Express Tribune, June 22nd, 2010.
COMMENTS (1)
Comments are moderated and generally will be posted if they are on-topic and not abusive.
For more information, please see our Comments FAQ