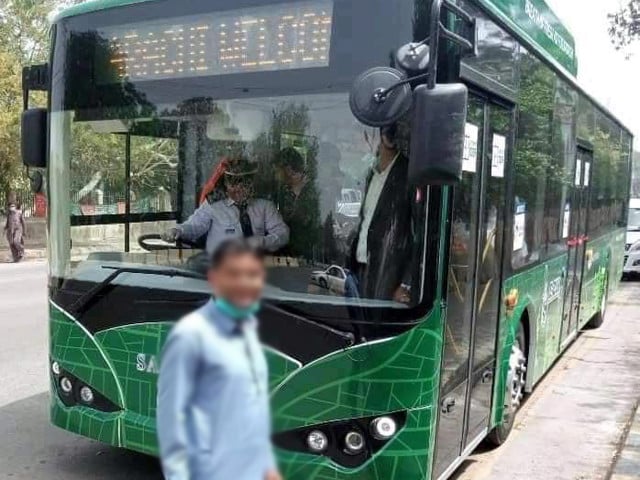 ---
KARACHI:
On Wednesday, Haji Ghulam Ali was the first ever passenger to board an electric bus in Karachi. Already surprised by the computerised ticket booking, Ali was to have many more new experiences during his hour-long ride from Sohrab Goth to Merewether Tower.
Around him, a few others loitered waiting to board the bus shiny green bus. It seemed not many were aware of the bus service launched the previous day.
When the bus' automatic doors opened and Ali climbed up a step to board it, he saw himself looking, smelling and feeling the unusual - and a in a good way. Unlike his other journeys on a bus, he was not welcomed by a whiff of sweat, grime and dust. Neither was temperature inside the vehicle unbearably hot. Instead, the availability of an air conditioner ensured that the temperature inside remained pleasantly cool, providing relief to passengers from the sweltering heat of Karachi. The seats, the floor, the ceiling were squeaky clean.
The bus, Ali noticed, also had a ramp for passengers on wheelchairs.
As he took a seat from among the 37 installed in the bus, he noticed that the vehicle also had three CCTV cameras.
When the bus left for Merewether Tower at 7am, Ali and other passengers were given face masks and sanitisers to ensure that they had a safe journey.
After an hour, the bus came to a halt at Merewether Tower, where Ali witnessed the very first passengers of Karachi's first electric bus taking selfies, documenting a memory and history.
Read: Karachi becomes first Pakistani city to run electric buses
In a first
It is for the first time in the country that electric buses have been introduced. The initiative has been taken by the Sindh government and the Sapphire Group under a public-private partnership model.
The minimum fare for travelling in the bus has been fixed at Rs10 and the buses will have ten stops between the designated running from Sohrab Goth and Merewether and back. The buses will run through this route six times a day.
Each bus has 37 seats, of which 10 are reserved for women.
An electric bus charging station has been established at Sohrab Goth terminal and a bus can travel for 250 kilometres after being fully charged.
As of now the bus staff comprise a driver and a conductor, but the number of staff will be increased in the future.
Sapphire Group representatives, Bilal and Talha, who also travelled in the first electric bus that ran o Karachi's roads, said electric buses were a way to curb pollution.
They added that it was also citizens' responsibilities to maintain cleanliness inside the bus.
Published in The Express Tribune, April 1st, 2021.