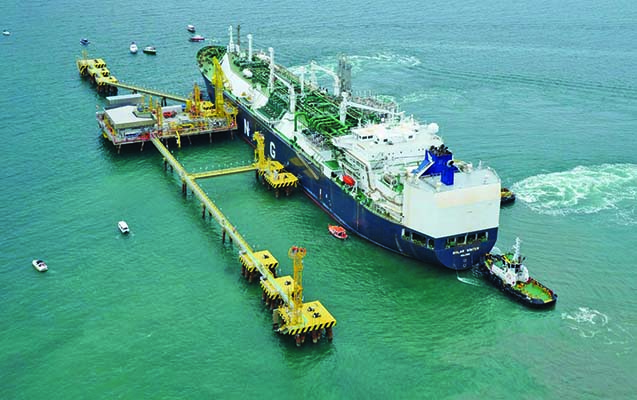 ---
ISLAMABAD:
With the fall in global demand for liquefied natural gas (LNG), Pakistan has received an encouraging response to a tender seeking eight LNG cargoes from April to June 2021.
Earlier this year, the LNG price had jumped to the highest level and even suppliers refused to deliver the committed volumes. However, a new wave of the Covid-19 pandemic has now hit the entire world and restrictions have pushed LNG demand down. This has resulted in a good response from the suppliers.
Pakistan LNG Limited (PLL) received bids in the range of $6.7 to $6.925 per mmbtu for eight LNG cargoes to meet the growing gas demand in the April-June period.
Owing to the increase in demand for electricity in the summer season, the power sector will be a major consumer of LNG.0
More than a dozen suppliers submitted bids in response to the LNG tender for eight spot cargoes for delivery between April and June. PLL had made some changes to the bidding process as it called for submitting bids based on fixed dollar rates instead of the previous practice of linking with the Brent price. PLL received a total of 42 bids for the spot LNG cargoes.
Eni has offered to deliver one shipment on April 30, another on May 26-27 and another on June 18, 2021 at a rate of $6.7 per mmbtu.
QP Trading has offered to deliver two LNG cargoes at the rate of $6.825 per mmbtu on May 11-12 and another at the rate of $6.925 per mmbtu on May 16-17, 2021.
Votal Bahrain LNG will deliver cargo on May 31, 2021 at a rate of $6.7832 per mmbtu.
Published in The Express Tribune, April 1st, 2021.
Like Business on Facebook, follow @TribuneBiz on Twitter to stay informed and join in the conversation.
COMMENTS
Comments are moderated and generally will be posted if they are on-topic and not abusive.
For more information, please see our Comments FAQ