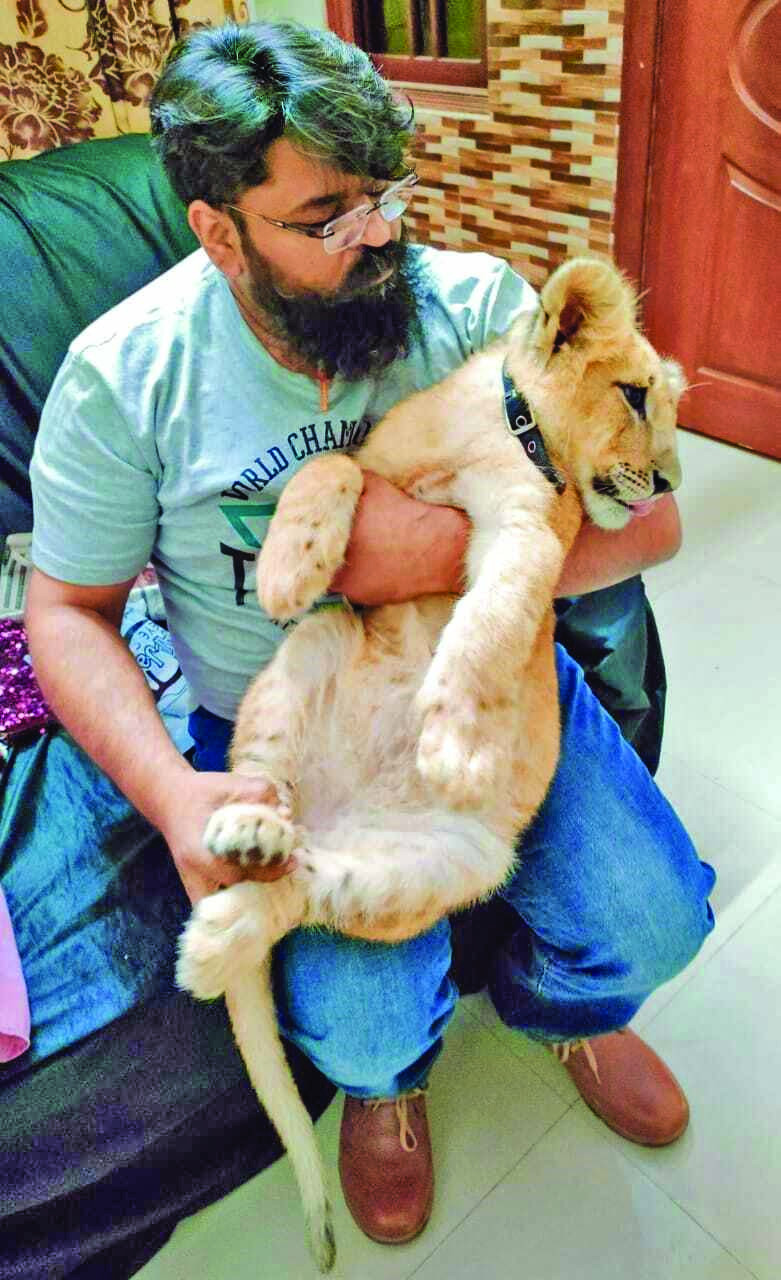 ---
KARACHI:
Ahmer Bin Shahid, a software engineer by profession and a resident of Federal B Area, had not slept for two days and one night. The worry for three-month-old Romeo kept him awake. Romeo had stopped eating and drinking few days ago and his condition deteriorated with time. When taken to a doctor, he was diagnosed with severe dehydration and immediately administered intravenous fluids.
A day passed, then two… Eventually, it was after 12 tiresome and worrisome days that Romeo began showing signs of recovery, much to Shahid's relief.
"It was as if a child in the house had fallen ill," recalls Shahid, speaking about the now six-month-old Barbary lion cub.
The cub was born in Karachi, in the suburbs of which Shahid has bought a farmhouse that he uses as a wildlife sanctuary.
Besides Romeo, Shahid has eight to 10 breeds of rabbits, 25 to 30 breeds of rare pigeons, 45 breeds of chicken, turkeys, peacocks, ostriches, peafowls, including white peacocks, a pair of rheas, a llama, seven breeds of dogs, a pair of lions, deer, parrots and reptiles. He recently sold a pair of white lions and now looks to add to his sanctuary chimpanzees, balck panthers and leopards.
Read: Fear of backlash prevents zoo from euthanising animals
However, he loves the lions the most.
The beginning of the love affair
"My love for lions began at the age of 16 when a friend of my uncle gifted me a cheetah's cub," he says. The year was 1997, Shahid was just 16 and the big cat, which cost Rs200,000 at the time, was kept and raised at his house in Azizabad.
Dogs, including pedigree dogs, followed the cheetah and then there was no looking back.
In 2010, he bought a lion cub for the first time for Rs700,000. He named him Simba, but sold him after a year
His fondness for wildlife led him to launch a venture, wherein he partnered with investors to sell and buys animals. Besides, he has also sold animals to the Karachi Zoo.
As of now, he buys animals any chance he gets.
All about big cats
According to Shahid, the trend of raising wild animals is gaining momentum across the world, as in Karachi.
"There are around 350 lions being raised privately in Karachi and 24 to 25 lions owned by residents in Federal B Area alone," he estimates.
He explains that raising big cats, particularly lions, is an expensive hobby as a lion weighing around 200 kilogrammes (kgs) consumes 30kgs of meat every day. He calculates the cost of raising a lion along with two lionesses around Rs2 million.
"It is expensive, but a pair produces around six cubs a year, each costing Rs600,000. They could be sold for humungous sums," says Shahid. "It's not just a hobby, but could also be a lucrative business."
But all is not well
However, problems exist for wildlife breeders in Pakistan.
According to Shahid, just 50 of 350 lions in the city were brought legally.
"A group was jointly issued a licence for importing wildlife animals to the metropolis and all the licence holders have now died. The licence is no longer valid and no new licences have been issued," he says, further lamenting the indifference of relevant authorities and lack of facilities.
Shahid explains that due to difficulties faced in getting licences and import permits, the illegal sale and purchase of animals is on the rise.
Big plans, more hurdles
While Shahid sees potential in running a business of wildlife breeding in Pakistan, he decries the lack of facilities and legal barriers.
Also read: SHC summons Karachi Zoo director over condition of animals
Nevertheless, benefitting from his background in IT, he aims to launch a space for buying and selling animals and providing guidelines for animal care.
"I want to make Pakistan a wildlife breeding centre, starting from Karachi," he says, adding that he has already submitted an application for setting up a breeding, research and quarantine centre for wildlife in the metropolis.
It has been two months and he still awaits a response by relevant authorities.
Though, his ambitions are high.
"The project will play an important role in making Pakistan a prominent region for raising and exporting wild animals," says Shahid.
Besides, he points out the need for raising awareness about animal care, for which he intends to establish a separate platform in the future.
This story is part of a weekly series that seeks to bring to light the unsung heroes of Karachi - the hawkers, traders, doctors, teachers, engineers, lawyers and daily-wage labourers. It is they who make Karachi the city of lights.
Published in The Express Tribune, March 29th, 2021.