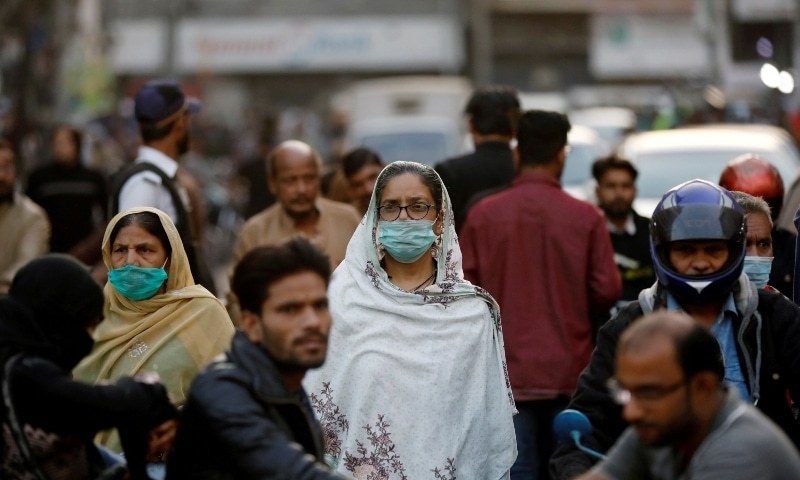 ---
In a first, FIR lodged in Lahore against man for not wearing face mask
Complete lockdown will be the only option if people continue to flout Covid SOPs, warns Punjab govt spokesperson
---
LAHORE:
Amid a surge in coronavirus cases, the Punjab government has tightened the noose around violators flouting Covid-19 standard operating procedures (SOPs).
The Lahore police on Sunday registered a first information report (FIR) against an individual for not wearing a face mask.
The case was registered at Islampura Police Station against a citizen named Javed, allegedly for not wearing a mask and violating other coronavirus guidelines.
The FIR was lodged under Punjab Infectious Diseases Ordinance 2020.
The city administration has also warned that the public transport allowing passengers to travel without face masks will be confiscated.
The violators may be put behind the bars as the authorities have imposed smart lockdown to contain the spread of coronavirus in several areas of the province.
The capital city police officer (CCPO) Lahore said that strict action has been initiated against violation of the SOPs in line with Punjab's Primary and Secondary Health Department guidelines.
A zero-tolerance policy will be observed in this regard, CCPO Ghulam Dogar said.
The authorities in Lahore have imposed a micro-smart lockdown in 27 areas of the city, which will remain in force til April 9.
However, according to private television channels, no mechanism was in place to check the movement of citizens in these 27 areas.
Officials of the district administration and health workers were absent as only one policeman was deputed in each of these areas.
"After a period of 10 months, Lahore has reported 1,725 cases of the virus in a single day again," according to the health department. In the third wave of Covid-19, steep surge of infections being reported in the Pakistan's largest province causing serious concern.
Also read: Indoor, outdoor gatherings banned with immediate effect: NCOC
A new intensive care united (ICU) ward established at the Services Hospital of Lahore for coronavirus patients has been filled rapidly. "16 new ventilators have been provided to the new ICU ward," the hospital's medical superintendent (MS) Dr Zahid said.
The number of overall ventilators has increased to 32 with new addition, he added.
"The number of beds allocated for coronavirus patients has been enhanced to 117 from 73," the MS further said.
Punjab government spokesperson Dr Firdous Ashiq Awan said that the smart lockdown imposed by the government was not being taken seriously by the people, after which complete lockdown will be the only solution.
The final decision will be taken at the upcoming NCOC meeting, she added.
She said that if citizens do not follow SOPs then government will have to take strong measures to curb the spread of coronavirus.
It is our constitutional and legal responsibility to protect the lives of people, she added. "It is commendable that the PPP has cancelled the rally due to increasing coronavirus cases."