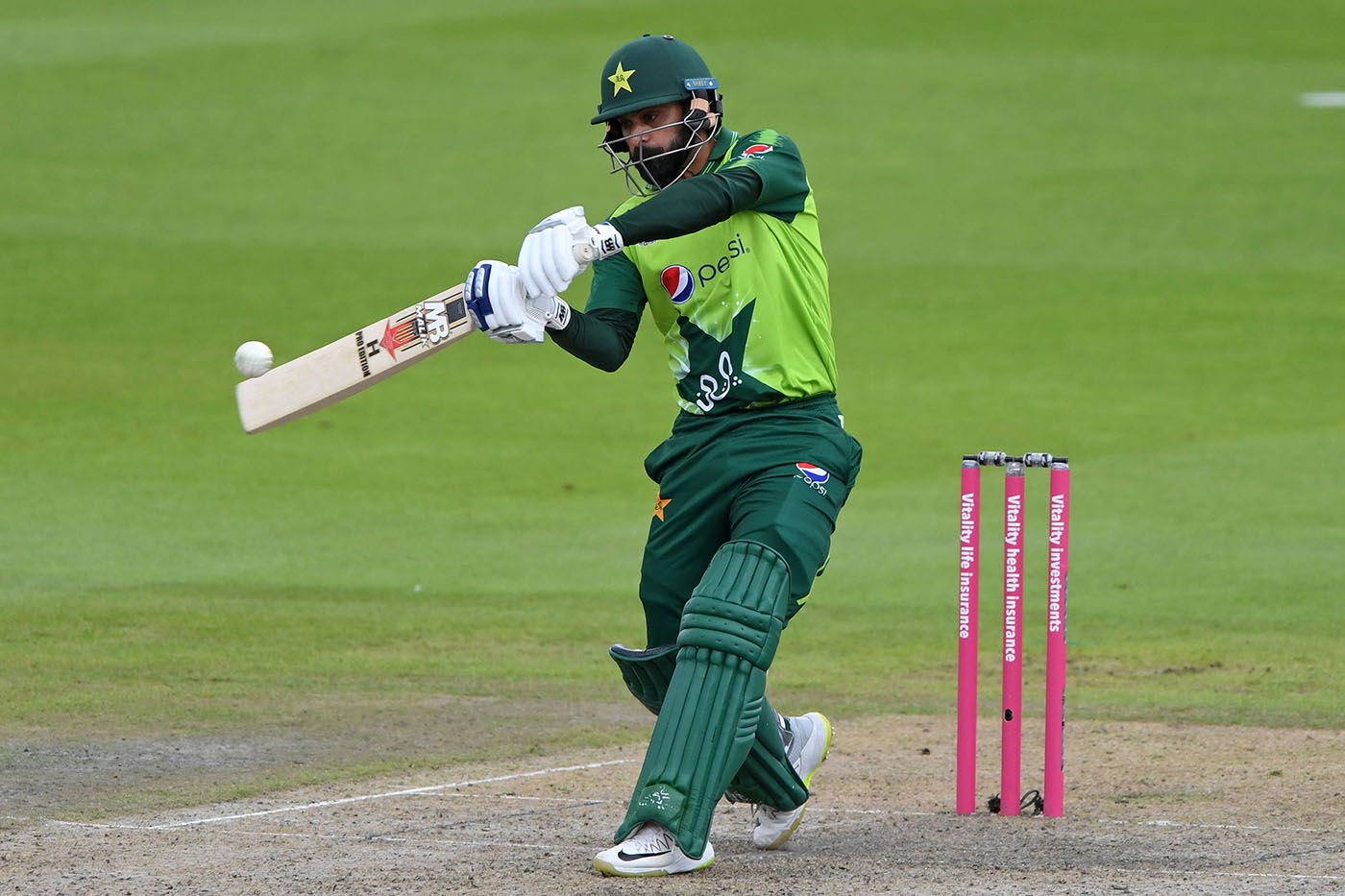 ---
KARACHI:
Legendary cricketer and incumbent Pakistan Prime Minister Imran Khan was 39 years old when he inspired his 'Cornered Tigers', who were on the verge of being knocked out from the 1992 Cricket World Cup in the group stage, to stage an incredible fightback and lift the coveted trophy.
What made it more exhilarating was that Imran helped the Men in Green achieve the feat after coming out of retirement. Some would say it was in his destiny, but you just don't get anything without putting your heart and soul into it. The hunger to etch their names in the history books is what drives great people do extraordinary things.
Veteran Pakistan all-rounder Mohammad Hafeez, who made his international debut 15 years ago, is enjoying a late-career renaissance of his own ever since he was left out of the national team's squad after the 2019 50-over World Cup.
It was widely speculated that the right-hand batsman would hang up his boots following a dismal run of form in the showpiece event held in England and Wales. But the 'Professor' was not prepared to give up.
Despite approaching the age of 40, former Pakistan captain embarked on a new mission — improve his power-hitting ability. Right after the World Cup, Hafeez participated in the Caribbean Premier League where he learned while sharing the dressing room with the West Indian cricketers that they played fearless cricket. During nets, they would only practice hitting the ball for a boundary. That's why they are such a formidable force in Twenty20 cricket.
Hafeez realised that it was neither his fitness nor his batting technique that had brought about the decline in his form, but his reluctance to adapt to the demands of modern-day cricket. Where rival teams were posting massive totals in limited-over cricket, Pakistan batsmen were lagging far behind in the department of power-hitting.
Moreover, the Faisalabad-born cricketer began playing golf which helped him strengthen his base and swing with the bat. Now he can smash the ball with more power and precision.
Hafeez knew that to prolong his career and stake a claim in the national side once again he will have to be the best in the business. That's what has been evident in the last one year that his aggressive style of play has brought him huge success in the shortest format of the game. He has whacked more sixes during this period and even the distance of those maximum boundaries has increased as compared to the ones that he hit during the initial 14 years of his career.
He topped the list for the highest run-scorers in T20 Internationals in 2020 with 415 runs, leaving behind the likes of David Malan, Babar Azam, KL Rahul, Jos Buttler and Glenn Maxwell. His batting strike-rate has jumped to 142 and the average also soared to approximately 50.
This impressive change in approach has inspired a number of Pakistani batsmen to follow in his footsteps. Most recently, wicket-keeper batsman Mohammad Rizwan has also worked on his power-hitting, which is paying dividends for him.
Hafeez has always been a trendsetter. Prior to being reported for an illegal bowling action several times in his career, he was the mainstay of Pakistan bowling. He was the first spinner in world cricket who would successfully operate with the new ball. His success encouraged many teams to introduce spinners in the initial overs of limited-over games.
With the Twenty20 World Cup approaching this year in India, Hafeez will be key to Pakistan's title hopes. If he enters the mega event in the red-hot form that he is currently in, he will be the man to dismiss for the opposition teams. He has always been a very good player of spin bowling but what has made him more intimidating in the past year has been his fearless approach towards pace bowling.
Hafeez is the epitome of hard work and he has proved with his revival that age is just a number. He must be very keen to propel Pakistan to the World T20 title, that too in India, and register his name among the best players to have served Pakistan cricket.