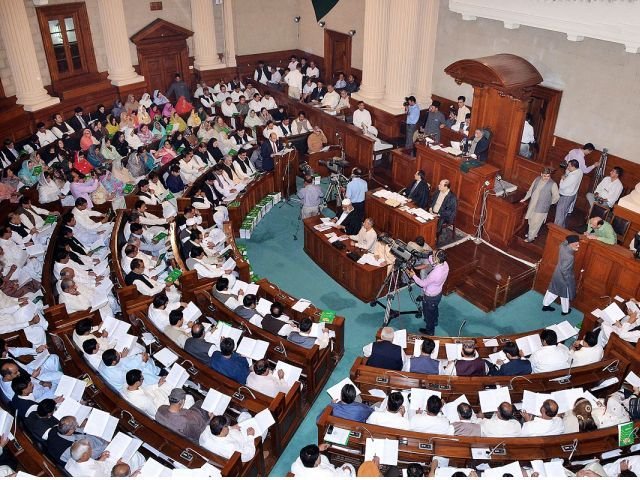 ---
LAHORE:
Following years of back and forth, a new Punjab government policy hopes to regularize daily-wage and contract-based employees working in various government institutions.
Such personnel, who have had their contracts renewed several times while being passed over for permanence at respective departments, could now be looking at a more stable form of employment.
The Regulations wing of the Services and General Administration Department (S & GAD) was recently directed to prepare a report on relevant government employees across the Punjab province. Once complied, the matter along with the said report will eventually be presented to the cabinet for review and approval.
According to sources privy to the development, the number of people working on daily-wage and contractual basis in government agencies across Punjab, including Lahore, is projected to be more than 50,000 at the moment. Although contractual employees have been formally regularised at various times under the policy, including recent developments in certain companies, there's not been any significant reduction in the overall number of contractual employees over the past many years.
"The Punjab government has hinted to regularise some 50,000 employees posted on contract and daily wage basis. Following which, the regularisation department S & GAD has been directed to produce a report, which it will source from government departments across Punjab and duly notify the Chief Minister's office about it. After that, a summary regarding the regularisation of said employees will be presented before the cabinet for final approval," the S & GAD source informed.
Read more: LHC adjourns hearing on regularising PES DG
Considering that Punjab has the highest number of government employees among all provinces, the quantification process may require all hands on deck. All government departments are thus also quantifying employees within their own institutions.
The number of approved employees of Punjab government currently stands over 1.32 million. But on the contrary, 1,067,251 employees are working on their posts. For this, over Rs 649.71 billion has to be paid. The education department has 462,556 employees, the health department has 191,470 employees and in the police department there are over 190,082 employees. Similarly, the number of pensioners in Punjab is 58,166 for which over Rs 207 billion has to be paid.
Interestingly, Punjab is also the only province with over 359 employees on special pay package within the government departments. Owing to which, the province has been trying to contract employees as an ad hoc relief, for which the government has to pay every month.
Following the decision, the Punjab finance department has also been working on estimating how much the regularisation of said employees will cost the exchequer, in terms of various benefits which all employees will then be entitled to. In reference to this, under the direction of S & GAD, case-to-case jobs of all departments will be reviewed and, so that no additional burden is added to the provincial exchequer.
Per the latest guideline, any future contract will be kept for ninety days and after this agreement it will have to be made permanent again and the contract will be re-contracted if need be. Similarly, employees who have completed nine months can be retained under the Punjab Industrial and Commercial Employment Ordinance, 1968, which is still subject to the employee's skills and academic record. "A lot of government employees had been awaiting regularisation for a long time now. The new S &GAD policy although makes it possible to make these employees permanent, considering the provincial exchequer, it will still only possible to appoint the most necessary of all employees," a government source informed The Express Tribune, on conditions of anonymity.
Published in The Express Tribune, March 26th, 2021.
COMMENTS
Comments are moderated and generally will be posted if they are on-topic and not abusive.
For more information, please see our Comments FAQ