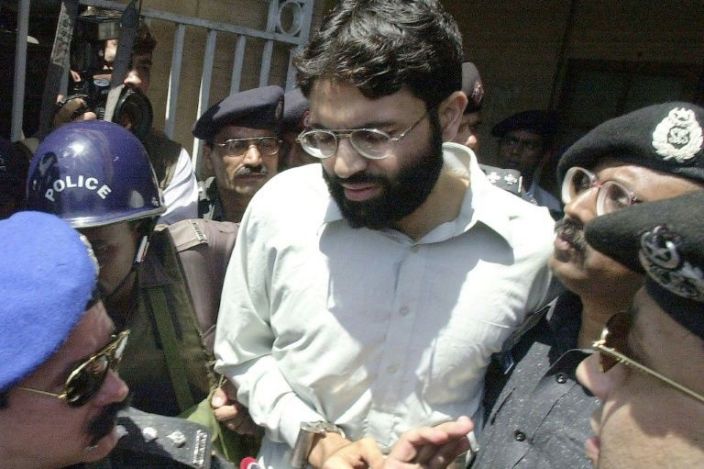 ---
ISLAMABAD:
The Supreme Court has allowed authorities to move Ahmed Omar Saeed Sheikh, the prime suspect in American journalist Daniel Pearl's murder case, to the Kot Lakhpat jail in Lahore.
A three-judge bench, led by Justice Umar Ata Bandial, on Thursday issued the order while hearing the petition filed by the accused.
Punjab Additional Advocate-General Faisal Chaudhry apprised the apex court that Sheikh had filed an application seeking transfer from Karachi to Lahore, which is his hometown.
Sheikh and three accomplices have been behind bars since 2002 when they were convicted of the kidnapping and murder of Pearl - at the time the South Asia bureau chief for the Wall Street Journal.
Since then they have won and lost a series of appeals and counter-appeals in connection with the case, with a top court last year overturning their murder convictions.
Read more: SC orders release of Daniel Pearl murder case accused
That decision meant they had completed their sentences on the kidnapping charge, and the court in January ordered them to be released.
They were kept in custody, however, as the provincial and federal governments - as well as Pearl's family - launched another petition to keep them behind bars.
During today's hearing, the apex court said they should be confined to prison staff accommodation.
"We are not satisfied with the continuous detention of this person," Justice Umar Ata Bandial remarked during the hearing
"The detainee Ahmed Omar Saeed Sheikh shall be accommodated in a government building in which officers of jail reside," he said while directing the Punjab government to provide all facilities to Sheikh in line with the court orders.
The additional advocate general told the court that Sheikh would be kept in a prison staff colony within the premises of Kot Lakhpat jail and sought time for the transfer.
Chaudhry said Rangers and police personnel would have to be deployed if he was kept out of jail premises.
Justice Sajjad Ali Shah who was part of the bench inquired why the government was seeking time for the transfer if Sheikh was to be detained within jail premises.
However, Attorney General for Pakistan (AGP) Khalid Jawed Khan assured the court that Sheikh would be transferred within a week.
Earlier in February, the apex court had ordered the Sindh government to immediately shift Ahmed Omar Saeed Sheikh from his death cell to a regular prison cell.
The court further gave authorities two days to prepare a well-protected rest house for Sheikh where he could spend time with his family members, under certain restrictions.
(With additional input from AFP)
COMMENTS
Comments are moderated and generally will be posted if they are on-topic and not abusive.
For more information, please see our Comments FAQ