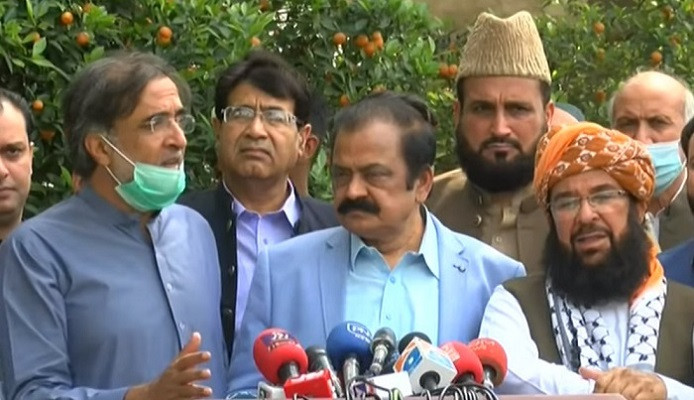 ---
LAHORE:
The Pakistan Democratic Movement (PDM) leaders warned the government on Thursday against creating any obstacles for Maryam Nawaz's hearing at the National Accountability Bureau (NAB) tomorrow.
"We warn the government against creating any hurdles in the way of Maryam Nawaz's convoy," said PML-N leader Rana Sanaullah while addressing a presser in Lahore this afternoon, alongside Pakistan Peoples Party (PPP)'s Qamar Zaman Kaira and Jamiat Ulema-e-Islam-Fazl's (JUI-F) Abdul Ghafoor Hyderi.
Sanaullah further said that Maryam will leave for NAB tomorrow with PDM leaders from Model Town.
A day ago, NAB requested the Lahore High Court (LHC) to direct Maryam to appear before NAB on March 26 along with maximum two people, who may act as her support staff, out of which one may be an accountant to assist her.
However, the LHC turned the plea down earlier today.
Read Maryam granted pre-arrest bail ahead of NAB March 26 hearing
Addressing the presser, Kaira once again confirmed that PPP workers will be accompanying Maryam to the graft-buster's Lahore office during her appearance.
He added that the responsibility of impeding her arrival before the bureau will be upon the government.
Kaira went on to say that the government had lost its footing, indicating that it should avoid creating any trouble [for itself].
"The government thinks that the leaders can be stopped from their campaign with such notices, but we won't let it happen. We won't let victimisation rule the roost and we are united against it," he added.
He asked for establishing a system and legislation for transparent elections and accountability in the country.
Read more No differences with Bilawal, insists Maryam
The PPP leader clarified that the leaders weren't heading towards NAB to launch an attack on it.
JUI-F's Haideri asked, "Are your [the government's] efforts aimed only at humiliating the opposition leaders?" He said it was the PDM leaders decision to appear before NAB however, "appearing before an institution like NAB is a humiliation unto oneself."
During yesterday's hearing, the LHC granted pre-arrest bail till April 11 to Maryam, summoned by the top graft buster for interrogation with regard to a land allotment case.
Earlier, PDM chief Maulana Fazlur Rehman had announced that thousands of activists of the opposition parties alliance will accompany Maryam to the NAB office during her hearing.
PML-N finalises strategy
Meanwhile, the PML-N finalised its strategy with regard to their leader's appearance before the authority tomorrow.
According to details, Maryam will leave for NAB from Model Town instead of Jati Umra.
She will take the route of Canal Road through Ferozpur Road. The party will set up camps to receive her and other leaders. Hamza Shahbaz will also accompany Maryam during her visit to NAB.
COMMENTS
Comments are moderated and generally will be posted if they are on-topic and not abusive.
For more information, please see our Comments FAQ