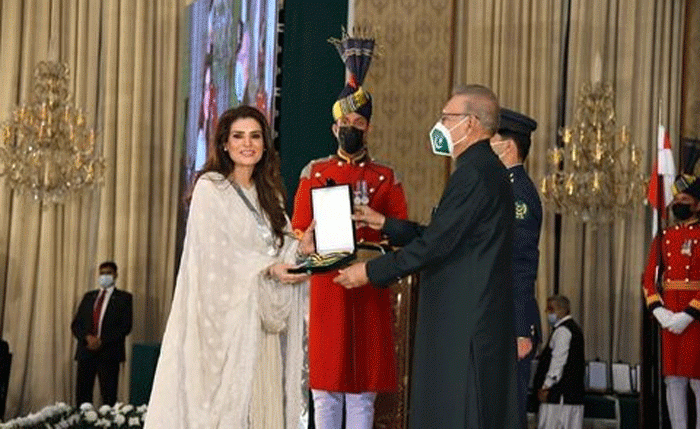 ---
LAHORE:
On March 23, the President of Pakistan conferred civil honours on prominent personalities including foreign nationals for their services in different fields involving medicine, education, social services, and fine arts, and for showing gallantry in the war against terrorism as well as during the Covid-19 pandemic.
This was a star-studded year as far as the winners in the entertainment industry are concerned. Famous names including Humayun Saeed, Resham and Sakina Samo, along with singer Ali Zafar were awarded the Pride of Performance while Bushra Ansari and Zeba Shahnaz received the Sitara-i-Imtiaz. Abida Parveen was honoured with Nishan-i-Imtiaz.
However, it hasn't been an easy journey for female stakeholders across the world, who have come a long way to make a mark and get recognised for it.
Albeit the hardships they face and the social constructs that make it difficult for females to move forward, our winners believe the Pakistani entertainment industry isn't biased against women, given they are willing to work for it tirelessly. "The journey towards the highest civil honour has not been very easy," Samo shared with The Express Tribune. "It took me 40 years to get recognised on this level but I do think nothing is stopping women from getting lauded by the govt if they have served their country well."
Having said that, Samo does feel there are more deserving stars in the fraternity who are more worthy of being lauded on the state level. "I personally believe the choice for Pride of Performance is becoming increasingly simple and easy and as a result, a number of personalities who have dedicated their entire careers often go unnoticed," mentioned Samo.
"It is sad that the government has given such a huge award to people like Resham and Ali Zafar, who in my opinion don't really deserve it." While Samo was happy for Ansari's recognition, she feels it is time that veteran star Uzma Gilani is also recognised for her contribution to the entertainment industry.
Speaking about her achievement, Resham said, "Recognition doesn't see your gender so no one can stop anyone from climbing the ladder of success and fame. I am grateful for my Pride of Performance, and it won't be wrong to say that I have worked tirelessly to serve my country."
Ansari, on the other hand, echoed Samo's statement that while women have it hard at places there is no discrimination or procedural issue that stops them from winning and making it big. "Being a female artist in this country is a great thing," Ansari shared. "There is no discrimination or bias for that matter, as long as you are serious about your work and put in the right amount of effort needed for your work to shine."
Ansari believes that one is always awarded on the basis of their achievements, contribution to the industry and the impact their work has had on society. "But that doesn't mean you don't have to struggle," she said, adding, "And that applies to all genders across all walks of life, just look at the time it took me to win the honour, you have to put in the effort and it pays, eventually."
While both Samo and Ansari were grateful to the state for their respective accolades, Samo feels that the civil awards should not just be limited to trophy presentations by the President. "There should be some sort of financial reward along with the trophy, such ventures should be incentivised in a better way," concluded Samo.
Have something to add to the story? Share it in the comments below.
COMMENTS (1)
Comments are moderated and generally will be posted if they are on-topic and not abusive.
For more information, please see our Comments FAQ