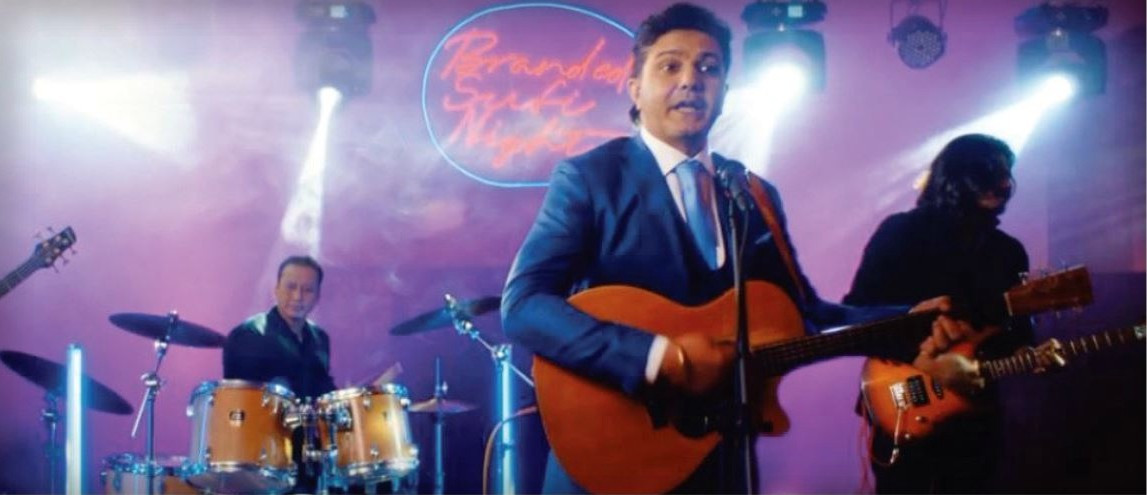 ---
KARACHI:
Arieb Azhar officially released the music video for his stoner anthem Charsi Bhangi earlier in February.
While the song makes a witty case for not judging people based on labels, the music video is a rather serious take on consumerism. Azhar uses the taboos associated with charsis and bhangis as a mirror for the corporate machinery that capitalises on ascetic practices for profit – but is never ridiculed or called out like charsis or bhangis are.
Anthem for the outcasts

"The video is an ode to the 'outcasts' of our society," Azhar told The Express Tribune. In the video, Azhar performs with his band on a stage which features a neon logo reading, "Branded Sufi Night."
"It was my tongue-in-cheek take on our commercialised, corporatised Sufism," quipped the artist. "It's funny to see singers crooning only a few, commercially acceptable Sufi texts while leaving out the controversial others," Azhar noted.
He went on to point out how Sufi nights/shows in Pakistan often occur in 'clinically secure environments' where VIPs are sitting in the front and a class difference is apparent between those serving and those being served.
"This is inherently against the Sufi ethos, because the Sufi ethos is that of egalitarianism," argued the singer. He admitted that he himself has performed at many such events and will do so again, but his video is a "take on how everything becomes branded." It depicts one of these branded corporate evenings, reason why his band's performance in the video draws the ire of some VIPs that end up leaving.
The fizz on top

As for his own stint in Coke Studio and whether that qualifies as one of these branded Sufi moments, Azhar claimed, "yes and no." He elaborated, "No, because Coke Studio does not market itself as a Sufi studio, it's a Coke Studio which markets commercial music. And it's done a great service to our nation," said the artist.
"Coke Studio introduced a lot of folk music and Sufi poetry to the younger, urban audiences," he asserted. "But yes, because it is still connected to the corporate tradition that I was taking a dig at in my Charsi Bhangi video. Charsi Bhangi is anti-corporate altogether and Coke Studio sanitises everything to make it palatable to the mainstream. So of course, there are certain texts written by Sufi poets that would not be so equally welcomed by Coke Studio," claimed Azhar.
He then admitted that Charsi Bhangi may even be an awkward project for the platform to promote because "it doesn't go with its brand identity." As for whether the singer is against branded Sufi shows – provided he took a jibe at them – is a different question altogether. "I'm not trying to start a jihad against them. But as an artist, I am allowed to comment."
Sufi music conundrum

The connotation of 'Sufi Music', however, and whether it even qualifies as a genre is another question one needs to ask before putting tags on anything. Azhar explained, "Anyone who croons Sufi poetry in any fashion – be it pop, qawwali, ghazal, or even rock – is today dubbed a 'Sufi Musician'."
"The term 'Sufi Music' first made its way into Pakistan when Junoon brought 'Sufi Rock', and years later came Coke Studio. Before all that, when I was growing up in the 80s, music of Pathanay Khan, Allan Fakir, Saeen Jumman, Reshma, Abida Parveen, fell under the category of folk music," he added.
"So there can be no homogenous thing as Sufi Music because if that is the criteria, then the Sufi music in Iran or Bosnia would be completely different than ours," Azhar asserted.
Glorifying vices?

The singer also clarified that Charsi Bhangi was not his attempt to bring stoner music to Pakistan, nor was it meant to popularise marijuana use. Penned by Arshad Bhatti, the song simply uses the labels 'charsi' and 'bhangi' to rid them of their condescending connotations, since they are used to belittle individuals of a certain gentry, rather than individuals who actually consume drugs.
"In Sufi poetry, the consumption of wine is a metaphorical reference to the state of euphoria. But you don't see charsi and bhangi being used as positively anywhere," said Azhar.
"Both bhang and chars detach humans from the material life and make them more introspective. That's why they are also called darveshon ki booti. I was happy when Arshad Bhatti incorporated them into the song so the next time someone otherises sweepers and people of the lower-class by calling them 'bhangi', they understand that these are the real and unfiltered people of our society."
The video for the song has been executive produced by Mian Ahmed Hasan of the Miami Media Company, recorded at A FOR ALEPH, co-produced by Azhar and mixed by Zain Ali and mastered by Salvatore Marotta.
Watch the video here.
Published in The Express Tribune on February 26, 2021 [Lahore edition].
Have something to add to the story? Share it in the comments below.
COMMENTS
Comments are moderated and generally will be posted if they are on-topic and not abusive.
For more information, please see our Comments FAQ