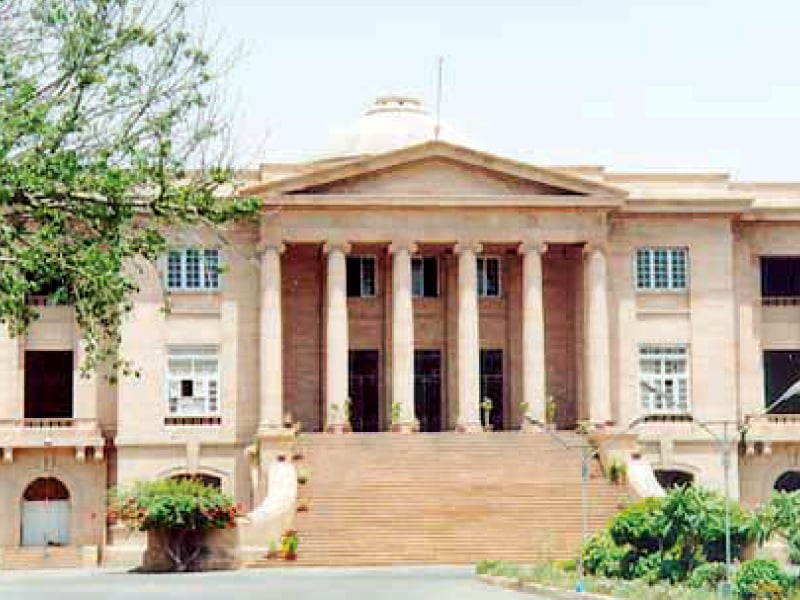 ---
KARACHI:
The Sindh High Court (SHC) has quashed an accountability court's (AC) proceedings against an accused in the National Insurance Company Limited (NICL) corruption case.
As per the Supreme Court (SC)'s direction in a suo motu case in NICL, the National Accountability Bureau (NAB) had launched an investigation into alleged irregularities in transactions carried out by the NICL.
It was revealed that the insurance company's management had made irregular investment of Rs100 million in the First Dawood Investment Bank on November 24, 2008, at the rate of 18.5 per cent per annum return for the period of six months in violation of the Finance Division 2003 circular.
However, the NICL failed to honour its commitment and defaulted.
Makhdoom Ali Khan appeared on behalf of accused namely Syed Hur Riahi Gardezi.
The court observed that an incorrect decision wreaking havoc on a company does not mean that it was the result of some action or omission constituting an offence, and even if so, each person participating in the process acted with ill-intent and is criminally liable for it, unless some relevant evidence pointing to the specific role of one person has been found.
Justice Muhammad Iqbal Kalhoro authored the judgement.
"No one would dispute that in the course of transactions, the companies make whooping profits and yet some time suffer colossal losses. The loss to a company could be caused by many factors, such as sudden change in market trends, force majeure, a bona fide mistake, a wrong decision taken at a wrong time by its managers etc. But unless there is at least a prima facie evidence of actus reus imbued with malintent on their part to gain personal benefit or to cause loss to the public exchequer by benefiting others illegally, none of them would not be held liable for committing offence of misuse of authority or breach of trust, etc," the court further observed.
The high court noted that the accused was not part of the decision for the recovery of lost investment which caused alleged loss to the NICL.
The order said that one member of the board of directors and investment committee cannot be held criminally liable for it in the absence of any evidences of the person making personal gains or intending to cause such a loss.
The judgment further noted that it has mainly been alleged that the accused working on senior positions in the NICL, by misusing their authority, invested an amount of Rs100 million for six months in the FDIBL against return of 18.5% per annum, benefiting accused 11 to 13, who were its directors and CEO.
"He is stated to be a part of the committees which recommended and approved restructuring of the investment after FDIBL failed to return the original amount and profit thereon on maturity. And which led NICL to accept PPTFCs of M/s Flying Board & Paper Products and of M/s Pak HY Oils Pvt. Ltd. worth Rs.10,000,000 and Rs.30,000,000/respectively besides 60 million Preference Shares of FDIBL at Rs.10 per share. This proposal despite being highly unfeasible was pursued causing a loss of Rs.67.056 million to the national exchequer," the court stated.
However, it is not disputed that before availing such a course, various options to settle the matter were explored by the parties and only as a last and final resort did the NICL agree to restructuring.
The special committee that comprised senior officials of the NICL, experts in financing, accused in the reference, approved this proposal after thoroughly examining its pros and cons. Thereafter, the matter was taken up by the investment committee, petitioner was one of its members, where again a full-fedged hearing and discussion took place and only then the approval was endorsed.
"But before any final decision could be made, NICL approached SECP to intervene and resolve the matter but in vain. After such failure, NICL involved its legal branch for guidance, which opined against institution of any legal proceedings for recovery on the ground that it was commercially unviable and could take years to end. Still unsatisfied, NICL decided to take a Iegal advice from Barrister Mascoor Shah, he too opined against filing of recovery suit and advised for restructuring on the ground that it would enhance NICL's status to that of a secured creditor and even if FDIBL went into liquidity, it would have at least a better chance of recovery. Only after taking all these precautions step by step for striking a best bargain possible in the circumstances, the approval to restructuring was granted by BOD which included the petitioner," the judgement reads.
The court further observed that it was not one committee merely that decided to go for restructuring, but all of them. Moreover, board of directors chose to do so after weighing several options offered by the FDIBL for settlement, and consulting the matter with legal experts.
"In these particular facts and circumstance when everyone concerned was on the board and behind such decision the question whether each one of them was acting with means rea in order to cause loss to the national exchequer and gain to himself is not likely to be answered in affirmative," the high court stated.
COMMENTS
Comments are moderated and generally will be posted if they are on-topic and not abusive.
For more information, please see our Comments FAQ