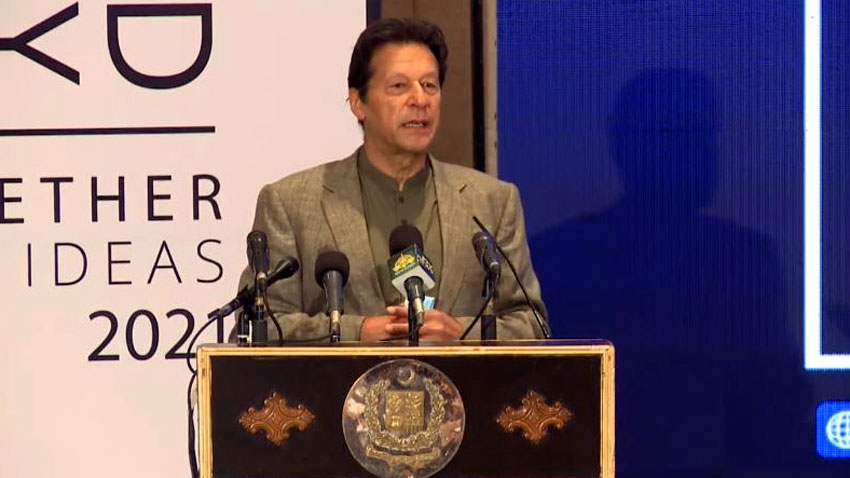 ---
Prime Minister Imran Khan on Wednesday said dialogue about national security was the need of the hour as he inaugurated the first-ever Islamabad Security Dialogue on Wednesday, aimed at unveiling Pakistan's new strategic direction.
"People think that if we only strengthen the armed and the security forces, it would be sufficient for national security," the premier said while addressing the ceremony. "I pay homage to the armed forces and intelligence agencies who sacrificed their lives to save ours but there are other challenges also."
"National Security today includes many aspects that have been ignored in previous decades, including climate security, food security and economic prosperity," he added.
PM Imran stated that In the past, nobody was talking about climate change and its [long term] effects. He added that the government's 10 million tree plantation drive was an effort to combat climate change which could have disastrous consequences for our future generations if not addressed.
Elaborating further, he said food security was also a part of a country's national security paradigm as Pakistan's population was increasing at a rapid rate.
"We had to import four million tons of wheat just to meet the need," he said and added that the government had made wrong assessments in providing food security to the masses.
PM Imran said that the economy was also a part of national security as a stronger economy means a stringer country.
Read more: US conveyed reservations over India's role
"The deficit in the economy affects our currency directly which increases the inflation which ultimately affects the poor sector of the country. No country can progress when there are only a handful of rich people and a sea of poor ones," the premier added.
The premier said that under his government, the country was able to fight a debilitating current account deficit, increase exports and Foreign Direct Investment (FDI).
Till the time people do not own their country, the country cannot be secure, he said adding that only the armed forces cannot secure the country.
Imran further said that the dollar inflow must be consistently greater than the dollar outflow in order to expand our national resource pie and use these resources for human welfare and robust defence. He added that deficit leads to a weakening of the rupee, inflation and contributes to poverty.
Giving an example of China, the premier said that we have to learn from their history that how they lifted millions out of poverty.
"Lifting people out of poverty is our biggest challenge," the premier said. "About 25 per cent of the population is living in extreme poverty and there are many who could easily fall below that line," he said.
PM Imran said the Ehsaas Program was the initiative that was launched to keep that objective in mind and was acknowledged all over the world.
"We are also launching a program of giving directly targeted subsidies," he added.
The premier further stressed that trade relations with neighbouring countries also needed to be improved so that Pakistan would be able to take advantage of its geo-strategic location
"It comes down to regional peace," he said. "There is the hope of peace in Afghanistan after a long time and but there are a lot of challenges. In a country that has been in a civil war kind of situation, the Afghan administration is depending on Pakistan to bring peace. The Biden administration also believes that this war has been going on too long."
Talking about India, the prime minister said that when his government came into power, it did everything to resolve the major issues including the issue of Indian Illgaly Occupied Jammu and Kashmir (IIOJK).
"Unfortunately, the events that transpired on August 5 led to break down of all communications with India. Till the time they don't take the first step, we cant move forward. If the issues are resolved it would benefit them [india] also as they would be connected to the rest of South Asia."
The two-day conference is being organised by the National Security Division (NSD) in collaboration with its advisory board comprising five leading think tanks of the country.
The new strategic direction would be based on a comprehensive security framework in line with PM Imran's vision of peace, regional connectivity and development partnerships with the world.
At the event, the premier also launched the first of its kind advisory portal of the NSD.
The portal would be a dedicated and integrated platform through which major think tanks and universities working on the subject of national security will be able to share policy recommendations directly with the national leadership.
Chief of the Army Staff General Qamar Javed Bajwa will be the guest of honour on the second day of the conference.
Initiating a security dialogue
Special Assistant to Prime Minister (SAPM) on National Security Division and Strategic Policy Planning Moeed Yousuf called for initiating a national security dialogue in parallel with the world's best security platforms.
He made these remarks at the two-day national security dialogue that commenced in Islamabad today.
"As a country as important as Pakistan, we should have a platform where ideas can be exchanged, and others may come and join the dialogue," Yousuf said.
"Our goal is to make it an annual event paralleling the world's best security dialogues, where the world would come and talk to us on our soil, on our terms."
The SAPM added that Pakistan needs a coherent narrative to promote its reality to the world."We have been treated unfairly over the years, especially by the foreign media that paints Pakistan in a negative light; that's an area that's our responsibility to address.
"Perhaps the most important and relevant aspect for today's occasion, Yousuf maintained, is this idea of the culture of more inclusive policy-making.
"We have immense talent in universities, faculties, youth, the think-tanks. A lot of money is spent and a lot of good ideas are generated."Unfortunately, the public sector wasn't geared up to take these up and use them optimally, he noted.
"The national security division created a pool of experts a year ago, where Pakistan's best minds in the aspects related to comprehensive security, be it traditional security, diplomacy, climatic security, and food security were brought together to advise the government," the special assistant said.
The recommendations that we are giving today are part of their partnership, he maintained.
COMMENTS
Comments are moderated and generally will be posted if they are on-topic and not abusive.
For more information, please see our Comments FAQ