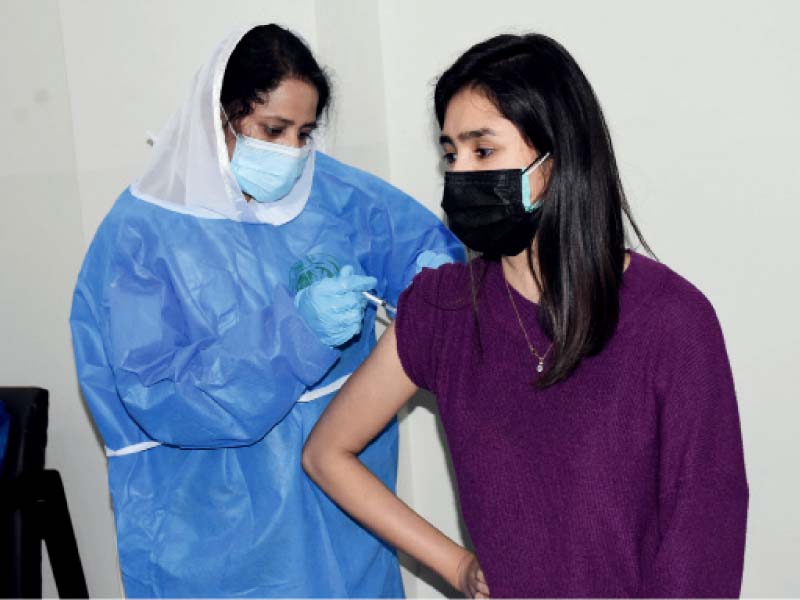 ---
Twin cities intensify anti-Covid fight
Red Crescent Society inaugurates a vaccination centre in Rawalpindi
---
ISLAMABAD/RAWALPINDI:
As many as 6,213 people, including senior citizens, were vaccinated against the lethal coronavirus (Covid-19) from 23 centres operating across Rawalpindi since the vaccination administering drive launched in the first week of February.
"The vaccination drive is being carried out simultaneously at different centres," District Health Officer Dr Jawad Khalid said on Thursday. The Deputy Commissioner's office informed that the district has reported 14,780 confirmed cases so far since the pandemic began.
"As many as 104,575 suspects have been brought to quarantine facilities of the district, out of which 14,780 cases came out positive and were provided the required treatment while 12,428 discharged after recovery," he said.
Read: 1,330 senior citizens get Covid jabs
Meanwhile, about 10,856 frontline healthcare workers in Islamabad have been vaccinated against Covid-19 so far, The Express Tribune learnt.
According to official figures, 1,599 medical and paramedical staff of 2,700 of Capital Development Authority (CDA) hospitals received the jabs while 3,535 of 5,786 registered healthcare workers of Pakistan Institute of Medical Sciences (PIMS) were also vaccinated.
Similarly, 1,051 of 2,053 registered healthcare workers of Poly Clinic Hospital (PCH) have been administered the vaccine along with 540 of 1,632 frontline workers of Bhara Kahu Rural Health Centre.
However, the rate of Covid positive cases soared from one to six per cent in the federal capital on Thursday and is expected to increase further, District Health Officer (DHO) Dr Zaeem Zia said. Given the spike, a letter was issued to all hospitals directing them to ensure implementation of precautionary guidelines along with taking emergency measures to increase operational capacity, he added.
Furthermore, the Pakistan Red Crescent Society (PRCS) Chairman Abrarul Haq inaugurated a Covid vaccination centre at PRC Hospital in Rawalpindi. While addressing a press conference on Thursday, he said that precaution was necessary even after vaccination.
He announced that PRC Hospital is the first private hospital to provide the anti-Covid vaccination with the aid of the International Federation of Red Crescent and Red Crescent Societies and will continue to get as many vaccines as needed.
The chairman said that the hospital, occupied with 150 beds having oxygen facility as well as 15 ventilators, was started in the early days of the pandemic and is still running without government assistance.
Haq also said that the government has received 7 million vaccines and urged people with health problems to get vaccinated regardless of their age. He further announced to raise the matter with the National Command Operation Centre to remove such restrictions.
Read more: Educational institutes to close for two weeks from March 15 in seven Punjab cities
Cases rise in Attock
The Attock district witnessed another spike in Covid cases as eight more patients were reported across the district in a day, raising the tally to 1,340. It is the third-highest surge of Covid patients in the district this month.
District Health Authority Chief Executive Dr Jawad Ellahi said that among newly positive patients, four belong to Hazro while two each from Attock city and Hasan Abdal. He informed that the number of active patients in the district is 50 and 48 of them are in isolation at home.
Dr Ellahi said that the number of suspected patients in the district has risen to 26,545 while screening of as many as 29,797 persons is carried out across the district in which 25,157 tested negative.
Published in The Express Tribune, March 12th, 2021.