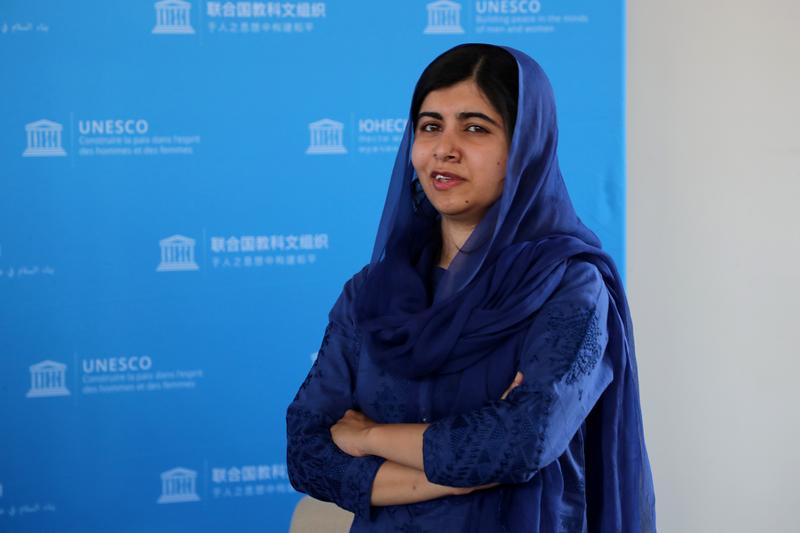 ---
KARACHI:
On Monday, as people commemorated International Women's Day, youngest Nobel Prize laureate Malala Yousafzai, called for a change to educate women and girls.
"Women, learn about your rights, know what's right and what's not. Acquire education and make the change you want to see," she urged the audience during her closing remarks at a session titled 'Keeping Girls in the Picture', which was organised as part of the British Council's Women of the World Festival.
Earlier, Malala had stressed the need to continue the struggle for women's rights, despite them having been given the right to education and vote.
"Today, women are in parliament and in politics, but we must continue [the struggle for their rights] to ensure that no girl is left behind all have access to opportunities," she said. "[And] once educated, girls want to bring change."
Deploring the inequality and disparity against women in parts of the world, she added, "Be strong, be brave. This is what I tell women."
The Nobel laureate also acknowledged the role of men in empowering women, recalling that her father had stood with her resolutely during her struggle.
"Fathers, sons and brothers have an important role to play. Had my father and brother stopped me, I wouldn't have been here. My brother and father acquired education but my aunts didn't. He [Malala's father] realised that education was an equaliser. He faced the challenges and stood by me," said Malala.
Turning her attention back to the importance of educating girls, she said, "Depriving one of education is akin to depriving them of job opportunities. [Girls are then] forced into marriages, deprived of their rights on their bodies, safety and future, and all of this has an affect the economy as well."
"We are losing [women's] voices in policymaking," she pointed out, that in that case, only men would be making decisions about women.
Hence, it is important to keep women on board, she emphasised.
Malala further explained that "Education helps… reduce the likelihood of wars, curb climatic changes and improve health conditions. As the narrative changes, policies are influenced, and therefore, you need to keep the conversation going."
Outlining some of the factors that she believed deprived women of education in Pakistan, she said there was a transport and infrastructure problem in the country, wars and conflicts, discriminatory social norms and displacement.
"We have to invest in girls' education…We witnessed women leaders handling the Covid-19 pandemic better. Women ensure safety of family and are more aware of their social responsibility," she said, reiterating the call for women empowerment and educating girls.
Besides, Maliha Khan, the chief programmes officer at Malala Fund, warned of the pandemic resulting in more girls being deprived of education.
"We can't afford to lose the progress made over decades. We have made a tremendous amount of progress in Pakistan. We see growing numbers of girls in varsities, and working professionally… [But] there is a lot [more] we should be doing so that every child or girl receives quality education," she added.
Published in The Express Tribune, March 9th, 2021.
COMMENTS
Comments are moderated and generally will be posted if they are on-topic and not abusive.
For more information, please see our Comments FAQ