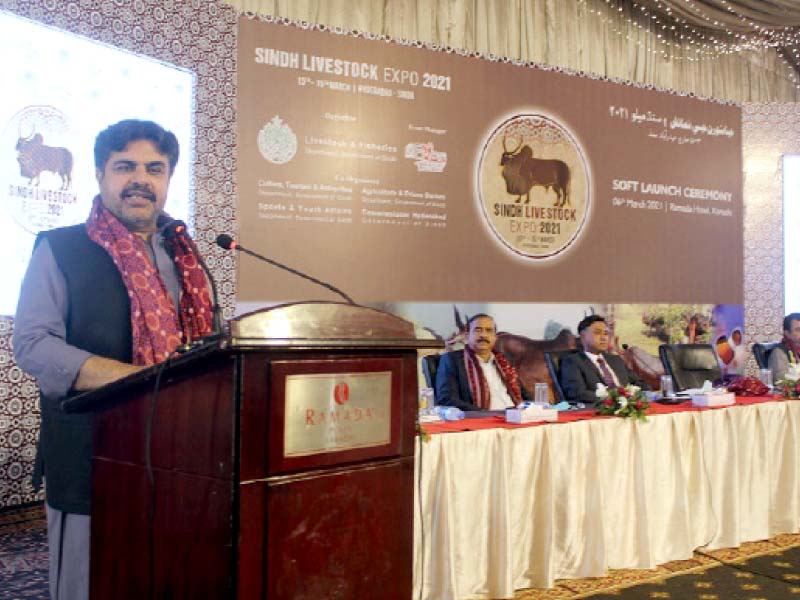 ---
KARACHI:
Livestock is one of the major sectors contributing the country's economy and yet it is ignored, Sindh Agriculture Minister Muhammad Ismail Rahoo said on Saturday at the soft launching ceremony of Sindh Livestock Expo 2021.
The expo's second edition will be held at the Hatri Bypass in Hyderabad from March 13 to March 15.
Addressing the launching ceremony, Sindh Information Minister Syed Nasir Hussain Shah said the first edition of the expo, held in 2020, was a successful event.
"This event is second to only the world-famous exhibition in California, which is recognised at the national and international level," he said. "I congratulate [Sindh Livestock Minister] Engineer Abdul Bari Pitafi and his team who have made it possible and hope that the second edition will provide great opportunities to farmers and others in the livestock sector to enhance their businesses by using the latest technology and modern methods of farming."
Rahoo pointed out that the expo had helped highlight problems faced in the livestock sector.
Regretting that the sector remained ignored despite making significant contributions to the economy, he said populations in arid zones solely depended on livestock for sustenance.
He called for the public and private sectors to make joint efforts for the promotion of the livestock sector.
"This will not just help improve the economy, but also the lives of millions of people," he added.
Published in The Express Tribune, March 7th, 2021.