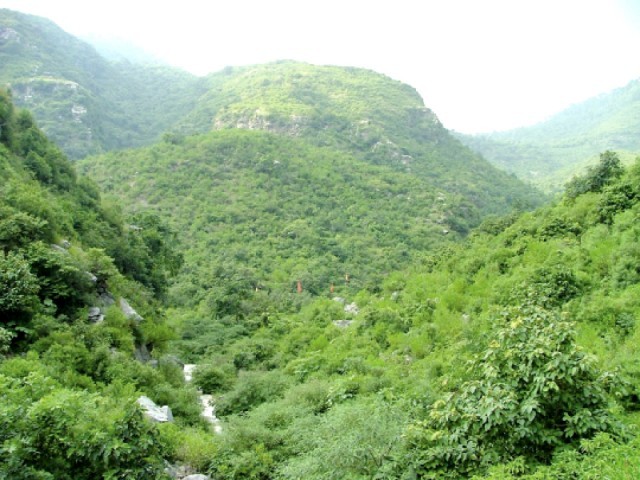 ---
ISLAMABAD:
The world is being threatened by climate change and environmental pollution which is wreaking havoc on its fragile ecosystem. In order to ward off this threat, it falls on nations to cooperate and coordinate with each other and reduce industrial gas and vehicles emission as well as find ways and means for alternate clean sources of energy.
Trash plays a major part in environmental degradation and it is incumbent on every citizen to keep their city clean and green.
Islamabad is not only the capital of the country but its beautiful scenic hilly resorts known as Margalla Hills are a major attraction for tourists who come in droves to trek through its trails.
However, unfortunately, like the major cities, this area is also marred by waste all over the place. The Margalla Hills hiking trails are strewn by trash such as empty cans, water bottle wrappers and worst of all plastic bags.
To the rescue come the Islamabad Wildlife Management Board (IWMB) with an army of volunteers to spruce up the area. The IWMB and its volunteers in a clean-up drive on Thursday picked up 2,000 kilogrammes of trash in 100 bags from an area covering a circumference of 20 kilometres. Trail-2 and Damn-e-Koh viewpoint was cleansed of trash and to this drive, the IWMB in its community awareness and mobilisation efforts had engaged the local masses to realise their responsibility to keep the trails free from plastic pollution.
Speaking on the occasion, IWMB Chairperson IWMB Rina Saeed Khan said that "My waste my responsibility" was IWMB's motto which it was imparting to citizens of twin cities visiting the National Park.
The IWMB staff is extensively engaged in ensuring clean and scenic trails of the Margalla Hills National Park where anti-littering measures were strictly implemented.
She urged the masses to recognise their shared responsibility of keeping the area clean. "It is equally harmful to both humans and wildlife where the latter bear serious consequences after feeding on that plastic waste," she added.
Addressing the ceremony, Senior Joint Secretary Syed Mujtaba Hussain thanked the volunteers and civil society for joining the clean-up campaign on the call of the IWMB.
He said the National Park is a very rare natural habitat in close proximity to Islamabad where residents of twin cities come for exercise, recreation and tourism.
"However, some irresponsible tourists visiting the national park were creating pollution and throwing their plastic waste into the natural environ particularly plastic bags. The government had banned the use of polythene bags in August 2019," he said.
"An individual using plastic bags will be fined Rs 5,000 on the spot," he added. Friends of Islamabad Forum's Tassaduq Bashir Malik also participated in the cleanup campaign as a volunteer and said it was a civil society's responsibility to transfer clean and green trails of Margalla Hills National Park for posterity.
The volunteers were also given reusable eco-friendly bags and T-shirts as a token of thanks and appreciation for joining the cleanup campaign.