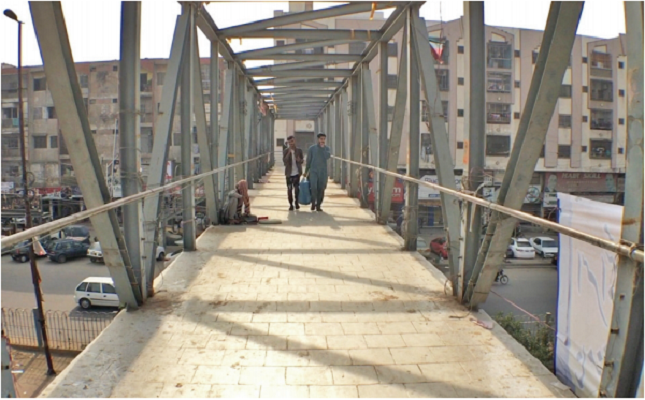 ---
KARACHI:
Dangling in the air with gaping holes and missing railings, the ramshackle condition of Karachi's pedestrian bridges are a perennial hazard for the city's residents. Rendering what was once meant to assist pedestrians in crossing busy thoroughfares, into little more than dilapidated dens for drug addicts and street vendors. Owing to this, pedestrians in the city's busiest districts have to manoeuvre through life-threatening traffic, instead of using purpose-built footbridges when crossing roads.
The relevant authorities have blamed their negligence on exhausted funds.
The repair and maintenance of footbridges has been affected severely ever since the Supreme Court imposed a ban on billboards and hoardings on public property which came into force in 2017. Previous city governments constructed 13 pedestrian bridges on build-operate-transfer (BOT) basis, in collaboration with private companies on various busy roads and generated revenue to meet the cost by installing billboards under an agreement.
Also read: A taste of Delhi, Karachi-style
After the last city government's dissolution, these BOT pedestrian bridges were placed under the Karachi Development Authority (KDA) Traffic Engineering Bureau's (TEB) supervision. Under an agreement, private companies still own the bridges and are responsible for their maintenance. However, since the Supreme Court ban on billboards, maintenance and repairing of pedestrian bridges has been badly affected because of loss of revenue.
According to a survey conducted by The Express Tribune, there are 120 pedestrian bridges across the city. The KDA maintains 94 while the remaining 26 bridges are under the care of Karachi Metropolitan Corporation (KMC) and cantonment boards. However, most if not all of these bridges, despite the millions spent on their construction, remain inaccessible to most citizens. Women and students in particular complain of drug peddlers and the homeless taking control of these public facilities after nightfall, and they avoid using them.
"The Traffic Engineering Bureau hasn't inspected any of these bridges in the past five years, citing unavailability of funds. Neither has it carried out repair or maintenance work. As a result, several bridges like the one at the University of Karachi's Silver Jubilee Gate and other places are falling to pieces," a KDA official said on the condition of anonymity. "Entire floorboards are missing from the Silver Jubilee Gate bridge staircase. The bureau had to close the bridge after a video highlighting the issue went viral."
The first pedestrian bridge under BOT was constructed in front of Urdu Science University Gulshan-e-Iqbal Campus, in former city nazim Naimatullah Khan's tenure. Ramps for the disabled were also built on it. However, six years ago these ramps were demolished by the Karachi Metropolitan Corporation's anti-encroachment department.
According to Sindh Outdoor Advertisers Association (SOAA) Chairperson Irfan Hashmi, Armada, a company which built the bridge had also installed a strong fence worth lakhs of rupees under the pedestrian bridge. However, a few years ago, during construction of University Road under aegis of the Sindh government, the contractor demolished the fence but did not reinstall it. "Which is why citizens continue to manoeuvre through busy traffic instead of climbing the bridge and often suffer accidents," he added
Also read: Authorities told to issue timeline for opening roads
Referring to drug peddlers camping on footbridges, TEB Senior Director Khalid Hafeez said that dealing with them was the responsibility of respective police stations. "We have a dearth of funds but private companies do some repair works as and when needed. Fences are frequently stolen and sheets are installed by philanthropists and good Samaritans to keep people safe. The sheets however obstruct visibility of movement on the bridge, which is why women are usually afraid of using these bridges at night," commented Hafeez.
According Hashmi, bridges built under BOT basis, should qualify as private property. The biggest hurdle in the installation of advertisements on BOT pedestrian bridges, he said are district municipal corporations, whose officers do not allow advertisements for their own ulterior motives. "If we are allowed to put up billboards again, we will resume bearing the expenses of maintaining these bridges, in addition to requesting the police and city administration to remove peddlers and addicts," he told The Express Tribune.
Published in The Express Tribune, March 5th, 2021.