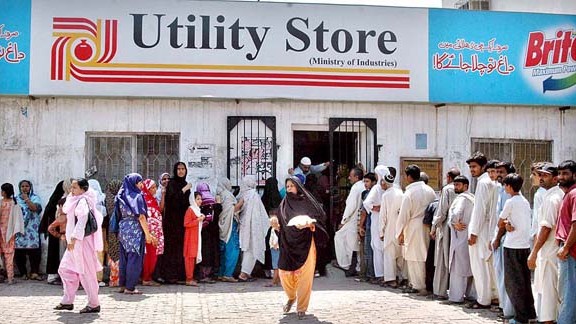 ---
ISLAMABAD:
Utility Stores Corporation (USC) has sought an extra Rs3.37 billion for the 2021 Ramazan package in addition to the Rs3 billion already earmarked by the government in the budget for current fiscal year.
The Ministry of Industries and Production is seeking approval of the Economic Coordination Committee (ECC) for funds totalling Rs6.37 billion under the Ramazan relief package, which includes estimated expenses of Rs100 million on a media campaign. The ECC is expected to take up the matter in its upcoming meeting.
Under the package, according to the Ministry of Industries, USC will provide a subsidy of up to Rs43 per kg on 19 commodities in the fasting month of Ramazan.
According to the proposals, USC will dole out a subsidy of Rs30.50 per kg on sales of wheat flour, Rs40 per kg on sugar, Rs43 per kg on ghee, Rs20 per kg on cooking oil, Rs30 per kg on masoor pulse, Rs25 per kg on white gram, Rs20 per kg on gram flour, Rs20 per kg on dates, Rs10 per kg on Basmati rice, Rs25 per bottle of squashes and syrups, Rs50 per kg on black tea, Rs20 per kg on milk and 10% on spices.
Gas supply to fertiliser plants
The ECC is also likely to approve a summary prepared by the Ministry of Industries and Production for gas supply at a discounted rate to Agritech and Fatima Fertiliser plants.
The ministry proposed supplies at the subsidised rate for 10 months from March to December 2021, which would help produce 700,000 tons of urea to add to the stocks and meet agriculture sector demand.
Out of the total production by the two fertiliser plants, the government will keep a buffer stock of 200,000 tons. Urea inventory has now dropped to 100,000 tons.
The Ministry of Industries has worked out a subsidy of Rs13.5 billion for the production of 700,000 tons of urea by the two plants to stabilise prices and bridge shortfall.
A meeting of the Fertiliser Review Committee was held in February 2021, headed by the minister for industries, which examined fertiliser production and supply.
National Fertiliser Development Centre (NFDC) told the meeting that the country would face a shortage of around 370,000 tons of fertiliser in December 2021. In order to cope with the shortfall, a buffer stock of 200,000 tons would be maintained in calendar year 2021.
NFDC was requested to conduct a comparative analysis of imports and domestic urea production by two gas-based plants - Agritech and Fatima Fertiliser - between March and December 2021, so that the anticipated shortage may be avoided in the current year.
If the plants are allowed to run from March to December 2021, the meeting participants expected them to add 700,000 tons to the national inventory. The additional supplies would keep downward pressure on prices if national stocks remained above 200,000 tons, they believed.
The ECC, in its decision taken on October 26, 2020, had approved the variable contribution margin (VCM) for running the two fertiliser plants.
The same VCM calculation may be utilised for operating the plants for 10 months. They will contribute 70,000 tons of urea per month. A gas price of Rs805 per million British thermal units (mmbtu) has been worked out for the plants.
The Ministry of Industries has come up with two options for ECC's review. First, Agritech and Fatima Fertiliser (Sheikhupura plant) may be provided gas from March-December 2021 at Rs805 per unit (with VCM of Rs186 per bag). The government's share in the gas rate has been estimated at Rs13.57 billion.
Second, the ECC may allow import of 700,000 tons of urea to keep national stocks above 200,000 tons in the current calendar year. Total subsidy on imports has been estimated at Rs27.17 billion with foreign currency requirement at $253 million.
Published in The Express Tribune, March 5th, 2021.
Like Business on Facebook, follow @TribuneBiz on Twitter to stay informed and join in the conversation.