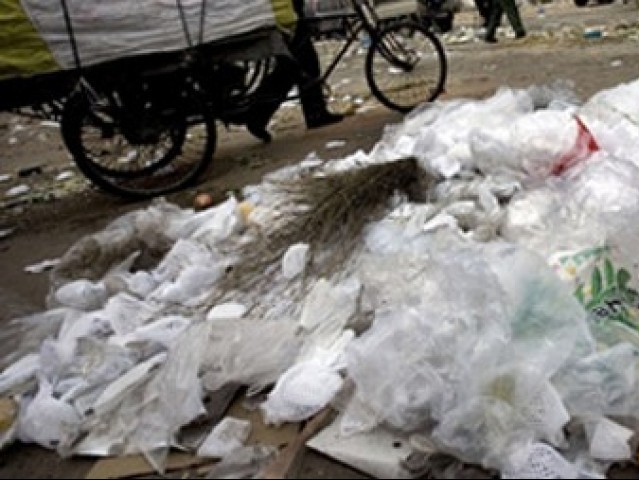 ---
ISLAMABAD:
The traders' community of the federal capital has announced opposing the ban on polythene bags until the government introduces an alternative. They maintained that the ban would be futile until the manufacturers of plastic bags were made binding to the government orders.
Islamabad Traders Action Committee President Ajmal Baloch and Secretary Khalid Chaudhry said on Tuesday that the traders were cooperating with the Ministry of Climate Change (MoCC). They added that there were a total of nine manufacturers of polythene bags in Islamabad that should be stopped from producing the bags.
The traders' leaders stated that some 30 percent population of the city shops in Rawalpindi where there is no such ban in place. They lamented that the business community is already suffering from the aftershocks of the novel coronavirus and further penalising them was beyond comprehension.
They said that they supported the ban on polythene bags whereas some businesses were allowed to use them, which is unfair. They further warned to go on a shutter down strike if fines are imposed on them.
The traders' leaders said that it was unjust to target only marketplaces and demanded the Interior Minister Sheikh Rashid take notice of making the traders abhorrent of the government over the use of plastic bags while calling for a countrywide ban on polythene bags and resolution of the issue by consultation with the traders.
Meanwhile, Minister of State for Climate Change Zartaj Gul has warned the general public to shun the use, manufacturing and selling of single-use plastic bags as no complacency would be bore in penalising violators after spearheading a massive public awareness campaign regarding the ban on polythene bags.
"Experiences have shown that the use of polythene bags has already played havoc with the environment, natural ecosystems and public health. Thus, we no longer afford and tolerate manufacturing, sale, import and use of the environmental nuisance anymore," the minister remarked.
Gul stressed that those who do not shun the use of polythene bags despite the availability of alternatives in the markets at affordable prices are foes of the people and the environment.
She added that while official enforcement teams have started raiding markets in the capital and adjoining areas from March 1 and imposing fines on shopkeepers and consumers for violating the law against the use of polythene bags, more stringent measures would be taken in the coming days.
The enforcement teams comprise senior officials from the climate change ministry, Pakistan Environmental Protection Agency, Islamabad Capital Territory Administration and Islamabad Police.
Lead expert on plastic pollution and chemicals at the climate change ministry, Deputy Director Dr Zaigham Abbas lamented that though shopkeepers and people in markets were aware of the negative impacts of polythene bags, they expressed different excuses behind their usage.