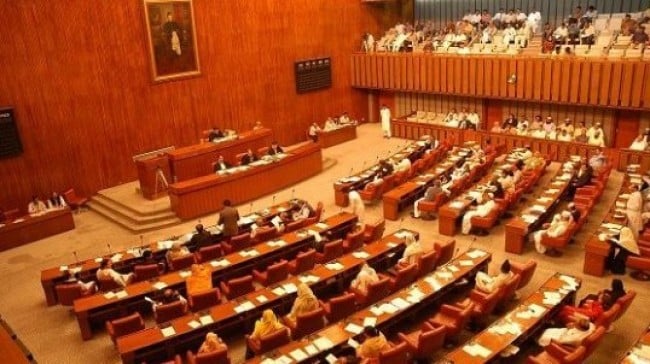 ---
ISLAMABAD:
The Election Commission of Pakistan (ECP) on Thursday published the list of candidates, contesting the Senate election next week, showing 11 candidates from Punjab returning unopposed following withdrawal of seven candidates from the contest.
Thursday was the last date for withdrawal of candidacy. In Punjab, there remained 11 candidates for 11 seats. They included five from the ruling Pakistan Tehreek-e-Insaf (PTI), five from the Pakistan Muslim League-Nawaz (PML-N) and one from the PML-Quaid-e-Azam.
Read more: ECP releases schedule, Senate polls on March 3
Those elected unopposed in Punjab are Kamil Agha, Saifullah Nyazee, Afnanullah Khan, Aon Abbas, Ejaz Chaudhry, Sajid Mir and Irfanul Haq Siddiqui on general seats; Azam Tarar and Syed Ali Zafar on the technocrat seats and Zarqa Suharwardy and Saadia Abbasi on the women seats.
Five candidates withdrew from federal capital, paving the way for a one-to-one contest between Finance Minister Hafeez Sheikh and former prime minister Yusuf Raza Gilani for a general seat and PTI's Fauzia Arshad and PML-N's Farzana Kausar for a women's seat.
In Balochistan, three candidates from the Balochistan Awami Party (BAP) and one from PTI withdrew, leaving 32 candidates to vie for 12 seats, including 16 for 7 general seats and 4 for 2 technocrat seats.
PTI candidate Zahoor Agha, who withdrew from the elections, said that he was withdrawing his candidacy on the orders of Prime Minister Imran Khan. "I accept whatever decisions the party has taken," he added.
Read more: ECP to demand affidavit of fairness from candidates
In Khyber Pakhtunkhwa, 10 candidates remained in the contest for 7 general seats, five candidates for two technocrats seats and five for the women's seats, according to the final list of candidates issued by the ECP.
In Sindh, a total of 17 candidates remain in the fray – 10 for 7 general seats, 4 for 2 technocrats seats and 3 for the 2 women's seats – after 17 nomination papers were withdrawn on Thursday.
Among the candidates, 11 belong to the PPP, two to the PTI, two to the MQM-P, and one each to the GDA and the TLP. The candidates included PTI's Saifullah Abro, whose nomination was allowed by the Sindh High Court on Thursday.
A total of 48 senators -- 12 each from Khyber-Pakhtunkhwa and Balochistan, 11 each from Punjab and Sindh, and two from Islamabad – will be elected on March 3. Voting would be held in the provincial assemblies. The two senators from Islamabad would be elected by the National Assembly.
(WITH INPUT FROM APP)