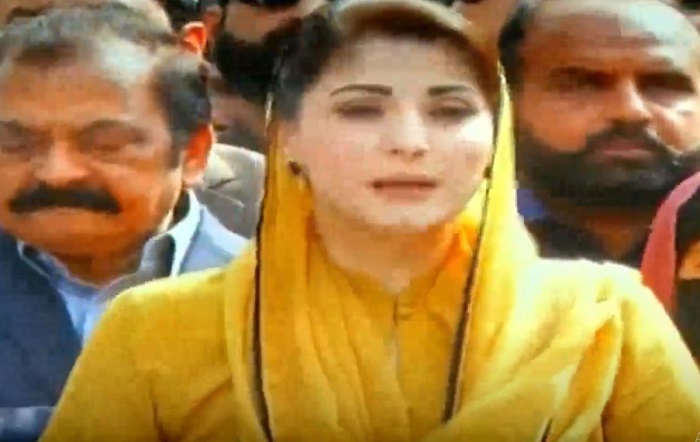 ---
LAHORE:
Pakistan Muslim League-Nawaz (PML-N) Vice President Maryam Nawaz said on Wednesday that the matter of open balloting in Senate polls is strictly concerned with parliament and the Supreme Court (SC) should neither become party to it nor support the government's 'sinking ship'.
"The dual standards of justice are a stain on the top court's integrity," Maryam told media persons in Lahore.
"If the Supreme Court provides any relief to the government, then it will be a unilateral decision." She went on to add, "We will continue to expose the government over dragging the top court in its vested designs."
The PML-N leader further said that his party wanted re-elections in all of NA-75 (Daska).
Also read: FAFEN urges ECP to consider re-poll in Daska
Two days ago, PM Imran, also chief of the ruling Pakistan Tehreek-e-Insaf (PTI), had asked his party candidate to request re-polling in the controversial 20 polling stations.
"How can we accept polling in just 20 polling stations," she asked. "We want re-elections in the all of Daska, given the extent of the vote theft," Maryam stated.
"The polling process was held up for six consecutive hours in various polling stations," Maryam said, adding, "It was done by design, to keep the voters away."
The PML-N leader added that, "the PTI resorted to systematic rigging in the polls and harassed our voters."
Asserting that the polling ends at 5pm, she said, "How come the polling continued for the entire night."
The PML-N leader also asked the Election Commission of Pakistan to take adequate steps to ensure that such sort of 'vote theft' does not take place again.
Regarding the Broadsheet saga, she said, "We had termed it a fraud sheet from the get-go."
Maryam said that "[PM] Imran Khan's agents sought commission" from the firm. "Those who took money are being exposed and humiliated by Broadsheet."
Also read: Those wanting to hijack Senate elections are stain on democracy: PM Imran
"The government, in its attempts to make Nawaz Sharif pay, had to pay to the firm itself," she added.
To a question about Pervez Rashid's nomination papers being rejected, the PML-N leader said, "The government stands exposed as the PML-N leader is being barred from Senate elections for speaking the truth."
On the other hand, she lamented that known hoodlums got their nomination papers approved for the upper house' polls.
The NA-75 by-polls remain engulfed in controversies amid delayed voting, incidents of firing, and other alleged malpractices.