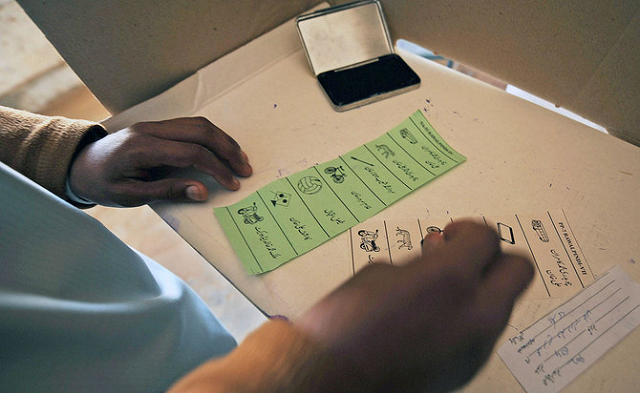 ---
ISLAMABAD:
The parliamentary parties have demanded that the polls supervisory body – the Election Commission of Pakistan (ECP) – bring an end to the alleged interference of non-political forces in the election process.
Representatives of the political parties with presence in parliament on Monday held a meeting at the ECP headquarters on the proposed code of conduct for the upper house elections scheduled for March 3. The ECP gave a detailed briefing to the parties' representatives on the proposed code.
Submitting their proposals, the political parties demanded harsh punishment for the lawmakers found involved in horse-trading in the election. They also demanded that the Senate elections should be held in a fair, transparent and peaceful manner
Chief Election Commissioner Sikandar Sultan Raja said the ECP will try to incorporate the maximum number of proposals in the final code of conduct.
Later talking to the media, ANP's Mian Iftikhar Hussain said parliament should also be respected like other state institutions. "The ECP has assured the parties that it will be mentioned in the draft of the code of conduct that parliament must be respected," he said.
Read more: PTI claims victory in NA-75 as ECP fears 'compromised results'
He said the entire system will get streamlined if free and fair elections are held. "It is necessary to ensure implementation of laws and rules," he added.
PPP's Taj Haider said there is a wrong impression that all politicians are corrupt and sell their vote for money. He said the ECP could only hold transparent elections strictly implementing Section 168.
The upcoming Senate polls have gained unusual significance as they will enable the ruling PTI to gain majority in the upper house of parliament and to pass legislation of its choice.
However, the government wants to change the mode of voting at the Senate polls, apparently in a bid to reduce the possibility of horse-trading and floor-crossing. The opposition parties are, however, opposing this move, claiming that the government thereby wants to avoid defection of its lawmakers.