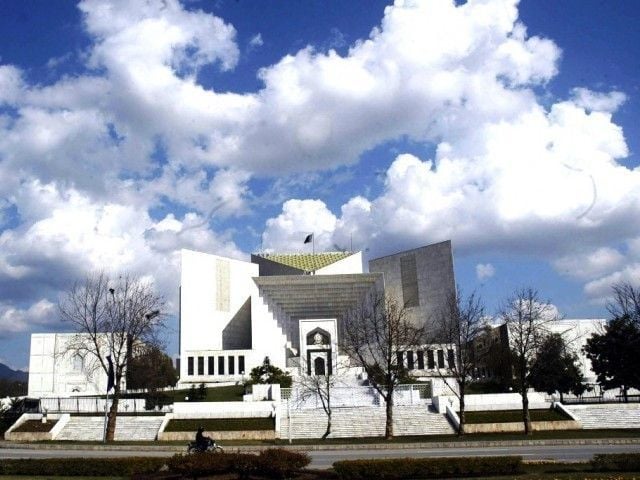 ---
ISLAMABAD:
Supreme Court (SC) on Monday referred the matter of Justice Qazi Faez Isa and superior bars' plea regarding the inclusion of three minority judges in the bench hearing the review petitions against the June 19, 2020 order to Chief Justice of Pakistan Gulzar Ahmed.
Apex court Judge Justice Umar Ata Bandial announced the summary judgment whose written order is yet to be issued.
Justice Manzoor Ahmad Malik disagreed with the verdict and would write his dissenting note.
A six-judge larger bench, headed by Justice Umar Ata Bandial, on December 10, 2020, reserved the decision on the plea filed by Justice Isa, his wife and other petitioner bars regarding inclusion of three judges – Justice Maqbool Baqar, Justice Syed Mansoor Ali Shah and Justice Yahya Afridi – in the bench hearing review petitions against a judgment wherein the Federal Board of Revenue (FBR) was directed to conduct an inquiry into the matter regarding non-disclosure of SC judge's family members' assets abroad.
Senior lawyers said that there is a chance that the court may rule that a similar number of judges bench (seven members) should hear the review petition against the June 19, 2020 order. After the retirement of Justice Faisal Arab, Justice Aminuddin, a senior judge, is eligible to hear Justice Isa's review petition.
During the hearing of the case in December last month, Justice Isa's wife, Sarina, said that Chief Justice of Pakistan (CJP) Gulzar Ahmed should be impartial and that he is a respondent in this case as a member of the Supreme Judicial Council (SJC) which had issued a show-cause notice to Justice Isa.
Upon this, Justice Bandial had rebuked Sarina Isa for calling into question the impartiality of CJP Gulzar.
Read more: Top court to announce judgment in Isa case on Feb 22
A visibly perturbed Justice Bandial told Sarina Isa not to overstep her limits. "You should be careful while talking about the chief justice and the institution," he had noted.
Later, the apex court on February 11 ruled that Justice Isa should not hear cases related to Prime Minister Imran Khan.
"The Hon Chief Justice of Pakistan, therefore, observed that in these circumstances, it would not be proper for the Hon Judge to hear the matter considering that he had already filed a petition against the Prime Minister of Pakistan, in his personal capacity. Therefore, to uphold the principle of un-biasness and impartiality, it would be in the interest of justice that the Hon Judge should not hear matters involving the Prime Minister of Pakistan," said a five-page written order of Chief Justice Gulzar. Justice Bandial was also a member of that bench.
Two days later, Justice Isa expressed "shock" over the release of that order – barring him from hearing cases against PM Imran Khan – to the media before being shared with him and sought explanation from the Supreme Court's registrar.
Following this emerging situation, the announcement of reserved judgment will be significant.
Earlier, the Supreme Court Bar Association (SCBA) contended that if a bench – not including dissenting judges – heard the review petitions in Justice Isa's case, then such adjudication would give rise to a perception that the dissident judicial voices are being silenced.
Read more: Justice Isa objects to issuing Feb 11 order to media
"This naturally raises questions of transparency and impartiality, whether well-founded or ill-founded. Transparency and impartiality occupy a central place in the adjudicative arena," SCBA President Lateef Afridi said in his written arguments submitted to the Supreme Court in this case.
A number of petitioners challenged a split order delivered by a 10-judge Supreme Court bench on June 19 on petitions filed against a presidential reference that sought Justice Isa's removal due to his failure to mention his family members' foreign properties in his wealth statement.
Seven of the judges had referred the matter to the FBR for an inquiry. The FBR was directed to submit its findings to the SJC, which could revive the reference. The SJC is the forum that can hold superior court judges accountable.
In order to hear review petitions against the judgment, the chief justice formed a seven-judge bench comprising all the judges who wrote the majority judgment. One of the members, Justice Faisal Arab, retired on November 3 and later another bench was announced comprising the remaining six judges.