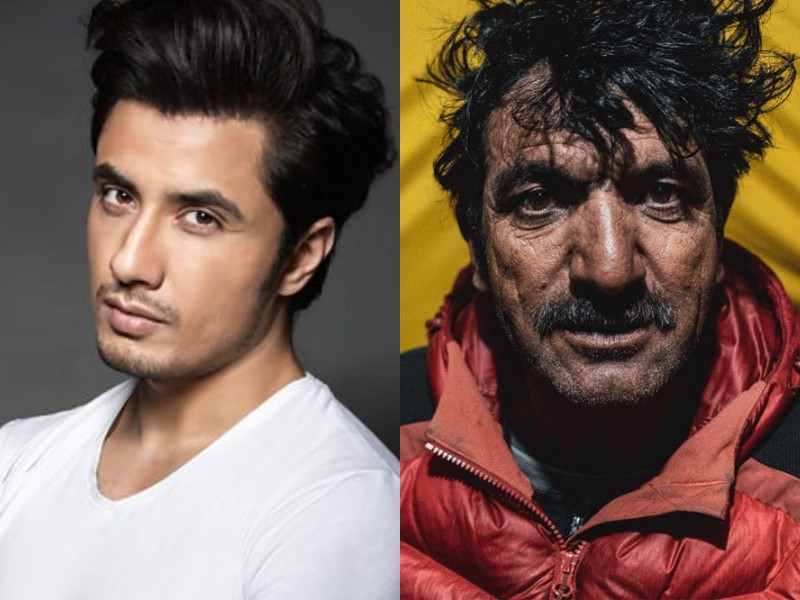 ---
Singer Ali Zafar has paid a heart wrenching tribute to Muhammad Ali Sadpara, a Pakistani mountaineer who went missing while climbing the K2 on February 9.
In his rendition of the song Paharon Ki Qasam – originally sung by Kamal Masood – Zafar has incorporated various traditional instruments, accompanied by a music video that features a series of snippets of Sadpara, along with picturesque B-rolls of the glorious mountains he climbed.
The song has been produced by Zafar's Lightingale Records.
Paharon Ki Qasam fits the bill provided that the whole nation continuously prayed for Sadpara's safe return. "We haven't received word of your arrival. Your memory won't leave our hearts. We will keep waiting for you, so return for the mountains' sake." croons Zafar in the song.
The video also quotes former US first lady Eleanor Roosevelt who once said, "The purpose of life, after all, is to live it, to taste, experience to the utmost, to reach out eagerly and without fear for newer and richer experience."
Now, social media is flooding with users thanking Zafar for the song and the emotional video, which also sees s clip of Sadpara singing Paharon Ki Qasam with his fellow climbers.
Posting the tribute on Facebook Zafar wrote, "No nation can thrive without recognising and celebrating their heroes. Ali Sadpara was one such unsung hero who dedicated his entire life and risked it to accomplish unprecedented feats for his country. This is the least I could do: sing for an unsung hero so that he is etched into our memories for as long as there is music."
Watch the video here:
Who is Muhammad Ali Sadpara?
Sadpara has the distinction of proudly hoisting the Pakistan flag on eight high-altitude peaks. He was born in Sadpara, a village at the periphery of Skardu city on February 2, 1976. The mountaineer began his career as a porter and worked his way up to climbing high peaks with expeditions.
Sadpara was part of the team which successfully achieved the first-ever winter summit on Nanga Parbat in 2016. Both his teammates, Alex Txicon and Simone Moro, have gone on record stating that they could not have done it without Sadpara's brilliance.
In 2015, the same team had attempted to scale the Nanga Parbat in winter but to no avail. He has now climbed Nanga Parbat on four occasions.
Have something to add to the story? Share it in the comments below.