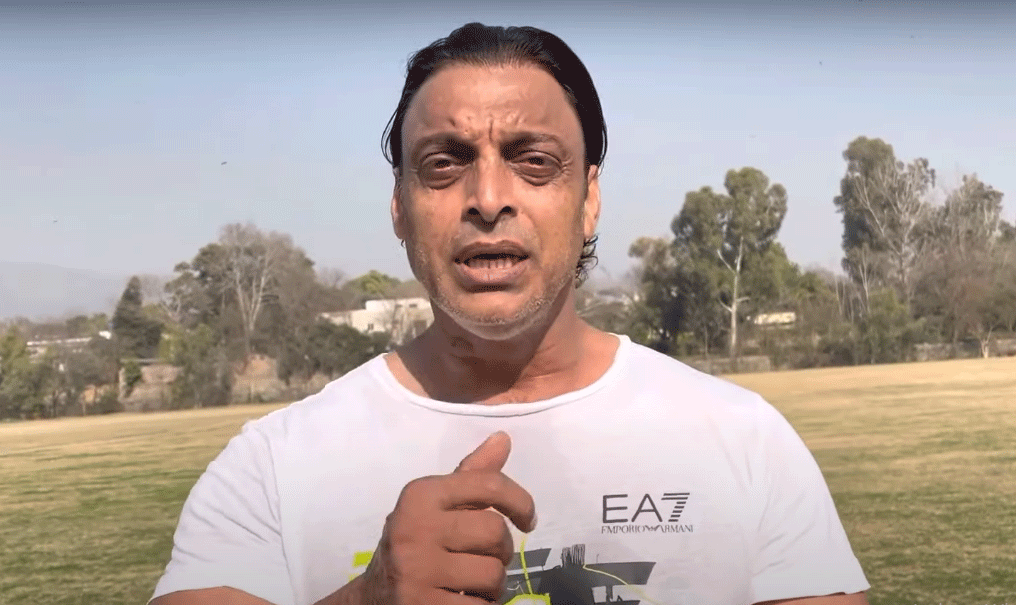 ---
The latest anthem of the sixth installment of the Pakistan Super League (PSL) has been making headlines ever since it was released. The track featured legendary singer Naseebo Lal, Aima Baig and rapping duo Young Stunners. Composed by celebrated musician Zulfiqar Jabbar Khan (Xulfi) and Adnan Dhool, it was loved by some while criticised by the others.
Many took to social media and called out the composers for doing an awful job - one of them being former cricketer Shoaib Akhtar. Taking to his social media, the fast bowler shared a scathing video about Groove Mera. "I am about to file a case against PCB. Who came up with this idea?" he began. "Such an awful composition and anthem. Who was the person at PCB responsible for such a song? Don't you feel ashamed? You have scared my children. They haven't been talking to me for the last three days."
He went on to mock the artists in the song and commented, "The woman who is singing won't even know what groove means. Our music industry is so rich. I have never heard a song that was worst composed than this. No disrespect to the singers, they were asked to sing a song like this. If you can't find any other singer, I will sing it for you."
While some laughed over Akhtar's comments, others lashed out for insulting the artists. The bowler's remarks over the anthem were in bad taste indeed, and the industry is rightfully calling him out.
"Learn to appreciate Shoaib Bhai," actor Naveed Raza commented. "The worst virus is a human, dehumanising another human. Prevention is better than cure. Groove Mera is a solid stadium feel the song."
Singer and actor Farhan Saeed said he respects Akhtar's opinion but it is a stupid one. "It's his opinion, that's okay! He has the right, but that's a stupid opinion is what is my opinion," the former Jal frontman shared, adding, "This song will be a winner in the stadiums, mark it! Well done Xulfi, Aima Baig and of course Naseebo Lal. Great effort!"
Haroon Shahid had a few thoughts as well. "This guy talks about aesthetics! Here's a guy who commentates in English defining 'Groove' for us in musical terms," the Verna star shared, adding, "PS: Groove by any definition does not mean Naali! We all know where this is stemming from. Pathetic to see such pettiness. Still love Shoaib for the bowler he was!"
He went on to shared, "Okay, I'm not demeaning Shoaib Akhtar but when he talks about aesthetics then let's talk about the way he commentates in English. Unfortunately, not a sentence goes by with grammatical errors. How dare he insult those young musicians in that manner! Aiday tussi A R Rahman."
Adnan Siddiqui urged everyone to "respect the artists."
"It's very easy to be keyboard warriors and shred someone's hard work to pieces. How ungrateful to forget so conveniently all the melodious songs Naseebo Lal has given us. Groove Mera doesn't deserve to be trolled like this," the Mom star penned.
Earlier, while speaking to Express News, the veteran singer asserted she became a part of the track for Pakistan. "I never thought it would become so popular and all this success is because of Allah. When the PCB called me, I couldn't believe it. Because I have never been offered an anthem before," she confessed.
Lal also expressed how she was afraid the song would fail. "I was so afraid people wouldn't like it but they loved it and I am so grateful." Almost teary-eyed, the singer relayed how she was approached because of her vocal range. "The makers said, 'Only you can sing in this pitch' so I did. And God helped me do it."
Have something to add to the story? Share it in the comments below.