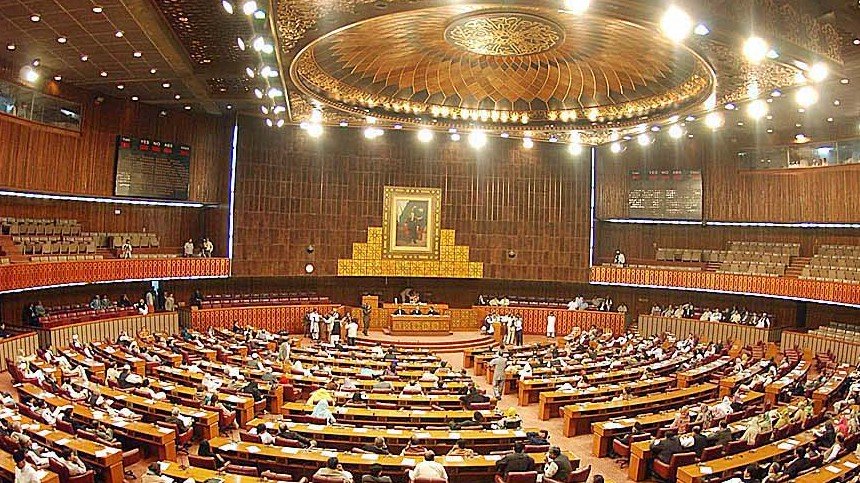 ---
ISLAMABAD:
Apart from the bill, seeking constitutional amendment to allow for open vote in the Senate elections, Federal Minister for Human Rights Shireen Mazari remained the center of attention for both treasury and opposition benches for two extremely different reasons: Foreign Minister Shah Mahmood Qureshi and Minister for Science and Technology Fawad Chaudhry praised her black suit while the opposition accused her of cursing at PPP's Agha Rafiullah.
In one of several breaks during Wednesday's proceedings, the foreign minister laughingly asked Mazari, on whose request she was wearing black suit while recalling the famous Punjabi song "Aj Kala Jora Pa Sadi Farmaish Te [wear black suit today on my wish]"; one could clearly hear him from the press gallery as three of them laughed out loud. As Mazari told him it was an old suit, Qureshi jokingly told Chaudhry that she would wear black again today.
The break ended, session resumed and so does the slugfest; papers were torn and threw in the air; speaker's desk was surrounded; books were once again mercilessly banged on the desks to disrupt proceedings, whistles were blown and, at one point, Rafiullah claimed that Mazari allegedly hand-signal the number 5 at him; taking it as Moutza – an insulting and contemptuous gesture made with the fingers spread and palms thrust forward, traditional in Greece.
Rafiullah was furious; he refused to tolerate it; brought the matter to everyone's attention and the commotion almost turned into a quarrel when a couple of PTI MNAs, including Malik Anwar Taj, accused him of throwing papers on Speaker Asad Qaiser. Rafiullah denied the allegation and once again drew the house's attention to Moutza. Ex-PM Raja Pervaiz Ashraf also expressed annoyance over the insulting gesture, regretted treasury benches' behaviour and reminded them that they don't have the total numbers needed for making a constitutional amendment. On the other hand, when given the floor, Mazari alleged that Rafiullah swore at her and threw papers on Qaiser's face.
In Wednesday's session, the opposition practically demonstrated how they could disrupt proceedings even when a hat-trick of pointing out quorum couldn't yield the desired result: ending the session before voting could begin over the bill – The Constitution (Twenty Sixth Amendment) Bill, 2020 – seeking to end the use of secret ballots in the Senate elections through amendments in Article 59(2), Article 63(1)(c) and Article 226 of the Constitution. PML-N Secretary-General Ahsan Iqbal said that proceedings would not be allowed if PM and treasury members continue opposition's character assassination, saying if 20 to 22 people could give tough time to former dictator Pervez Musharraf's assembly then, surely, the opposition has more strength than that in NA now.
Amid ruckus, Iqbal accused the speaker of being biased and not letting the opposition voice their opinion. Iqbal threw down the gauntlet at Qaiser, asking him to confirm if the PML-N got its share of the calling-attention notices and adjournment motions taken up in the last 2.5 years. In response, Qaiser accepted his challenge and invited him to visit his secretariat and verify the numbers.
Calling the bill a "constitutional package for the friends of Imran Khan", Iqbal quipped that the way Aung San Suu Kyi's government was sent packing in Burma, "Mang Tang government" could also be sent packing. He didn't elaborate if it would happen because of martial law or through street agitation. He also accused the PTI of horse-trading in the secret ballot of the no-trust motion pushed against upper house Chairman Sadiq Sanjrani.
As Iqbal sat and Murad Saeed took the floor, the latter accused the former of nepotism and hiding behind CPEC and China when asked to explain financial issues of certain projects of his tenure. The opposition once again stood up; used the books and papers for making a noise and it continued till the end of the session. Saeed was also not in a mood to leave the floor; he continued his speech despite Qureshi, Chaudhry and other PTI lawmakers asking him to help them create an atmosphere where both sides could equally be heard.
At the end of the day, neither bill nor any other issue could properly be discussed and the session was adjourned for Thursday 11am.
COMMENTS
Comments are moderated and generally will be posted if they are on-topic and not abusive.
For more information, please see our Comments FAQ