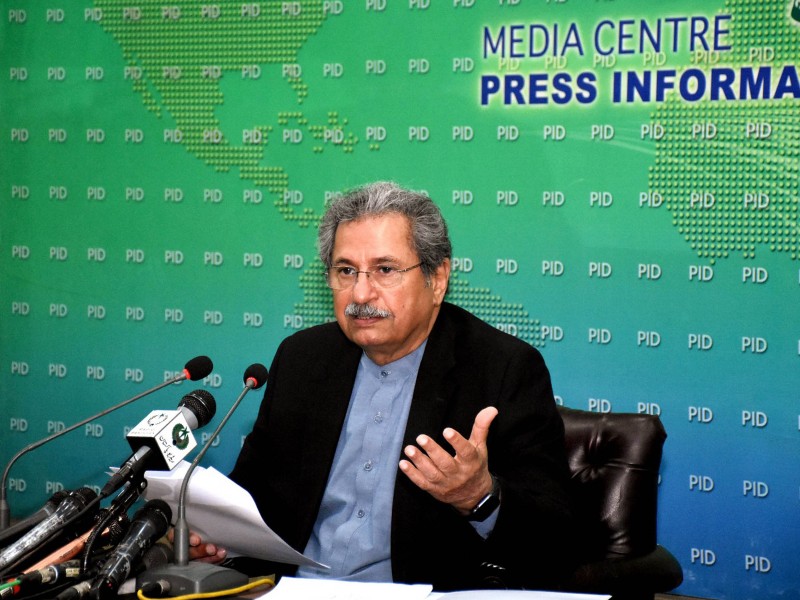 ---
HYDERABAD:
Education, Culture and Heritage Minister Shafqat Mahmood has said that the Pakistan Tehreek-e-Insaf (PTI) government does not intend to roll back the 18th constitutional amendment in entirety rather it only wanted to review its certain provisions.
Talking to the media at the mausoleums of Kalhora and Talpur rulers in Hyderabad on Thursday, the minister stressed that a constitutional amendment could not be made without consensus between the ruling and the opposition parties.
"There are only certain provisions in that amendment which need to be revised," the minister told reporters. "Though we hope to secure a majority in the senate [in the upcoming elections of the upper house of parliament], the constitutional amendment has to be done with consensus," he said.
Explaining the "certain provisions", he gave the example of the school curriculum, which he said should be a national curriculum instead of a provincial curriculum because it had the potential to divide the nation. "We have to unite the nation and not to let the people be divided," he added.
He dubbed the Pakistan Democratic Movement (PDM) a failure, describing the 11-party opposition alliance as a broken-down car that needed a push to restart. So far, the minister said, the opposition alliance leadership had issued only hollow threats.
"They said the [PTI] government would be ousted by December [2020] and later they said we would be going by January," he said, implying that the anti-government campaign of the alliance had failed in its objectives.
Mahmood blamed the Pakistan Muslim League-Nawaz for making a slanderous propaganda against Justice (retd) Azmat Saeed over his nomination as the head of the inquiry commission to investigate the Broadsheet saga.
Mahmood began his three-day visit to the heritage sites in Sindh on Thursday. Before reaching Hyderabad, the minister also visited the Makli necropolis in Thatta. During the visit, he is scheduled to take a tour of Ranikot fort in Jamshoro, Kot Diji fort and Faiz Mahal in Khairpur and Mir Masoom Shah's tomb, Sadhu Belo and Sateen Jo Astano in Sukkur in next two days.
The minister told reporters that the federal culture department had started a project under which the national heritage sites were being catalogued. "The federal government is also assessing conditions of the heritage sites to reckon requirement for any preservation work," he added.
Mahmood said although the subject was devolved to the provinces after the 18th Amendment, he was checking if there was any need of the federal government's role in the preservation and other works at these sites.
When asked about any federal plan for funding the heritage sites' preservation in Sindh, he replied that "it is a bit early to commit anything" because he had been on his first visit of the heritage sites in Sindh.
COMMENTS
Comments are moderated and generally will be posted if they are on-topic and not abusive.
For more information, please see our Comments FAQ