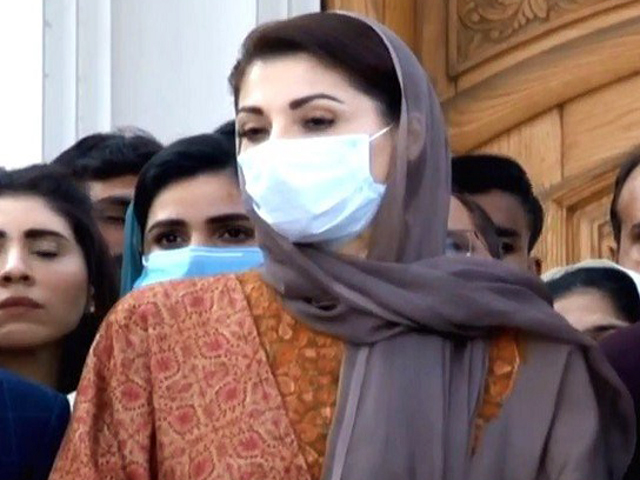 ---
LAHORE:
Pakistan Muslim League-Nawaz (PML-N) Vice President Maryam Nawaz on Wednesday called upon former Supreme Court judge Justice Azmat Saeed Sheikh to "recuse" himself from the Broadsheet inquiry commission, warning that her party would otherwise reveal details about his past affiliations.
"Broadsheet is a fraudsheet," said she while addressing the media after arriving at 'Khokhar Palace' to express solidarity with the Khokhar family following the demolition of their property.
On Tuesday, the federal capital had announced appointing the former Supreme Court judge as head of the one-man commission to examine the circumstances relating to the Broadsheet agreement and subsequent arbitration proceedings that resulted in substantial loss to the national exchequer.
Justice (retd) Saeed had heard numerous high-profile cases in the past including the one related to the Panama Papers leaks that led to the disqualification of the then prime minister Nawaz Sharif as member of the National Assembly.
His profile on the Supreme Court website states that he also served as deputy prosecutor general of the National Accountability Bureau (NAB) in 2000. It says that he was also appointed as NAB's special prosecutor in 2001 to prosecute cases before accountability courts at Attock Fort and in Rawalpindi.
Read more: Cabinet gives nod to Broadsheet commission
"[Justice] Azmat Saeed had set up JIT and made WhatsApp calls and everyone knows to whom he made those calls," she said.
"[Justice Azmat Saeed should excuse himself from this [investigation] and admit that he was himself involved in it (Broadsheet case)," she added.
If he does not recuse, Maryam said, the PML-N "would have to bring to light facts which we could not previously".
She alleged that Justice Sheikh had "personally called and tried to threaten officers of the PML-N government at the time" and sent certain "messages".
"It is [therefore] better for you to excuse yourself," Maryam told the former judge.
Calling Broadsheet a "fraudsheet", Maryam said that Pakistan lost billions of rupees in this fraud. "It should be called a fraudsheet, not a broadsheet. There are big holes in this net."
The PML-N leader said that the Pakistan Democratic Alliance (PDM) has an "ideal" co-ordination and all opposition parties are united on the issue of long march.
"We shall see when Bilawal presents his in-house change proposal at PDM meeting. If Bilawal has numbers, he should bring them to the fore," she said.
On the occasion, she also extended best wishes to Bakhtawar Bhutto Zardari, Bilawal's sister who is set to tie the nuptial knot on January 29.
Maryam also extended her party's support for Khokhar brothers after part of their house was demolished by the government of Punjab on Sunday. "[Prime Minister] Imran Khan was personally monitoring the operation [against Khokhar Palace] despite court orders," she added.
Calling the PTI government "the biggest mafia", Maryam said that the "selected" have illegally occupied Pakistan and have brought institutions under their influence.
She said that the people of the bureaucracy are also annoyed with the incumbent government. "Imran Khan has failed and will be a bigger failure in the future."
Talking about next general elections, Maryam said that PML-N has a strong foothold across Pakistan whereas PTI is a one-man party which will collapse under its own weight. "No one will take PTI ticket in the general elections. PML-N is still standing firm."
COMMENTS
Comments are moderated and generally will be posted if they are on-topic and not abusive.
For more information, please see our Comments FAQ