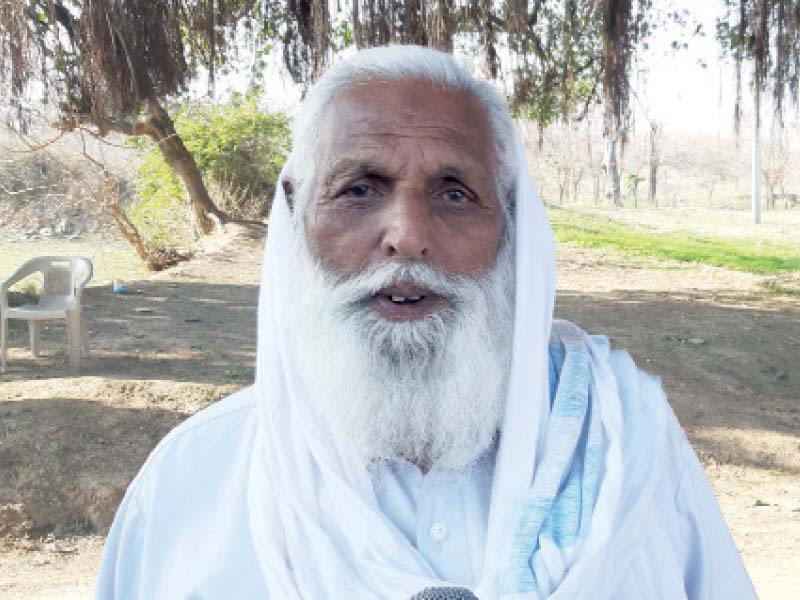 ---
RAWALPINDI:
"We take shelter under the cool shade of this ancient tree in sweltering summers when there is no electricity," said 65-year-old Muhammad Miskeen about the over 100-year old banyan tree which has come in the way of Rawalpindi Ring Road project.
"I have seen this tree all my life…we grew up under it," said the local of rural area of Rawat while talking about the tree.
He said the tree is famous among the locals and they do not want to get it axed. "I have seen the tree in the same place for the past six decades and elders used to say the same about it," he said calling the sprawling tree a shelter for the natives.
Miskeen said that the shepherd herding their flock often stop by the tree to tie their animals and rest. Besides this, families in the surroundings bring their charpoys under the tree's shade during hot days.
Further, a 70-year-old Kareem Khan said that the tree was useful for travellers using Grand Trunk Road. It provides a shady spot for the weary. He told that in the older days, the caravans used to take shelter from the sun during the scorching heat under the gigantic banyan-tree and even spent nights under it.
Read More: The olive tree plan
However, it is coming in the way of highway and as per plan, would be chopped down. Experts have been put in a test to save ancient Banyan trees along the proposed route of Ring Road.
Rawalpindi Commissioner Muhammad Mehmood has tasked the engineers to ensure the protection of the century-old Banyan tree at Radio Pakistan Interchange, the starting point of the project.
The design of the road between its two ends was ready after which the project director was informed that a 100-year-old banyan tree was present right at the commencement point of the Ring Road. The experts suggested chopping the old tree so that the development work could be kicked-off. However, it was turned down by the Commissioner Mehmood.
Khan expressed that saving this tree was like protecting the environment.
While talking to The Express Tribune, Project Director Mehmood said that the Rawalpindi Ring Road project was a megaproject. He added that such measures were being taken so that the project remained an eco-friendly one.
The commissioner said that some Rs6.7 billion have been allocated for the protection of natural sites in the project. Mehmood confirmed that he has tasked the engineers to find a solution to save the old Banyan tree right at the starting point of the Ring Road project. He confidently expressed that they would be able to achieve the goal.
Published in The Express Tribune, January 27th, 2021.

Watch the video here:

COMMENTS (1)
Comments are moderated and generally will be posted if they are on-topic and not abusive.
For more information, please see our Comments FAQ