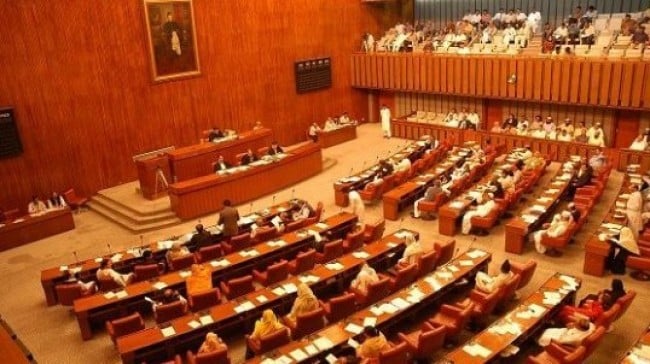 ---
ISLAMABAD:
Opposition parties on Friday staged a walkout from the upper house of the parliament due to the government's alleged failure to give proper answers to their queries with regard to China-Pakistan Economic Corridor (CPEC) Authority ordinance.
Responding to various questions during the Question Hour, Minister for Industries Hammad Azhar earlier informed the Senate that the CPEC Authority Ordinance has lapsed and currently the Ministry of Planning is looking after affairs of the CPEC projects.
"The government will soon bring legislation to give legal cover to the authority," he said.
According to Azhar, nine special economic zones (SEZs) would be constructed under the CPEC project with an estimated cost of $ 1.5 billion. "Out of total nine SEZS, construction work on three SEZs is under way on a fast track," he said.
To another question, the minister said as many as 11 projects worth $ 1.7 billion were specified for Gwadar under CPEC. Two projects have already been completed while seven projects worth $1.2 billion are in the execution phase, he added.
State Minister for Parliamentary Affairs Ali Muhammad Khan told the house that bringing reforms in the Federal Board of Revenue (FBR) is part of the ruling PTI's election manifesto. "Record revenues have been collected during the PTI tenure," he said.
Adviser to the Prime Minister on Parliamentary Affairs Dr Babar Awan said the government has set up an inquiry committee to investigate the Broadsheet scandal and determine responsibility.
He said the government does not believe in sweeping issues under the carpet. He said the inquiry committee has been formed as it was the demand of the house and people of the country.
Dr Awan said the government wants to probe how General (retd) Pervez Musharraf hired the firm for search of foreign assets of Pakistan. He said the PTI government has a track record to investigate all irregularities and public its findings.
He said no one could even think about going after the sugar mafia but the government did that. "It is imperative to launch an investigation into the Broadsheet case and to determine the responsibility on basis of the inquiry," he added.
Taking the floor, Leader of the House Dr Shahzad Waseem said the federal and provincial governments should jointly provide health facilities to people of the country. "Providing health facilities should not be politicized," he added.
Nine reports were also presented in the house. Dr Awan also moved a motion to discuss the president's address to the joint session of the parliament. On the request of Dr Awan, it was decided to start debate on the president's address from Monday.
WITH ADDITIONAL INPUT FROM APP