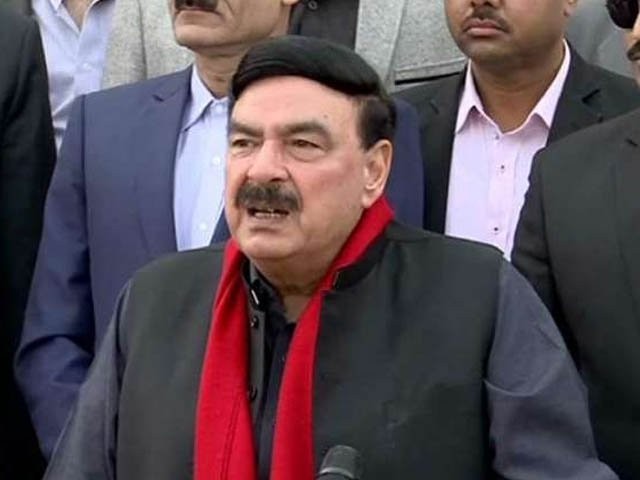 ---
KARACHI:
Interior Minister Sheikh Rashid on Thursday said that the foreign funding case would become "Panama part 2" as many properties of Pakistan Muslim League (PML-N) Vice President Maryam Nawaz would be revealed.
While addressing a press conference in Karachi, the interior minister further advised Maryam to get thorough legal consultancy for the "upcoming" case.
Regarding Pakistan Democratic Movement's (PDM) anti-government long march in the federal capital, Rashid said it was for the first time that an interior minister had allowed a protest in federal capital's Red Zone.
"The opposition cooperated with us and so did we [the government]," the interior minister said. "If they cooperate with us in the long march, then we would also cooperate with them."
On NADRA reforms, the minister announced that facilitation centres would be opened in all district headquarters and added that free identity cards would be given to 100,000 citizens per day. He further said regular passports would be converted to e-passports by inserting a chip in them.
During his visit to Sindh Ranger Headquarters, the interior minister received a briefing on the law and order situation of the province.
"All possible steps will be taken to ensure peace in Karachi. The role of Rangers is important for the prevention of terrorism, crime and restoration of peace," the minister said.
Read More: Why is PM Imran confident about foreign funding case?
Earlier on January 20, the PDM presented its charter of demand to the Election Commission of Pakistan (ECP) over the alleged delay in deciding the foreign funding case against the ruling Pakistan Tehreek-e-Insaf (PTI).
The PDM leaders formally handed over the communiqué to the chief election commissioner (CEC).
A delegation of the 11-party opposition alliance, including Ahsan Iqbal, Raja Pervaiz Ashraf, Usman Kakar and Kamran Murtaza met the CEC at the ECP Secretariat.
The PDM leaders maintained in the communiqué that the PTI in its written statement had admitted to foreign funding but still the ECP was not issuing a verdict on the matter.
They demanded of the election commission to issue a judgment at the earliest and present the details of PTIs "23 secret accounts" to the petitioner.
They further asked the ECP to keep the proceedings of the scrutiny committee open instead of in-camera so that the members of civil society, media and representatives of PDM could also participate in it.
COMMENTS
Comments are moderated and generally will be posted if they are on-topic and not abusive.
For more information, please see our Comments FAQ