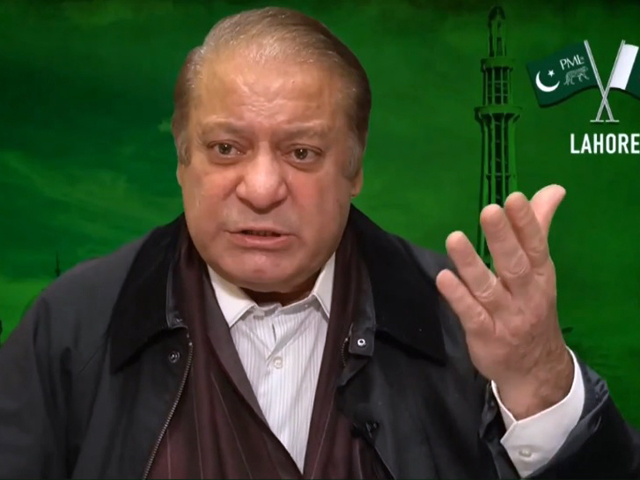 ---
LAHORE:
Special Assistant to Prime Minister on Interfaith Harmony and Middle East Affairs Hafiz Tahir Mehmood Ashrafi said on Sunday that Saudi Arabia did not offer former premier Nawaz Sharif to stay in the kingdom.
"Reliable sources have confirmed that Saudi King Shah Salman has not invited Nawaz Sharif to visit his country," the PM's aide said while addressing a press conference in Lahore.
His statement comes amid speculations that Riyadh had offered Nawaz, who is in London since October 2019, to move to the kingdom if he faces any difficulty in the United Kingdom.
Ashrafi also clarified that Saudi Arab never intervened in internal issues of Pakistan and added that Pakistan's ties with all Arab Muslim countries would be improved with the cooperation in different areas.
The PTI government has announced that it will not renew Nawaz's passport, which is set to expire on February 16, in an apparent attempt to compel the convicted PML-N supreme leader to return home.
Nawaz, serving a seven-year prison term after his conviction in December 2018, was given a rare permission in October 2019 to get medical treatment abroad in view of a debilitating health condition.
Also Read: UK likely to extend Sharif's visa for six months
The Islamabad High Court (IHC), however, declared him a proclaimed offender in December last year as the former premier failed to appear before the bench – originally formed to hear his appeals against his convictions – despite various notices.
However, some experts believe it will be Nawaz Sharif who will benefit from a decision not to renew his passport. They said even if Nawaz's passport is not renewed, the British government may give an extension in his visa. They said the UK government has done that in the case of PML-N leader Ishaq Dar.
International law against blasphemy
Tahir Ashrafi, in the same press conference said the PTI government is making efforts to enact international law against blasphemy.
He said the government is protector of Namoos-e-Risalat and the belief in Finality of Prophethood.
The PM's aide also said that violation of Ulema-Mashaykh code of conduct and hateful speech would not be tolerated at any cost.
He said that interfaith harmony councils would reinforce inter-religious dialogue in the country.
Ashrafi said that courageous and bold stance of PM Imran on Palestine issue was being termed representation of the entire Muslim Ummah.
He said that the PTI government Is working to strengthen ties with all Muslim countries and cooperation was being extended to Muslim countries in the areas of trade, economy, tourism and religious affairs.
The PM's aide said that registration of seminaries with the Ministry of Education was great achievement on the part of the PTI government, adding that reservations of Masajid (mosques) and Madaris (seminaries) would be addressed in the Evacuee Trust Properties Amendment Bill.
He said that soon Premier Imran and President Dr Arif Alvi would hold a meeting with ulema-Mashaykh on prevailing situation and other key issues.