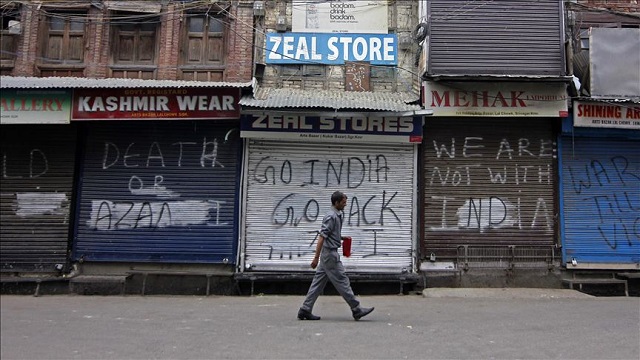 ---
In an unprecedented development, the House of Commons of the United Kingdom (UK) on Thursday held a debate on the "critical situation" in Indian Illegally Occupied Jammu and Kashmir (IIOJK), rejecting the "argument that Kashmir is an internal matter of New Delhi".
The debate on IIOJK, proposed by Labour MP Sarah Owen, saw all parliamentarians in agreement "to hold the Indian government accountable for its abusive behaviour, especially in the Kashmir Valley".
They also hoped that British Prime Minister Boris Johnson, who is due to make a visit to India at some point, will raise the IIOJK issue with Prime Minister Narendra Modi and seek his reassurance that "all is being done to seek a permanent solution to the Kashmir dispute".
"I am sure we have caught ourselves at some stage moaning about the lockdown, but for the people of IIOJK, it's not something new," MP Owen said in her remarks.
"There are people who are just concerned about human rights … You don't have to be a Kashmiri to care about their struggle for self-determination, their struggle to live safely and their struggle to live freely," the MP said.
She drew the attention of the house towards the barbarism of Indian troops in the occupied territory, saying there are numerous reports of Kashmiri women and girls being molested. "Senior officials in the Indian government have put on record their intentions to make Kashmiri women a part of this conflict.
"The Haryana chief minister said some people are now saying that as Kashmir opens, brides will be brought from there, but jokes apart, if the gender ratio is improved, there will be a right balance and society."
Meanwhile, MP James Daly, who is also a lawyer, said, "We have thousands of our fellow citizens who are from a Kashmiri background and have family members there, who are impacted and affected by their [Indian troops] acts on a daily basis.
"I, as a lawyer, have got a long list of human rights abuses … things like detention without trial. There are people in IIOJK who have been waiting 15 years for a trial, 15 years! There is no word from the international community in this respect."
Further, MP John Spellar said, "India is a huge country with an incredible history and also limitless potential but that doesn't mean we should not hold the Indian government to account for its abusive behaviour, especially in the Kashmir Valley.
"We also reject this argument that Kashmir is an internal matter of India."
Spellar said, "India is trying to change the demography of Kashmir by amending the domicile law which is against the fourth Geneva Convention."
Another MP, Sara Britcliffe, said that she went to the Line of Control and was able to witness firsthand account of the situation, as "my constituents have been telling me for a long time of these, [which] are truly heartbreaking stories to hear".
"We are in the 21st Century and we need to be doing something about IIOJK, which is the most militarised zone in the world."
MP Robbie Moore said that Kashmiris had been living under heavy lockdown since August 5, 2019, when the special status of IIOJK was revoked by India.
"We should be clear about what these lockdowns actually mean. No, foreign journalists being allowed into Kashmir by the Indian government and thousands of people being arrested under black laws.
"I know that the UK premier is due to make a visit to India at some point and I do hope that the premier will be able to raise the issue directly with Prime Minister Modi and seek his reassurance that all is being done to seek a permanent solution to the Kashmir dispute."
MP Paul Bristow said that the central point that "I want to make is what happens in Kashmir, matters here in the UK and I would urge the ministers to raise with their Indian counterparts the arbitrary detention of Kashmiri political leaders, 18 months arbitrary enforced lockdown on the Kashmiri people as well as the ban on access to 4G services and internet".
MP Jim Shannon said the lockdown imposed by the Indian government since August 5, 2019 has destroyed the IIOJK economy. "The draconian Armed Forces Special Powers Act and Public Safety Act are being used by the Indian army to suppress the voices of the people of Kashmir."
Stephen Kinnock, the shadow foreign minister, termed the Kashmir conflict the longest unresolved conflict on the agenda of the United Nations.
"As many as 95,000 people have been killed in the past 30 years," Kinnock said. "The curfew imposed by India in IIOJK has had a profound and far-reaching impact on every aspect of life in Kashmir including health services, school closures and media freedom."
MP Nigel Adams, the foreign minister of state, said, "We believe that it is better for India and Pakistan to find a lasting political resolution to the situation that takes into account the wishes of the people of Jammu and Kashmir."
The human rights situation in IIOJK has been a particular concern to many in this debate and "we will raise these concerns with the Indian government".
Tehreek-e-Kashmir (TeK) UK President Raja Fahim Kayani said, "The debate on Kashmir in the House of Commons is a huge disappointment to India on a diplomatic level as India was confident its war crimes committed by the Indian army in IIOJK will go unnoticed."
Kayani said that they were indebted to all British MPs for speaking about Kashmiris woes and condemning human rights violations in IIOJK.
Pakistan Tehreek-e-Insaf Secretary General and Azad Jammu and Kashmir Legislative Assembly member Abdul Majid Khan said that the debate on IIOJK by the UK parliamentarians "is proof that India is doing state terrorism in occupied Kashmir".
"This debate will pave the way for the permanent and durable solution of IIOJK as per the wishes and aspirations of the Kashmiris to bring permanent peace and tranquility in South Asia."